100,000 Vietnamese may be unemployed per month due to COVID-19
According to the Vietnamese Ministry of Labor, Invalids, and Social Affairs, up to 100,000 workers, mostly in the fields of tourism, accommodation and catering services, construction, transportation, processing, and manufacturing may be fired per month due to COVID-19 pandemic.
It is reported by Hanoitimes that the number of people filing claims for unemployment benefits increased by 32% over the same period in 2019, to nearly 690,000 in the first seven months of 2020, or nearly 100,000 per month, compared to 60,000 – 70,000 per month on average in 2019.
Some industries that see the sharpest decrease in years in the number of workers over the same period of 2019 are processing and manufacturing, accommodation and catering services, education and training, wholesale and retail, auto and motorbike repair.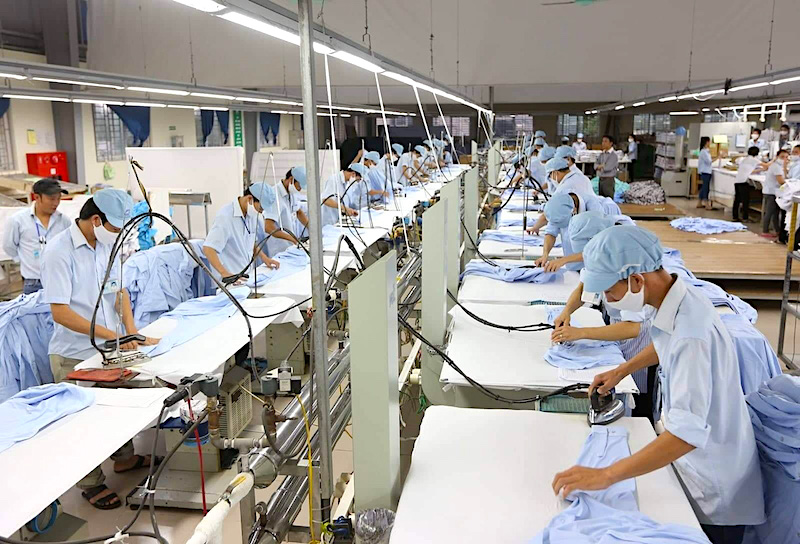 People losing jobs are forecasted to reach 100,000 per month. Photo: Quochoi.vn
It is forecast that by the end of the year, 70% of local enterprises and 3.5 to 5 million workers will face difficulties.
In the first half this year, some 29,000 enterprises temporarily suspended operations, up 38.2% over the same period last year. About 540,000 new jobs were created, reaching 35.6% of the plan for 2020 and equal to 73.8% of the same period last year.
Vu Quang Tho, a labor expert, recommended that it is necessary to build a job reporting system to keep businesses operating and avoid layoffs.
As of June 2020, 30.8 million people aged 15 and more were hurt by the Covid-19 pandemic. In particular, 57.3% saw their incomes reduced.

Earlier, the government has approved a VND62 trillion (US$2.6 billion) financial support package for people and businesses affected by the Covid-19 pandemic.

In the second half of this year, authorities will take further measures to boost the labor market and connect supply-demand for laborers and employers.
HCMC offers US$25 mln bailout to 543,000 COVID-19-affected people
According to VNExpress, Ho Chi Minh City has allocated financial support totaling VN595 billion (US$26 million) to 543,345 people hard hit by Covid-19.
Of the amount, over VND58 billion (US$2.48 million) was to support 56,512 workers laid off or on unpaid leave at 1,927 businesses, the city's Department of Labor, Invalids, and Social Affairs said.
The southern metropolis has spent VND1.04 billion (US$45,044 ) to support 1,046 unemployed locals not eligible for unemployment benefits due to inadequate social insurance contributions, with each receiving VND1 million (US$43) a month.
Meanwhile, 13,061 teachers and staff at private pre-schools have received a monthly allowance of VND1 million (US$43) each.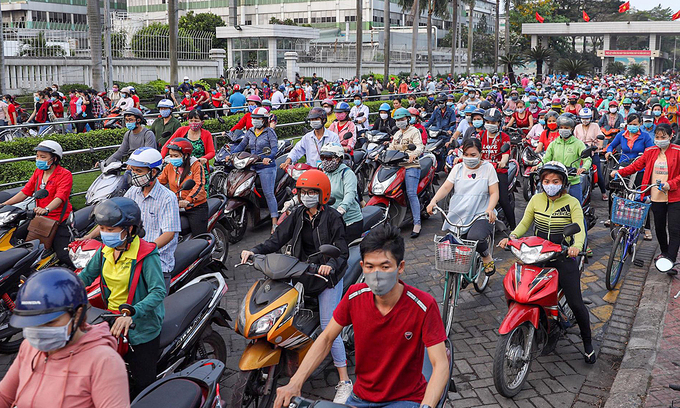 Employees at Pouyuen Vietnam Co. Ltd, a Taiwanese shoe manufacturer in HCMC, leave the company after work on April 8, 2020. Photo by VnExpress/Huu Khoa.
In addition, the city also disbursed VND183.6 billion (US$ 7.95 million) to support 183,646 self-employed workers, including street vendors and motorbike taxi drivers, who lost their livelihoods, with each receiving VND1 million a month.
Over VND1.3 billion (US$56.304) was given to support 1,347 household businesses affected as the government imposed social distancing measures to curb the spread of the new coronavirus.
The city also spent over VND318 billion (US$ 13.8 million) to support those enjoying social protection and those with a record of meritorious services to the nation as well as poor and near-poor households. Besides, it has disbursed over VND20.1 billion (US$ 871,000) to help over 20,000 lottery vendors affected by a government order to shut down the service from April 1 to 22 to contain the pandemic.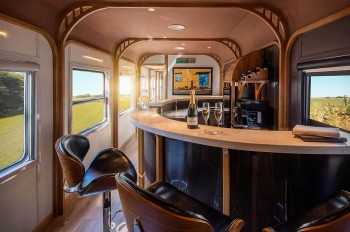 Travel
"The scenic train routes showcase some of Asia's most beautiful landscapes and provide a much-needed opportunity to rest and reconnect with loved ones," said CNN.