COVID-19 in Vietnam: 12 more cases reported, mostly local infections
A total of 12 new COVID-19 cases were announced on August 17 evening, bringing the national total to 976. Out of those, four of the new patients are in Hai Duong, six in central Da Nang city, one in the capital city of Hanoi and one who came on a repatriation flight into the country.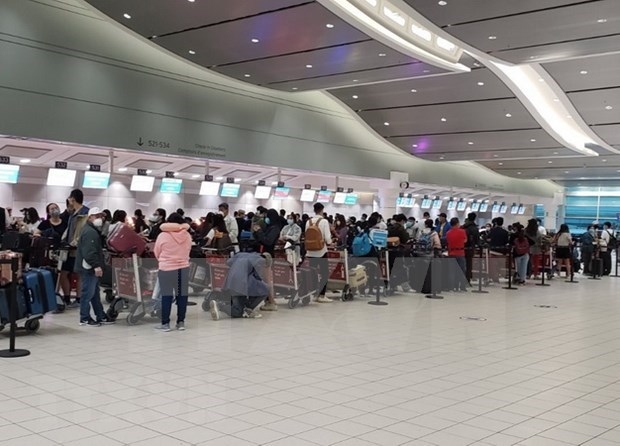 340 Vietnamese citizens from Canada were brought home safely on August 15 and 16. Source: VNA
Hai Duong province, a gateway to Hanoi capital, reported four cases, all closely linked to an outbreak at a restaurant on Ngo Quyen Street. Five other patients had previously been infected with the virus at the same restaurant.
Da Nang city, registered six cases, included three patient caregivers, a medical worker at Da Nang hospital, and a security guard at the same hospital.
The positive cases in in Hanoi capital is a woman who had close contact with a COVID-19 patient. Local authorities scrambled to lock down the lane where she is living in Hai Ba Trung District's Truong Dinh Ward.
One imported case is Vietnamese citizen repatriated from Equatorial Guinea on July 29.
He was among more than 200 Vietnamese guestworkers who had been evacuated from Equatorial Guinea. So far more than 20 of the returnees have been confirmed to carry the virus.
After the first case of community infection was reported in Da Nang, a famous tourist destination in central Vietnam, on July 25, the virus has spread to 15 cities and provinces across the country, with a total of 499 people infected.
Da Nang was the hardest hit locality with 350 cases, followed by Quang Nam (91), Ho Chi Minh City (11), Hanoi, (10), Quang tri (7), Bac Giang (6), Quang Ngai, Hai Duong (9), Lang Son (5), Dak Lak (3), Dong Nai (2), Thai Binh, Ha Nam and Khanh Hoa (1 each).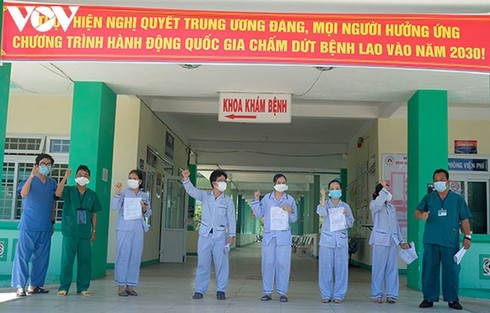 COVID-19 patients are released from the Da Nang Hospital for Lung Diseases. Source: VOV
At present, a social distancing order including travel restrictions has been implemented in Da Nang since July 28 in an attempt to curb the spread of COVID-19 among the wider community.
Da Nang, the nation's latest epicentre of the coronavirus outbreak, has proposed using trains to repatriate residents left stranded in the locality back to their hometowns.
The implementation of travel restrictions therefore means that a significant number of migrant workers, students, and residents from other cities and provinces have been left stranded in the central city.
According to an official from Da Nang, the city is currently hosting more than 16,000 migrant workers from various localities nationwide, 7,000 of whom desire to return to their respective homes. In addition, approximately 6,000 students who are studying at colleges and universities throughout the city are also keen to be repatriated to their homes.
Vietnam Airlines and VietJet Air recently conducted seven flights to evacuate more than 1,400 Vietnamese and foreign nationals left stranded in Da Nang.
The National Steering Committee for COVID-19 Prevention and Control also announced that nine more people have been given the all-clear, bringing the total number of recoveries to 465.
As many as 107,642 people are currently quarantined at hospitals, concentrated quarantine facilities and their homes.
So far, 24 people have lost their lives due to COVID-19-related complications./.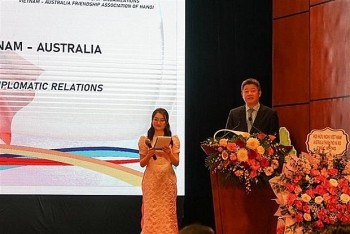 Friendship
A friendship exchange programme has been held recently in Hanoi to celebrate the 50th founding anniversary of the Vietnam-Australia diplomatic relations (February 26).