10th Mekong-RoK Foreign Ministers' Meeting held online
Vietnamese Deputy Prime Minister and Foreign Minister Pham Binh Minh and Minister of Foreign Affairs of the Republic of Korea (RoK) Kang Kyung Wha co-chaired the 10th Mekong-RoK Foreign Ministers' Meeting on September 28.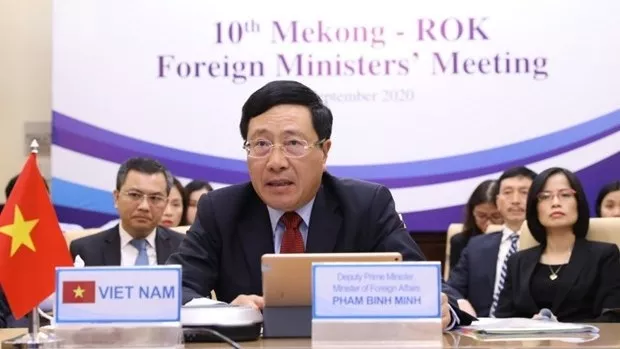 Vietnamese Deputy Prime Minister and Foreign Minister Pham Binh Minh speaks at the meeting
The meeting, held in the form of a teleconference, reviewed Mekong-RoK cooperation in the year, and discussed orientations for collaboration in the time ahead, along with a number of regional and international matters.
During the first Mekong-RoK Summit in Busan last November, the two sides agreed to upgrade their cooperation to a summit level, the ministers said.
They also emphasised major achievements in implementing cooperation projects on infrastructure, information-technology, education, vocational training, agriculture, environmental protection and water resources management.
Participants called for stronger cooperation between member countries to contain and mitigate the impact of COVID-19, and suggested enhancing partnerships in culture and tourism, human resources development, agriculture and rural development, infrastructure, information and communications technology, environment, and non-traditional security challenges.
They adopted the action plan for 2021-2025 with specific targets and measures, in order to develop a partnership for the people, prosperity and peace.
Regional and international issues regarding the East Sea/South China Sea, the Korean Peninsula, drought and cross-border crime were also debated during the meeting where the delegates consented to strengthen cooperation to cope with common challenges.
In his remarks, Minh said the Mekong-RoK cooperation has significantly contributed to the ASEAN Community building as well as joint efforts in promoting regional connectivity and sustainable development.
The ministers agreed that the second Mekong-RoK Summit will be held on the occasion of the 37th ASEAN Summit slated for November.
VNA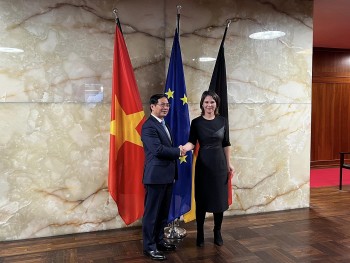 Overseas Vietnamese
At the invitation of Minister of Foreign Affairs of Federal Republic of Germany Annalena Baerbock, Minister of Foreign Affairs Bui Thanh Son paid official visits to the Federal Republic of Germany from September 26 to 27.