12 delicious Vietnamese desserts for summer
Summer is the perfect opportunity to enjoy a lot of special Vietnamese desserts and specilities. Here are some of the best dishes you should try when coming to Vietnam in summer.
(VNF) - Summer is the perfect opportunity to enjoy a lot of special Vietnamese desserts and specilities. Here are some of the best dishes you should try when coming to Vietnam in summer.
1. White Jelly Cubes Sweet Porridge
The first summer dish I want to introduce in this article is the white jelly cubes sweet porridge. White jelly cubes sweet porridge appeared and started to be famous from last summer, and this year, it is still attractive in the hot summer days. The cool and fragrant cubes of white jelly (made from milk), the aroma of grapefruit flowers, the freshness of fruits, and the nutty flavor of almonds make white jelly cubes sweet porridge famous for the delicious taste, the cooling effect, and health benefits.
2. Douhua – Soy Milk
Douhua soy milk is a popular and familiar rustic dish simply made from soy milk, Douhua, together with some pieces of black jelly. There are also many other variations of this dish which are a little bit more complex, such as soy milk coffee, soy milk carrot, soy milk chocolate… Douhua soy milk is cool, delicious, and especially cheap so this is always among the best Vietnamese summer dishes that people should try when coming to Vietnam.
3. Avocado Sweet Porridge
A bowl of avocado jelly actually just consists of a cylindrical piece of avocado jelly with the cool green color, served with coconut milk and milk. This sweet porridge is made from fresh avocado slices grinded with black jelly leaves and milk, so it still keeps the natural and slight flavor. Avocado sweet porridge is very cool, delicious, and nutritious, so it will be a wonderful choice for hot summer days.
4. Coconut Ice-cream
This ice-cream is stored in a big coconut with copra and fresh julienned coconut with dried fruits sprinkled on the surface. This ice-cream is fragrant, cool, blended with the freshness of coconut, giving you a brand new refreshing experience.
5. Yogurt With Jackfruit
Like white jelly cubes sweet porridge, yogurt with jackfruit has come as a storm in summer since the previous year. Just mix yogurt with fresh jackfruit, "tran trau"(tapioca balls), jelly, syrup, and condensed milk, and you will have a bowl of delicious yogurt jackfruit which is very cool and not expensive to enjoy. Yogurt with jackfruit now appears in almost every sweet porridge diner in Hanoi so that you will not lose too much time to find.
6. Sweet Sticky Glutinous Balls And Green Bean Sticky Glutinous Balls
Sweet sticky glutinous balls and green bean sticky glutinous balls ("Banh Troi" and "Banh Chay") were originated in China. They are the two traditional cakes in Northern Vietnam. These two cakes usually go together, especially popular in the Han thuc (Cold Food) Festival in lunar March 3rd annually. This day is also called "Banh Troi and Banh Chay day".
7. Sweet, Sour, Spicy Fruit Mixed
When the summer comes, there are many kinds of fragrant fruits in Northern Vietnam. Therefore, the "followers" of sweet, sour, spicy fruit mixed have favorable condition to enjoy many dishes, such as sweet, sour, and spicy dracontomelon, mango, plum, and pineapple. These dishes are sold in form of small pieces or thin slices. This is one of the most common and delicious summer dishes in Vietnam which are very cheap and enjoyable.
8. Green Bean Porridge Served With Salted Eggplant
There is a very special porridge in Vietnam which is eaten a lot in the summer – the green bean porridge served with eggplant. People can also serve this dish with ried tofu dipped in fish sauce with scallion.
A bowl of porridge like this is sold at a very affordable cost. This dish is usually served in the evening as a delicious snack which is very good for the digestive system. You can find a lot of green bean porridge diners on many streets in Hanoi.
9. Seaweed Jelly With Longan
This dish is also one of the best summer dishes in Vietnam which is very delicious and nutritious. The seaweed jelly is brittle and chewy cooked with dried sweet and fragrant longan, making this dish really tasty and attractive. It can also help to lower body heat in summer as it is served with cool ice.
10. Vietnamese Sour Sweet Salad With Dried Beef
This dish named Vietnamese sour, sweet salad with dried beef, but we cannot forget to mention an indispensable ingredient – julienned green papaya and carrot. Beef will be dipped carefully in spices (sugar, chilli powder), and then baked until it becomes brown-red (it will look spicy). Dried beef will be teared into thin fibers. Vietnamese sour sweet salad with dried beef is a rustic street dish which is very popular in Vietnam.
11. Yogurt With Fermented Purple Sticky Rice
Yogurt mixed with fermented purple sticky rice, coming with some cool crushed ice, will bring about an enjoyable summer dishes which you will remember as long as you taste it once. The sourness and spiciness of the fermented purple sticky mixed with the limberness and the fragrance of yogurt will help to "cool down" hot summer days effectively.
12. Aloe Vera Green Bean Sweet Porridge
Aloe vera is preferred because of its health benefits. Aloe vera can help people deal with many health problems, such as liver disease, stored body toxins. It can also help you have beautiful skin. Therefore, women extremely prefer refreshing dishes made with aloe vera, especially in hot summer days. Another great advantage is that aloe vera is also very useful for people who want to lose extra weight. Aloe vera green bean sweet porridge is one of the most delicious Vietnamese summer dishes which can help you get refreshed mentality and ruddy white skin.
Compiled by VNF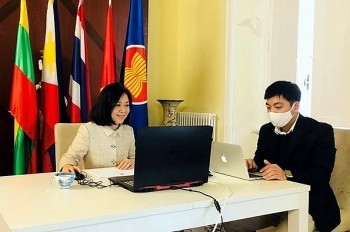 Overseas Vietnamese
The Vietnamese Embassy in Italy hosted an online gathering on January 15 to celebrate Vietnam's 2022 lunar New Year holiday (Tet).