13 nature wonders in Asia that you didn't know about
Who doesn't want to see some truly unique and stunning places. Following the guide of Yogi and Suchna – two travellers like taking the road less travelled and stumbling upon some hidden gems along the way, to discover some nature wonders in Asia that you probably didn't know about.
Who doesn't want to see some truly unique and stunning places. Following the guide of Yogi and Suchna – two travellers like taking the road less travelled and stumbling upon some hidden gems along the way, to discover some nature wonders in Asia that you probably didn't know about.
1. Ban Gioc Falls – Vietnam
Ban Gioc Falls in Vietnam.
These widest waterfalls of Vietnam naturally created over the river called Quay Son, are a sight to behold. These falls are a must for any travel bucket list. The surroundings around these falls have been equally bestowed with natural beauty to enhance the entire experience of visiting them. Till date, despite the popularity and potential of natural tourism of these falls, these remain safe from human intervention. These falls are located in Cao Bang province in Vietnam.
2. Gokyo Lakes Trek – Nepal
Gokyo Lakes Trek – Nepal
The Himalayan Range with the world's highest peaks is incomplete without the beauty of this gorgeous lake that belongs to some of the natural wonders in Asia. The lake boasts of being the highest freshwater lake with multiple experiences for travelers seeking its beauty. Your bucket list of natural wonders in Asia would be incomplete without gazing at the pristine waters of this water body in Nepal. Treks, glaciers, breathtaking views and unique topography add to the splendor of this lake.
3. Chocolate Hills – the Philippines
Chocolate hills by Nicole Law.
The uniqueness of these hills lies in the creation of these hills. They are a true natural wonder, and even geologists are at a loss to explain their formation within the known realms of their science. The top of these hills is usually covered with grass and trees only surround the periphery of these hills. Once the grass dries up and turns brown, the name of these hills becomes all too apparent. These hills have been a favorite candidate for the almost eighth wonder of the world poll for their inexplicable geographical features.
4. Zhangye Danxia Landform – China
Danxia landform-China by lwtt93 on Flickr.
UNESCO has named these mountains in China a world heritage site, and there will be hardly any human eye that would disagree. This natural wonder of colors takes the definition of magnificent to another level. Another geological wonder that could not have been kept out of this unique list. The layers of minerals and grains sandstone with a reaction to groundwater have left geologists baffled. The mystery and wonder of the Earth and Nature manifest in them.
5. Living Tree Bridges of Cherrapunji – India
Photo by Rex Features.
The subcontinent of India with the tapestry of seasons and landscapes doesn't fail to deliver in natural wonders. This natural bridge created through roots of rubber trees is nothing less than the amalgamation of nature and humankind. It signifies nature is reaching out in its unique ways to awe humans. Located in the north-eastern state of Meghalaya, the indigenous people are supporting these bridges created through roots. The tribes around the areas are helping the roots find directions to come together and form these natural architectural wonders.
6. Zhangjiajie National Park – China
Zhangjiajie National Park, China_photo Le Zenit Flickr.
Zhangjiajie National Forest Parkis a unique park located in northern Hunan Province. The most notable geographic features are the pillar like formations. They are the result of many years of physical, rather than chemical, erosion. It has been recognized as a UNESCO World Heritage Site.
7. Huanglong Scenic Valley
Huanglong by Yeung Ming.
Huanglong is located in the northwest part of Sichuan Province and encompasses the Huanglong and Muni Valley. It is well known for its colorful lakes, snow clad mountains, valleys and virgin forest. Beautiful scenery and fresh air. The mountains have snow on the tops and green trees covering the areas further down. Best is to go in spring when the luxuriant trees, blooming flowers, butterflies and birdsong enhances the glamour of the ponds even more.
8.Taroko Gorge – Taiwan
Taroko Gorge Taiwan by Robert Ziemi.
This Gorge has been named Taroko for its magnificence and beauty. It is located in eastern Taiwan in Hualien County. The River Liwu or the River of Mist has created this wonder by cascading through marble cliffs in the region over time. Some of these cliffs are 1,000 meters high and spread over a distance of about twenty kilometers.
9. Mount Zao – Japan
Volcano Crater of Mount Zao in Yamagata, Japan.
Mount Zao has breathtaking views and promises of a wholesome experience of sightseeing, sports, and rejuvenation. It is an active volcano located between Yamagata and Miyagi districts in Japan and provides a spectacular mixture of nature walks, skiing, and natural hot springs. This mountain along with its surrounding areas receives large amounts of snowfall during winters and is a must for the travel connoisseurs of natural wonders.
10. Kirirom national park – Cambodia
Kirirom national park Cambodia.
You can't imagine that tropical Cambodia also has an alpine scenery. Well, it has. Just two hours' drive southwest of Phnom Penh you can find Kirirom national park where you can find mountains covered with pine tries, crisp fresh air that reminds you almost of Switzerland. It has plenty of trekking opportunities, mountain biking trails and is rich of waterfalls. You can stay for example in Kirirom Mountain Lodge, a 1940s villa with amazing views of the cardamom forest below. You can enjoy delicious flatbread, honey-dripped and dotted with raisins.
11. North Maluku – Indonesia
Spearfishing Failonga Island, North Maluku, Indonesia.
North Maluku is unique in its sort. It is rich with unteaming jungle, has amazing ping and snorkeling opportunities, is still home to hunter-gathering nomads, has a rich history of clove trading and gives you the chance of ping an underwater volcano.
12. Sidemen – Bali
Photo by Roberto Faccenda.
Wake up by the local roosters to the stunning views of Mount Agung. Welcome to Sidemen, a laid-back village at the foot of Mount Agung and known for its beautiful rice terraces. If you want to experience the true Balinese countryside, then this is your cup of tea. It is Ubud 30-years back.
13. Yakushima – Japan
Yakushima Island, Japan.
Off the coast of Kyushu, Japan lies Yakushima. This mountainous and mossy forest island is home to trees that date back thousands of years ago, which gives it a very mystic vibe. It just recently started to get attention from travelers./.
According to I Like Local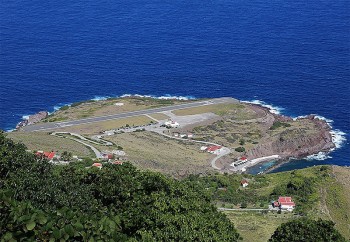 World
Most of the airports in the world are safe, with long and steady landings. But there are also several most dangerous and scariest airports, and here are some of them.