14 Asian destinations that will give you a dazzling Christmas getaway
Want to venture abroad for the Yuletide season? Just visit any of Skyscanner's picks for the best places to spend Christmas in Asia. Whether you're traveling alone or with your family, these destinations will fill your holidays with joyful experiences, mesmerizing sights and tasty culinary delights.
Want to venture abroad for the Yuletide season? Just visit any of Skyscanner's picks for the best places to spend Christmas in Asia. Whether you're traveling alone or with your family, these destinations will fill your holidays with joyful experiences, mesmerizing sights and tasty culinary delights.
1. Nagano, Japan
Photo credit: Flickr/Snow scene of Mt.Chausu/peaceful-jp-scenery (busy)/CC-BY
Yearning for a wintry Christmas getaway? Then, make sure to include Nagano to your Christmas travel plans this year! Not only does it boast plenty of snow, but it's also a paradise for winter sport hobbyists, offering tons of opportunities for snowboarding and skiing. As an added plus, the town brims with onsens – Japanese hot springs – where you can relax after a day of exploration and adventure. To make your holidays even more pleasurable, Nagano has some interesting sights that are definitely worth dropping by, including the Nagano Prefectural Shinano Art Museum, Nishi-no-Mon and Zenkōji.
2. Hong Kong, China
They don't call Hong Kong as one of the world's top Christmas destinations for nothing. Praised for its world-class culinary scene, shopping centers and fabulous Christmas decorations, Hong Kong will appease Pinoy voyagers with a seemingly endless string of electric holiday festivities and events, including the HK Winterfest, and prismatic fireworks. And for children and those who are kids at heart, Hong Kong Disneyland will feature a smorgasbord of Christmas-themed amusement and entertainment options.
3. Tokyo, Japan
Tokyo feels even more colorful and brightly lit than usual during the season of giving, when everything sparkles with gorgeous fairy lights. Some of the best places to see dazzling Christmas lights in Tokyo are the Roppongi, Starlight Garden in Tokyo Midtown and Caretta Shiodome, which is glowing with striking light projections. With their thunderous fireworks and special events, Disney Sea and Disyneyland also make great picks for those who are traveling with their family.
For a memorable last-minute shopping spree in Japan's capital, head to the European-inspired night markets located at Tokyo Sky Tree's foot. And, when it's time for you to sit down for your Xmas feast, join the locals as they indulge on KFC's crispy fried chicken and strawberry shortcake.
4. Harbin, China
A visit to Harbin in December will give you a chance to experience one of the world's greatest and most spectacular winter spectacles – the Harbin Ice and Snow Festival. Established in 1985, the Harbin Ice and Snow Festival has become a tradition and highlight for all locals and travelers visiting China during wintertime. Chilly and supremely eye-catching, the festival will showcase a myriad of gigantic and mesmerizing ice sculptures as well as glittering lighting effects.
Moreover, the city has a medley of Instagram-worthy architectural jewels and landmarks, such as Wen Miao Confucius Temple, Temple of Heavenly Bliss, Harbin Jewish New Synagogue, Saint Sophia Cathedral, Zhongyang Dajie and Old Quarter.
5. Langkawi, Malaysia
Want to inject a dose of fun of excitement to your holiday getaway? Why not spend your Christmas in Langkawi? With a fairly nice weather, Langkawi offers a slew of fun-filled experiences for travelers in December, including adrenaline-charged cable car rides, cultural pursuits, ping and snorkeling. Furthermore, Langkawi, every December, hosts the awesome International Maritime and Aerospace Exhibition Show.
6. Singapore
The Lion City treats Christmas as an all-singing and all-dancing upbeat feast for the senses. When December sets in, the city's streets are turned into a magical and gleaming candy-like land sprinkled with liquorices, gumdrops and candy canes. What's more, Singapore's air will be filled with joyful and melodious cheers of Christmas Noels. On top of it all, Singapore offers a plethora of lighthearted festivities and amusements in store for every Juan during the holiday season, including countdown parties, EDM concerts, art exhibits and shopping bargains.
7. Sapa, Vietnam
Dreaming of a Christmas vacation in a remote place with stunning natural landscapes? Look no further than Sapa, Vietnam! Serene and scenic, Sapa arguably has the best natural winter setting for a highland. With its fertile land, mountainous backdrop and laid-back fee, Sapa will sweep you off your feet, the moment you lay eyes on it.
8. Seoul, South Korea
In Seoul, the entire month leading up to Xmas Day is an extravaganza. Join the crowd of merrymakers enjoying the convivial spirit during Lotte World's Christmas Festival – a massive parade of floats, performers and characters. Likewise, you may buy a ticket to Tchaikovsky's Nutcracker Ballet, which has been a Yuletide must-see in Seoul for over 20 years.
Make the most of the biting weather with a few spins around the outdoor ice skating rink at Seoul Plaza. Afterwards, please your palate with a fancy and sumptuous buffet dinner at the Millennium Soule Hilton or at the Ritz.
9. Anywhere in the Philippines
You don't have to travel far to experience a memorable and fascinating Christmas escape. After all, the Philippines is often deemed as one of the best and merriest places to spend a Christmas vacation, boasting the longest Yuletide season in the world. As a matter of fact, the Christmas feel in the Philippine starts as early as September, with malls brightening up the mood with their lavish decorations and nostalgic Christmas songs from the great Jose Marie Chan.
And whether you're going to Palawan, Boracay or Cebu, you'll find tons of events and festivals that will make your Christmas season merrier and more pleasurable.
10. Macau
Macau, fittingly nicknamed as the "Gambling Mecca of Asia", brightly shines in December with glittering decors and marvelous lights dotting the city. But, make no mistake about it – there's a ton more to do in this city than just gawking at its majestic festive light displays. Blending Chinese customs with Portuguese-Christian traditions, Macau honors and celebrates the merry season with towering decorated Christmas trees, nativity scenes, luscious European cakes and mind-blowing fireworks.
In addition, there will be a host of Yuletide-themed shows all over the city, like choir performances at MGM. And, if you want to infuse an element of romance to your trip, don't forget to take a lovely Venice-like gondola ride at the Venetian Macao.
11. Bangkok, Thailand
While Christmas isn't officially a traditional holiday in Thailand, it amazingly is getting more and more popular, especially in its capital – Bangkok. Trust us, Bangkok won't feel too far from home, as soon as December rolls around. From the Paragon Mall to the Central World, every large shopping mall in Bangkok will deck its halls with dynamic light displays and extravagant Xmas destinations. Not to mention that will host a series of Yuletide-related events, concerts and parties. For shopaholics, Christmas in Bangkok can be a godsend too, with big-time retailers running holiday sales and promotions that can give you incredible bargains.
12. Taipei, Taiwan (China)
With its French-style Xmas market, charming Santas, fancy Yuletide cakes and brilliant illuminations, Taipei will overflow with holiday spirits in December. As with Bangkok, Christmas isn't a public holiday in Taipei, the city gleefully celebrates the festive season with a lineup of fascinating events. To make things even better, Taipei brims with attractions and sights that can make your trip even more pleasurable, such as Taipei 101, Elephant Mountain, Chiang Kai-Shek Memorial, Xingtian Temple, and a whole lot more.
13. Jeju Island, South Korea
Dreaming of a white Christmas? From Ecoland Theme Park to the famous Mount Hallasan, there surely are plenty of places in Jeju that look totally striking in wintertime. And with a cool and relaxing weather, you'll also have a shot to do some outdoor activities like hiking in Korea's most celebrated holiday destination. To top it all off, it is the only place in all of Korea where can visit without a visa. Not a bad option for your Christmas vacation, right?
14. Bali, Indonesia
In spite of its unmistakable tropical charm, Christmas feels very much alive on the famous "Island of the Gods". Thanks to a competitive tourism industry and a burgeoning expat population, the essence of Christmas has, over time, crept into the Balinese culture. You may either get along with colorful festivities in Seminyak and Ubud Villas or peacefully celebrate the season in a gorgeous villa that fronts the ocean in Amed, Lovina or Sanur. For ninongs and ninangs, shopping won't be a problem as well since there's no shortage of great finds and bargains in Matahari Shopping Center.
According to Skyscanner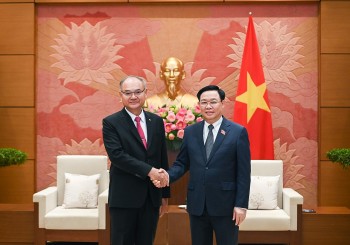 National
A Thai delegation is visiting Vietnam to learn about the guidelines and policies in the fight against corruption in Vietnam; exchange experiences with relevant Vietnamese agencies.