15 endangered otters rescued by SVW
Save Vietnam's Wildlife in coordination with Pu Mat National Park (Nghe An province) recently rescued 15 extremely rare small-clawed otters. This is also the largest number of otters ever rescued by SVW.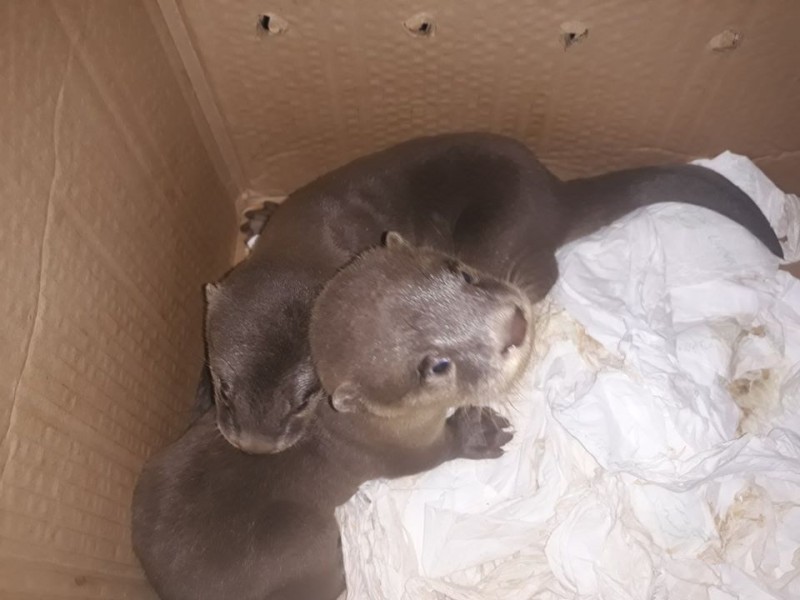 Two of the 15 small-clawed otters recently rescued. Photo: SVW
At around 21:30 pm (Vietnam Time) on November 20, a truck trafficking 19 small-clawed otters and 1 monkey were spotted and captured by police forces in Dien Chau district while traveling through Km429 1A National Road in Dien Thinh ward, Dien Chau district, Nghe An province.
Right after receiving the information, the quick-responding team of SVW had arrived at the scene with animal food, medical equipment to conduct rescue activities. Unfortunately, 4 among 19 otters had died before their arrival. All of the rescued otters were identified as baby Asian small-clawed otters (Aonyx cinereus). According to SVW, all of the 15 alive individuals weighed only 11.2 kg, of which four ones' eyes were yet to open. They were in poor health condition and had wounds on the bodies. SVW team immediately provided them with first aid and after that transported them to Pu Mat National Park for further health checkup and intensive care.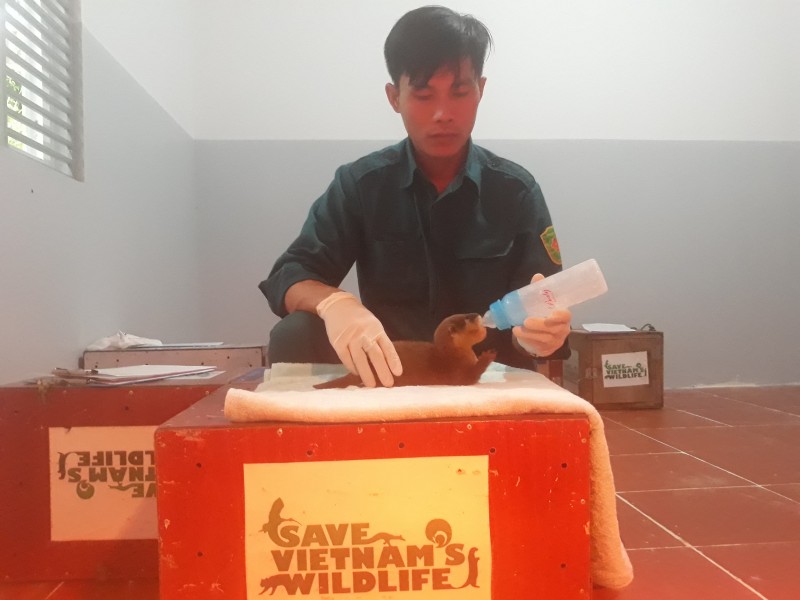 SVW staff takes care of a baby otter in a rescue center in Pu Mat National Park. Photo: SVW
At the moment, the police force in Dien Chau district is investing this animal trafficking case.
Small-clawed otter is named on the Red List of Vietnam as a highly endangered animal that needs special protection. This animal is also listed in the Convention on International Trades of Endangered Wild Fauna and Flora (CITES). Southeast Asia is home to four species of otters—Eurasian Otter Lutra lutra, Hairy-nosed Otter Lutra sumatrana, Small-clawed Otter Aonyx cinereus and Smooth-coated Otter Lutrogale perspicillata. They are listed on The IUCN Red List as Near Threatened, Endangered, Vulnerable and Vulnerable, respectively, and all but the Eurasian Otter are considered threatened with extinction.
In recent years, the number of small-clawed otter in Vietnam is sharply declining, due to over hunting, illegal trade and capture as pets, or the use of its fur, skin for commercial purpose and the loss of natural habitat.
Save Vietnam's Wildlife (SVW) is a national Non-Profit Organisation in Vietnam that was founded on the critical need for more effective solutions to secure a future for Vietnamese wildlife. SVW is actively engaged in supporting the confiscation of wildlife from the illegal trade, rescuing, rehabilitating and releasing animals into suitable and secured habitats that support conservation of wild populations.
The organisation carries out scientific research to increase the understanding of the requirements for threatened species in the wild and in captivity. They also educate and train the public and Vietnamese law enforcement officers to promote positive perceptions and attitudes towards wildlife conservation. In addition, SVW works to continually evolve animal welfare standards and practices for individual animals in the care of the CPCP and promote these ideals to the zoos and rescue centres in Vietnam.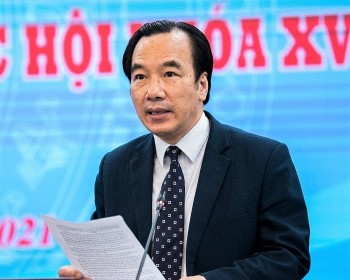 Focus
Consolidation of personnel; building and expanding the network of Malaysian partners; strengthening communication, and contributing to introducing to the people, especially the young generations of the two countries about the country and people of each side... are the focus of the Vietnam-Malaysia Friendship Association in the coming time. Chairman of the Association, Ngo Sach Thuc hopes that "people-to-people diplomacy will continue to be a pioneer in bringing the two countries and cultures closer to the goal of cooperation and integration".