19 Students with Disabilities Get Scholarships
Indus Towers and Shishu Sarothi awarded scholarships to 19 students with disabilities from Nagaland during an orientation programme on March 7 at Japfu Hotel, Kohima.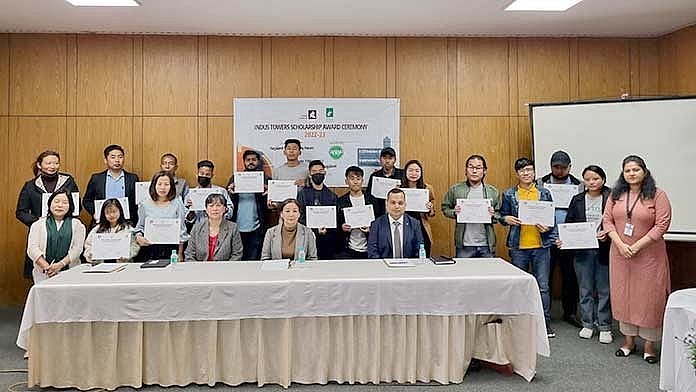 The awardees of scholarship, Indus Towers officials and State government officials.
A press release by Nagaland State Disability Forum (NSDF) informed that the scholarships was awarded under Indus Towers Scholarship Program for students with disabilities 2022-23, a CSR initiative of Indus Towers Ltd., being implemented by Shishu Sarothi. In her address, program manager, Indus Towers Scholarship Program (NE Region), Shishu Sarothi, Seema Jangid gave a background of the education scenario of children with disabilities.
She expressed her deep appreciation to Indus Towers for supporting the education of youth with disabilities, which was like a key to open doors for employment opportunities and empowerment of people with disabilities.
She thanked the office of the State Commissioner for Persons with Disabilities for the constant support in reaching out to deserving students and Nagaland State Disability Forum for their assistance and support towards implementation of the program as partners and point of coordination for the state of Nagaland.
Speaking on the occasion, Rajender Gurung, Circle CEO, NE Assam, Indus Towers wished all the scholars a bright future and encouraged them, saying that nothing was impossible, with the right intent and a "never say die" attitude.
State Commissioner for Persons with Disabilities, government of Nagaland, Diethono Nakhro encouraged the student scholars and urged the students to make the most of these opportunities. She recounted the impact of the scholarship program since its inception in 2016 and how it has helped students in the region to build a secure career for themselves, congratulating Shishu Sarothi and Indus Towers Ltd for the same.
Chief guest of the programme, director, social welfare department, government of Nagaland, Tosheli Zhimomi congratulated the scholars from Nagaland and asked them to take up the given opportunities, and make the most of the scholarship. She commended Indus Towers Ltd for the noble initiative and the seamless implementation of the scholarship program by Shishu Sarothi for supporting education of people with disabilities, as a part of Indus's CSR initiative. She also appreciated NSDF for coordinating the scholarship program in Nagaland.
The felicitation ceremony of the selected scholars was followed by an induction to orient the students about accessing the scholarship through the portal and information related thereto. Meanwhile, the release mentioned that the scholarships was being offered to 180 students in 2022-23 across India towards academics/professional and coaching for employment-oriented examinations. Of these, 162 are from the northeast region and 18 slots are reserved for students with disabilities from outside the northeast, but who are studying in government recognized institutions of national importance in the country.