19-year-old girl with cancer attends beauty pageant to spread optimism
19 years old, beautiful, with a bright future, Dang Tran Thuy Tien never thought that she could have cancer. She is making waves across the country for her participation and success, in a beauty contest organized by her university in Hanoi.
Thuy Tien before and after diagnosed with cancer
Dang Tran Thuy Tien, who is sophomore at Foreign Trade University (FTU) in Hanoi, was first diagnosed with breast cancer in June.
"I felt as if the sky was falling down. Like I was sentenced to death," Tien recalled the moment she was diagnosed.
According to doctors at National Cancer Hospital (K Hospital) in Hanoi, Tien is the youngest patient they have ever diagnosed with breast cancer.
At first, Tien said, it was difficult to accept the reality.
She felt "extremely resentful" and that it was "so unfair."
Tien is confident with her bald head , saying she would not surrender to fate
But even with the setback of cancer, support from her family and friends helped her overcome what she calls "the challenge of life."
The 19-year-old girl began battling cancer head-on.
She started her first session of chemotherapy in July and currently travels from her hometown in the northern port province of Hai Phong to Hanoi twice a week for chemotherapy.
She has also changed her daily habits.
She now gets out of bed by 5:00 am every morning to exercise with her father, has been on a strict diet, and takes piano lessons – an activity that she said distracts her from her disease.
For Tien, the changes she has made and the treatment she has gone through have been time-consuming, painful, and uncomfortable, but she has not let it affect her academic performance.
If anything, it has boosted her confidence.
A shaved head and all, Tien recently chose to register for a beauty contest organized by her university and, to everyone's surprise, she landed amongst the top 12 when the finalists were announced on Monday night.
Dang Tran Thuy Tien competes at the FTU Charm 2019 in Hanoi on October 27. Photo: N.T / Tuoi Tre
According to Doan Tra My, a student chairwoman at FTU, the organizing committee of the contest paid attention to Tien from the very beginning of the competition, not because of her cancer, but because of her beauty, smile, and the uniqueness she showed in each round of the competition.
"Although Tien is undergoing treatment, she isn't too shy to show off her pretty, confident, and bright smile," My said.
"This year's contest was themed 'She is the difference,' and it is true that Tien is different, respectfully."
As the FTU Charm beauty pageant will last until December 15, Tien's family and friends hope that the young girl continues her run toward the first prize in the contest.
"I hope that those who are suffering from serious illnesses read about this and it gives them optimism," Tien said.
VNF ( TTO )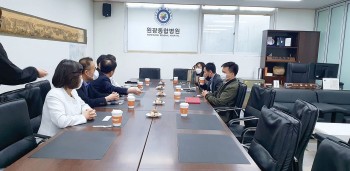 Overseas Vietnamese
A meeting was organized at the Wonkwang Hospital on the provision of medical support for the Vietnamese community in Korea in accordance with the signed cooperation agreement.