21 vacation destinations you can visit on USD20 a day
Cheapism had tapped a half-dozen bloggers for their recommendations for destinations that can be experienced on $20 a day or less for food and accommodations. Here are some of their top suggestions, as well several destinations identified by combing through budget travel sites and hostel listings.
Cheapism had tapped a half-dozen bloggers for their recommendations for destinations that can be experienced on $20 a day or less for food and accommodations. Here are some of their top suggestions, as well several destinations identified by combing through budget travel sites and hostel listings.
THAILAND
Thailand is easily one of the most affordable destinations. No matter where you are in the country — Bangkok, Chiang Mai, Phuket — it's possible to eat and sleep on a shoestring budget.
"Delicious meals can be bought on the street for as little as 10 baht (29 cents) for a skewer of chicken or 60 baht ($1.75) for a heaping plate of fresh crab fried rice," says Kyle Stewart, travel editor for the blog Live and Let's Fly.
"Youth hostels are available from just $2 a night and there are dozens and dozens of options." Stewart suggests the Barn and Bed Hostel in Bangkok, which is about $13 per night.
VIETNAM
Phoom Vipaseranee/Shutterstock
This is another stunning destination that won't bankrupt you. From Hanoi to Ho Chi Minh City, there are fabulous cheap eats and remarkably affordable places to sleep in Vietnam.
"Just last week I purchased a bánh mì omelet sandwich for breakfast made on the street outside the opera for 97 cents," says Stewart. "Bowls of pho noodle soup with chicken, beef, or pork are widely available for just $2."
Hostels, meanwhile, start at around $3 per night. The Hanoi Buddy Inn & Travel, which charges $7 per night, received an "excellent" rating from users on Hotels.com.
INDONESIA
A sprawling nation made up of thousands of islands, Indonesia is yet another destination where it's possible to travel for very little.
Rooms at the Maya Village Bali can start at just $5 per night, and that includes breakfast and free Wi-Fi. As for food, Stewart says noodles and rice dishes can be purchased in Bali for between $2 to $3 a plate. "Bintang beer is enjoyed by locals and foreigners alike for less than a buck," he adds.
"And if you're short of things to do — head to the beach for some of the best surfing in the world."
SAMOA
Samoa is laid back, naturally beautiful and affordable, says Anthony Bianco, creator of The Travel Tart - Offbeat Tales from A Travel Addict.
"You can get a garden fale, which is a wooden shack near the beach, for 50 Samoan tala, or $20, says Bianco. "Prices include breakfast and dinner and the portions are so big you don't need lunch." Anthony recommends Lauiula Beach Fales, where a standard beach fale in offseason starts at 50 Samoan tala.
GEORGIA
Lals Stock/Shutterstock
Nate Hake, a globetrotter who visited 37 countries in nine months and creator of the site Travel Lemming, recommends Svaneti, Georgia, for those on the hunt for a memorable and affordable destination.
"Svaneti is a gorgeous mountain region with its own culture," says Hake. "It evaded capture by the Mongols, Persians, or Ottomans thanks to its unique geography and the fierce Svan people. The stunning mountain landscapes are still dotted by medieval towers."
Food can be as cheap as $1 for a meal at a local bakery, he adds. Accommodations at guesthouses that cost as little as $10 per night are listed on Airbnb.
CORON ISLAND, PHILIPPINES
When it comes to memorable beach destinations, it doesn't get much better than Coron Island in the Philippines, according to Katharine Cortes, creator of the blog Tara Lets Anywhere.
"There are protected islands, green lagoons, and tons of beaches, plus clear lakes" says Cortes, adding that dormitory or single rooms can be found for between $10 to $12 per night and meals for just $1 to $2. She recommends Sea Horse Guest House, where rooms start at $11 per night.
COLOMBIA
Colombia is becoming an increasingly popular destination according to blogger Joe Wareham, creator of Worlds Away. And one of his favorite places to visit is Cali, a region of the country known as the capital of salsa music.
"Being in the south of the country, Cali is cheaper and less touristy than further north," says Wareham. "And watching and participating in salsa dancing is a primary, cheap form of entertainment."
A dorm room bed in the El Viajero costs about $10, and includes the daily group salsa lesson in the evening.
SRI LANKA
An island nation south of India known for its beauty, Sri Lanka can also be a budget traveler's paradise, says Leslie Price, creator of My Adventure Bucket.
"This is one of the absolute cheapest places I've ever visited," she says. "The staple foods here are cheap, spicy, and plentiful ... I paid 120 Sri Lankan rupees for a vegetable kottu, which is less than $1. And the serving was so big I had enough for a second meal."
Steer clear of high-end hotels and instead stay at guesthouses, which are a Sri Lankan specialty, says Price. Dorm beds at the Marine Tourist Guest House at Negombo Beach are under $7 a night.
CAMBODIA
Described by Hostelbookers as a land of $2 dorm beds and 50-cent beers, there are countless affordable hostels in Cambodia.
The Hi Siem Reap Deluxe Hostel starts at around $3 per day, which leaves you with plenty of money to explore the country's famous sites, including the Angkor Wat Temples. Food is equally cheap in Cambodia, with cafes serving curry or char-fried noodles for as little as $1.
EGYPT
Prin Adulyatham/Shutterstock
The land of pyramids and countless other fascinating antiquities, Egypt is a must-do on any serious traveler's bucket list, and you don't have to spend a fortune checking this one off.
The Pyramids Inn Motel lists private rooms from $12, and that includes breakfast. (Many hotels and hostels in Egypt serve breakfast.)
Local street stands and cafes are another place to score a cheap meal, costing about $4 to $10. The main goal is to steer clear of the tourist restaurants, which charge much more.
NICARAGUA
Skip pricey Costa Rica and head instead to Nicaragua, another destination famous for budget accommodations.
Rooms at the El Caite Hostel, which even has a pool, start at $14. The Pachamama Hotel, less than two miles from the city, is about $13 per night.
Food is equally affordable. Among the most budget-friendly places to eat are street stalls, where you'll spend less than $2, or splurge on a sit down meal at a restaurant and enjoy rice and beans (gallo pinto) for between $2.50 and $5.
POLAND
Unlike countries such as France, Italy, and Spain, many Eastern European destinations remain quite inexpensive for travelers. Poland, rich in history and beautiful architecture around every turn, is a prime example.
Rooms at two-star hostels such as Hostel Deco and 4.Friends Hostel (both just a few miles from Krakow) are $10 a night. When it's time to eat, try a milk bar — not a candy bar but rather a Polish cafeteria. These restaurants are a remnant of the communist era and serve meals for about $3.
ALBANIA
Many shoestring travelers have already visited Croatia as an up-and-coming destination. But Albania should also be on a budget traveler's radar.
The Albanian Riviera, the charming interior region of Berat with its whitewashed Ottoman houses, and the capital of Tirana are all fascinating choices.
Private rooms at the Milingona City Center in Tirana are about $15 and include breakfast. A meal at an inexpensive restaurant costs about 650.00 lek, or less than $5.
BOLIVIA
saiko3p/Shutterstock
A central South American country that includes the Andes Mountains, the Atacama Desert, and the Amazon Basin rainforest, Bolivia is a backpacker's paradise.
For those starting in the city of La Paz, the Residencial Latino is located in the city center, within walking distance of Plaza Murillo and includes free breakfast and Wi-Fi for $17.
Restaurants with set menus are your best bet for cheap eats, typically charging between $2 and $3.
GREECE
A land of mind-boggling antiquities and the unforgettable islands, Greece also offers a plethora of bargain accommodations and dining.
On Santorini, one of the most unforgettable islands in the world, the stylish Fira Backpackers Places charges $14 per night. The price includes free Wi-Fi, use of a kitchen, and a washing machine.
Dinner at an inexpensive restaurant will cost about $17. Sandwich shops, where you can get a gyro for about $5, are another option.
LAOS
Known for mountainous terrain, French colonial architecture, hill tribe settlements, and Buddhist monasteries, Laos is a Southeastern Asian country where it's possible to live quite comfortably on $20 a day.
Rooms at the Mano Guest House, which received solid reviews from TripAdvisor users, start at $10 a night, and the property is less than a 15-minute walk from a royal palace, water falls, and a night market. As for dining, street food will cost just a few dollars.
ROATÁN, HONDURAS
An ocean and beach lover's paradise, Roatán is one of Honduras' Caribbean Bay islands, known for its pe sites and marine life.
The Roatán Backpackers' Hostel, which received a "superb" rating on Hostelworld thanks to its location, cleanliness and helpful staff, offers beds for $10 per night. The property includes a communal kitchen, allowing visitors to cook their own meals to save money.
CHINA
4045/Shutterstock
Get out of Beijing and it's entirely possible to live on just $20 a day.
In Chengdu for instance, the Chengdu Lazybones Hostel Templeside Poshpacker lists beds for less than $5 per night. A vintage, stylish property, it's just a 5-minute walk from a historic local monastery.
For cheap eats, try the highly rated Mi Xun Teahouse, where the average price of a meal ranges from $4 to $15.
NEPAL
A central Himalayan country full of endless natural wonders (including eight of the world's 10 tallest mountains), Nepal is one of the least developed nations in the world.
Dorm beds at the Shangrila Boutique Hotel in Kathmandu, which receives fabulous ratings from Hostelworld, are $9, a price that includes breakfast and free Wi-Fi.
There are many options for cheap eats including Fren's Kitchen Restaurant and Yangling Tibetan Restaurant.
INDIA
A huge South Asian country with history dating back five millennia, India is one of the planet's cheapest places to travel. The possibilities here are limitless.
In New Delhi, for example, there's also a long list of hostels for $10 or less.
Cheap food is plentiful in India. TripSavvy recommends Karim's, which serves up inexpensive Mughlai-style food in a colorful neighborhood of Old Delhi. Meals are about 800 rupees or $12.
ECUADOR
Jess Kraft/Shutterstock
One last budget option for the frugal traveler, Ecuador encompasses Amazon jungle, Andean highlands and the Galápagos Islands.
If you're using the capital of Quito as your starting point, try Hostel Revolution in the old center of the city. Dorm beds start at $9, which includes free Wi-Fi.
The best food deals can be found in small restaurants catering to local workers on their lunch breaks, says TripAdvisor. Look for signs advertising comida corriente or comida ejecutivo, which mean the restaurant features set menus. For $3 or so, lunch is served.
All prices were researched in early July and are subject to change./.
According to Cheapism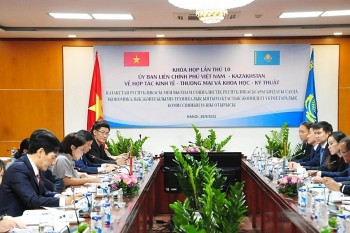 Friendship
The 10th session of the Vietnam-Kazakhstan Intergovernmental Committee on economic-trade and scientific-technical cooperation was held in Hanoi on September 26.