22-year-old J-K author Manpreet adds her name in Young achievers award
In this fast-paced era of technology, when the culture of book reading is slowly dying down, there are young boys and girls in the Kashmir valley who are not only literate but also able to give shape to their thoughts through writing.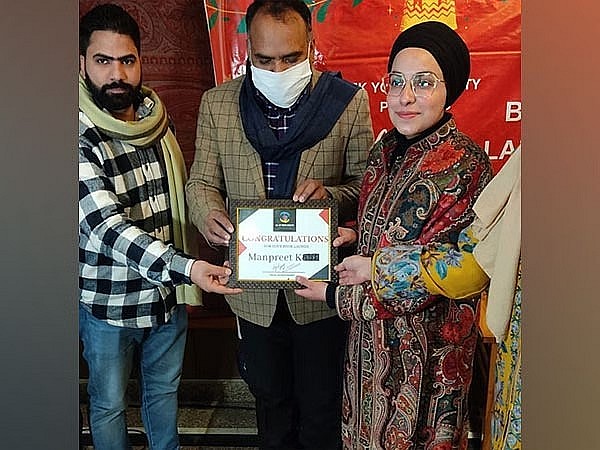 Manpreet Kaur, author from Srinagar being facilitated for her work (Photo/ANI)
22-year-old Manpreet, from srinagar, has brought out a book of poems called "Blues and Bliss". By making better use of her time, Manpreet is not only doing social service along with her studies but also developing her creative intelligence.
The book which is centred around the vicissitudes of life stresses to be grateful to the Creator of the Universe in every situation. The book have been divided into three parts dealing with different themes. Manpreet, who is matriculating in science stream, is very much interested in reading books of national and international renowned authors and getting inspired by them she herself is making ways to become a renowed author as well.
Manpreet Kaur, who hails from Solna area of Srinagar, the summer capital of Jammu and Kashmir, is highly influenced by the poetry of the 16th-century thinker and renowned poet Bhai Nandalal. From the age of 15, Manpreet Kaur has been writing down her thoughts and surroundings in her writings.
"Blues and Bliss" is the first book of this gifted girl and she is currently writing her second book called "Kashmirit". She has been awarded many prizes and honours so far, including in the category of poetry. Also included is the Young Achievers Award 2021 given by the Lieutenant Governor Manoj Sinha.
A creative genius, Manpreet is also passionate about social service. She is associated with a non-governmental social organization. It is also leading in the distribution of food and other essential goods.
In addition to this, Manpreet continues to raise her voice against social evils flourishing in society and the oppression and abuse of women. Wherever women are victims of any kind of abuse or other problems, Manpreet stands up.
Manpreet says that women's empowerment and gender equality is the most important component in the path of social and economic development of any region or nation. It is enough to empower women and promote gender equality, but the role of women in the development of the country can never be forgotten.
Success can be achieved in any work with dedication, courage and courage. Manpreet is not only making her parents famous with her ability and talent, but she has emerged as a social worker at an early age and become a beacon for others.