39 lorry deaths: Another suspect admits immigration offence
A man has admitted his involvement in the deaths of 39 Vietnamese migrants whose bodies were found in the back of a lorry in Essex, the UK, last October.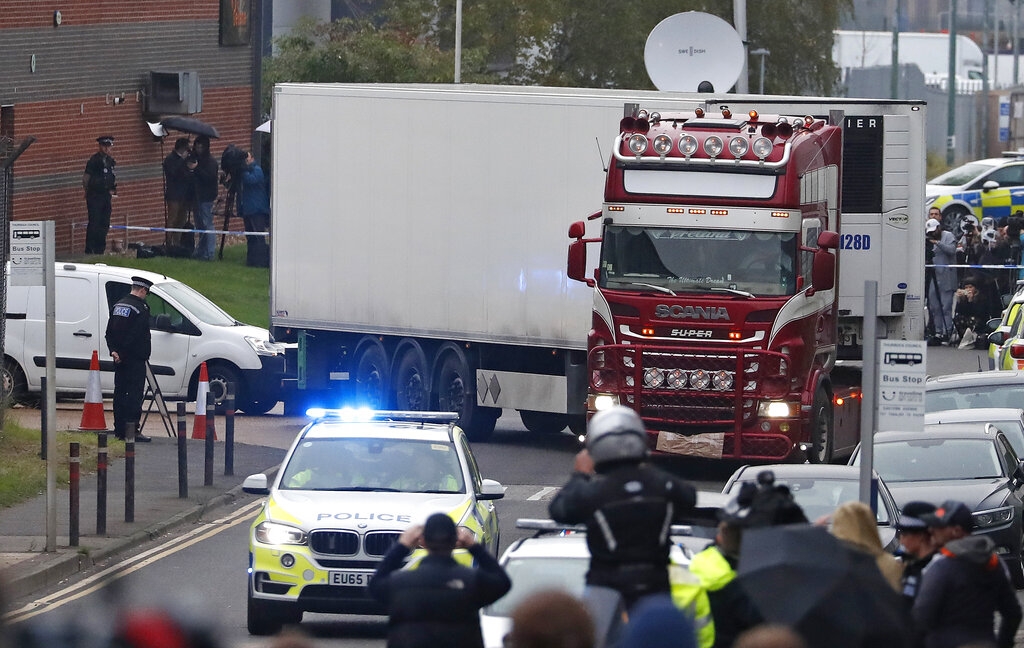 Police escort the truck, that was found to contain a large number of dead bodies, as they move it from an industrial estate in Thurrock, south England in this October 23, 2019 file photo. (AP)
According to the UK's Daily Mail, Alexandru Hanga, of Hobart Road, Tilbury, has pleaded guilty to conspiracy to assist unlawful immigration under section 25 of the Immigration Act 1971.
He entered his plea when appearing at the Old Bailey via video link earlier June 26 (local time). Local police say Hanga, 28, will appear in court for sentencing at a later date.
Another trafficker, 43-year-old Gazmir Nuzi, admitted facilitating unlawful immigration.
Nuzi, from Tottenham, pleaded guilty to conspiring to facilitate the commission of a breach of UK immigration law by a non-EU person.
Christopher Kennedy, 23, denied conspiring to commit human trafficking and assisting unlawful immigration between 1 May 2018 and 24 October 2019.
Earlier, on April 8, 25-year-old lorry driver Maurice Robinson from Craigavon in Northern Ireland pleaded guilty to 39 counts of manslaughter at the Old Bailey. He had previously pleaded guilty to conspiracy to assist unlawful immigration and acquiring criminal property at the same court on November 25 last year.
Last November, Vietnamese authorities released the identities of all 39 Vietnamese found dead on an industrial estate about 20 miles (32 km) east of London. The two youngest boys were 15 years old and the oldest man was 44.
Their bodies were discovered by emergency services shortly after the trailer was left at an industrial estate in Grays, Essex, on October 23 last year.
The discovery was made shortly after the container arrived in Purfleet, having travelled 173 miles from Zeebrugge in Belgium.
An Essex Police investigation into the alleged people-smuggling ring linked to the deaths led to charges against five men, including Robinson.
Jonathan Polnay, prosecuting, said on June 26: 'There are three trips in particular that comprise the substantive part of that conspiracy.
'There are the events were sadly 39 people were found dead and there are two further trips where Mr Kennedy was the driver and it is one of those trips which Mr Nuzi was in.
'The lorry would arrive at Purfleet docks were a trailer would be waiting. That would be driven to Collingwood Farm. It is not a built-up area, it is near a golf course.'
The Old Bailey heard prosecutors claim there would be a fleet of vehicles waiting for the migrants at the site.
Gheorghe Nica, 43, denies the manslaughter offences and faces a trial, expected to last between up to eight weeks, that will start on 15 October at the Old Bailey. He also denies a count of conspiring to assist unlawful immigration between 1 May 2018 and 24 October 2019.
Kennedy, of Corkley Road, Armagh, Northern Ireland, denies assisting unlawful immigration and conspiring to commit a human trafficking offence.
Robinson, of Laurel Drive, Craigavon, Northern Ireland, has admitted 39 counts of manslaughter but denies transfer-ring criminal property. He has also admitted conspiracy to assist unlawful immigration and acquiring criminal property.
Nica, of Mimosa Close, Langdon Hills, Basildon, Essex, denies 39 counts of manslaughter and one of conspiring to assist unlawful immigration.
Hanga, of Hobart Road, Tilbury, admits conspiring to assist unlawful immigration.
Valentin Calota, 37, of Cossington Road, Birmingham is yet to enter any pleas to a charge of conspiring to smuggle non-EU nationals into the UK, contrary to immigration law, between May 1 2018 and October 24 2019.
Twenty-one of the victims were from Nghe An Province in north-central Vietnam, 10 from neighboring Ha Tinh, and the rest from nearby Quang Binh and Thua Thien-Hue provinces, as well as Hai Duong Province and Hai Phong City in the north.
Their remains were brought home later that month./.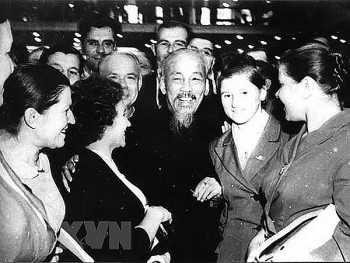 National
Throughout its history Vietnam has come into contact and exchanged with many cultures and civilizations.