According to AbcNEWS, police in Belgium and France on Wednesday announced the arrests of 26 people suspected of human trafficking in the deaths of 39 Vietnamese migrants who were found in a refrigerated truck in Britain last year.
British police officers work by a lorry, believed to have originated from Bulgaria, and containing 39 dead bodies, discovered at Waterglade Industrial Park in Grays, east of London, Oct. 23, 2019. (AFP Photo)
The Paris prosecutor's office said the 13 people arrested in France are suspected of taking part in a criminal organization that had been housing and transporting several dozen migrants from Southeast Asia every day for several months.
Sixteen searches took place Tuesday in the Brussels area, including in safe houses, leading to the arrest of 11 Vietnamese citizens and two Moroccans. Five of them have been charged with migrant smuggling with aggravating circumstances, belonging to a criminal organization and forgery.
Judicial authorities said a series of early morning raids took place simultaneously in Belgium and France on Tuesday as part of two legal investigations.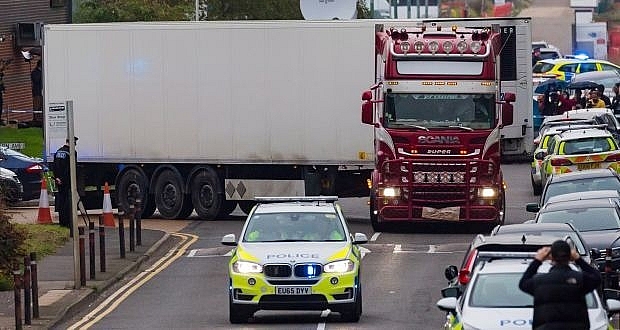 Photo: The Irish Times
One inquiry was launched following the investigation into the deaths of the 39 migrants found in October inside a truck's refrigerated container that had been hauled to England.
Last November, Vietnamese authorities released the identities of all 39 Vietnamese found dead on an industrial estate about 20 miles (32 km) east of London. The two youngest boys were 15 years old and oldest man was 44. Their remains were brought home later that month.
Twenty one of the victims were from Nghe An Province in north central Vietnam, 10 from neighboring Ha Tinh, and the rest from nearby Quang Binh and Thua Thien-Hue provinces, as well as Hai Duong Province and Hai Phong City in the north.
Last month, the truck driver pleaded guilty to manslaughter at a London court.According to the Guardian, In Belgium, the federal public prosecutor's office said the investigation quickly established the route taken by the victims before they got into the truck and said some of them had stayed in Belgium before their departure.
Lonicera Vu