5 Vietnamese companies ranked top 10 most visited e-commerce websites in Southest Asia
According to the latest e-commerce report, five most popular Vietnamese companies have been listed in top 10 most-visted e-commerce websites, as customer's consume and demands rising despite the global pandemic.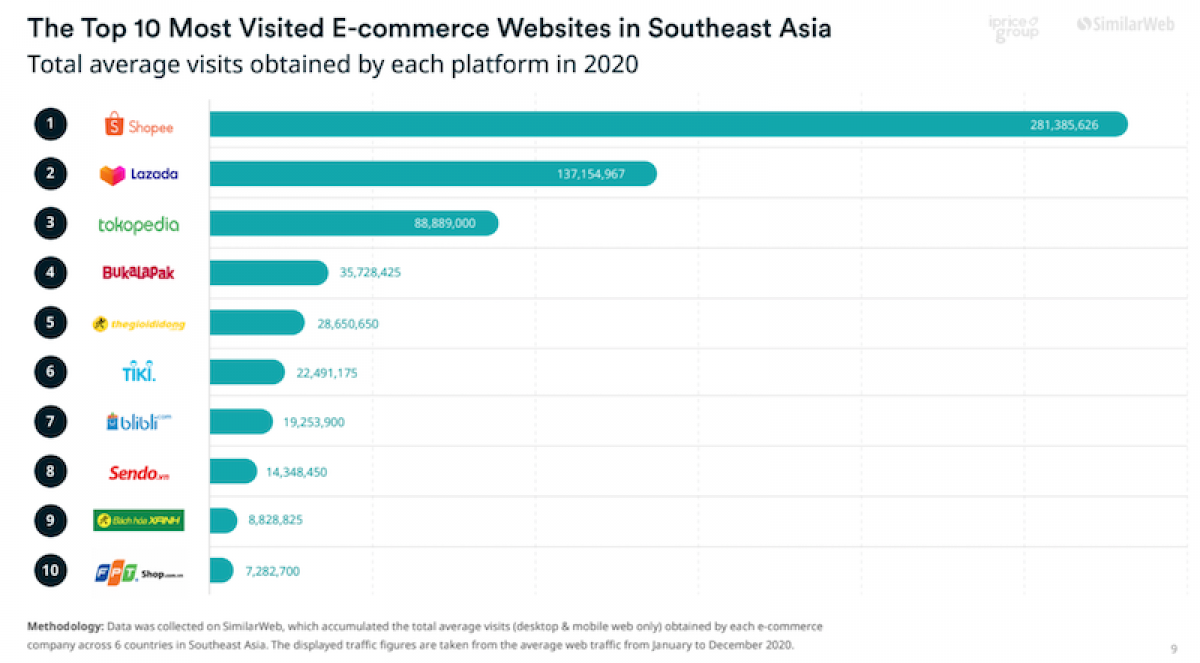 Source: iPrice Group
The Vietnamese e-commerce platforms are thegioididong and Bach hoa xanh (28.6 million and 8.8 million visits, respectively), Tiki (22.5 million visits), Sendo (14.3 million visits) and FPT Shop (8.8 million visits), according to the report conducted by iPrice Group, an e-commerce aggregator in collaboration with SimilarWeb and AppsFlyer, according to HanoiTimes.
Alibaba and SEA-backed Shopee and Lazada, and three startups 'unicorn' including Tokopedia, Bukalapak and Blibli from Indonesia were also on the list.
Three Vietnamese platforms, thegioididong, Tiki and Sendo remained the 5th, 6th and 8th positions among the top e-commerce sites web visits from the first quarter to the fourth one 2020.
Tran Tuan Anh, Managing Director of Shopee Vietnam, saw that 2020 was an especially transformative year for e-commerce. As consumers adhered to social distancing measures and stayed home, they turned to online platforms not just for their daily needs but also for entertainment and interaction.
"This led to online shopping evolving from a purely transactional experience to a more social experience, with e-commerce platforms integrating more interactive elements such as games and live-streaming to engage users," Tuan Anh said.
The report revealed that the overall website traffic of online shopping platforms increased positively in Vietnam and other ASEAN countries including the Philippines, Malaysia, Thailand and Indonesia year-over-year.
A recent report by Google, Temasek and Bain & Company mentioned that, to ensure sustained growth, talent is a key factor that businesses need improve as e-commerce is new while there are only a few schools and classes specializing on training human resources.
The larger "piece of cake" in the billion-of-dollar e-commerce market would belong to those who soon prepare, anticipate the market and execute their strategies. However, this success cannot be achieved overnight.
E-Commerce Industry in Vietnam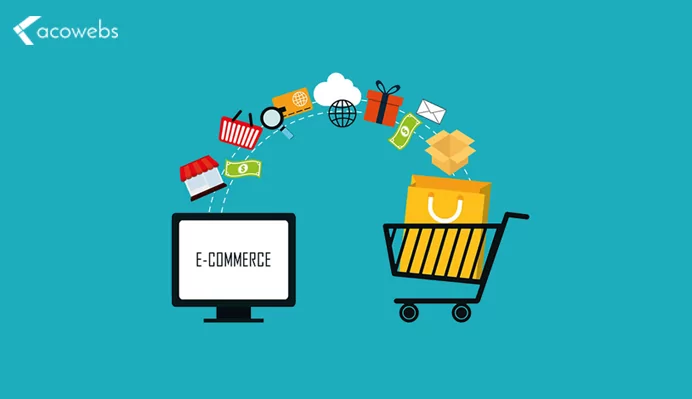 Photo: Acowebs
Vietnam's e-commerce industry is rapidly expanding, thanks to increasing foreign investments, a favorable regulatory environment, and enhanced internet access. By 2025, online sales are projected to constitute nearly a tenth of the country's overall goods and services sales, according to Vietnam Briefing.
Vietnam's flourishing digital economy and its vibrant e-commerce space make it a conducive place to tap into new business opportunities. Recently, it has been receiving considerable attention from both domestic and foreign investors.
E-commerce has been on the rise in Vietnam, increasing from about 28 percent in 2017 to nearly half of the population in 2020. By 2025, over 70 percent of Vietnam's 100 million population is expected to be using e-commerce transactions. As per Statista, the country's e-commerce revenue will cross US$6 billion by the end of 2020, with projections closing in near US$9 billion by 2025.
E-commerce provides the sellers with a global reach. They remove the barrier of place (geography). Now sellers and buyers can meet in the virtual world, without the hindrance of location.
Electronic commerce will substantially lower the transaction cost. It eliminates many fixed costs of maintaining brick and mortar shops. This allows the companies to enjoy a much higher margin of profit.
It provides quick delivery of goods with very little effort on part of the customer. Customer complaints are also addressed quickly. It also saves time, energy and effort for both the consumers and the company.
Electronic commerce also allows the customer and the business to be in touch directly, without any intermediaries. This allows for quick communication and transactions. It also gives a valuable personal touch.
Vietnam's e-commerce is quickly catching up with its ASEAN peers, ranking 86 in the 2020 United Nations E-Government Survey. The country moved up two places among 193 nations, and it is aggressively improving its e-governance, aiming to be among the top four Southeast Asian nations by 2025. Its 40 million online shoppers annually spend US$210 on an average to make it the region's second-largest e-commerce market. With rising internet access, wider adoption of smartphones, and increasing confidence in online shopping, Vietnam's e-commerce market is expected to continue to grow in the near term.
The success of several Vietnamese origin e-commerce platforms, such as Tiki, Sendo, and Thegioididong proves Vietnam's ability to foster e-commerce. Investments from Japan, Germany, the US, South Korea, China, and Singapore have empowered these platforms' evolution into large e-commerce powerhouses. Recently, Tiki raised US$130 million from NorthStar Group, in addition to a majority stake investment from China's JD.com. Another example of these investments is the US$51 million deal of Sendo.vn from Japan's SBI Holdings. Grab and Gojek, the region's two most valuable startups, are evaluating the terms of a potential merger. This merger has the power to shift market dynamics across Southeast Asia's e-commerce sector.
Vietnam's total e-commerce revenue has grown by over 2.6 times in the past three years, crossing US$6 billion in 2020. As per Statista's estimates, this revenue is expected to grow at the rate of over 24 percent annually for the next five years to reach US$9 billion.
The rise of Vietnamese e-commerce as an alternative to brick-and-mortar sales is driving the development of its digital payments sector. Improved reception of digital financial technology (fintech) and the COVID-19 pandemic has facilitated a spike in demand for contact-free and cashless transactions. Nearly a third of Vietnam's e-commerce transactions rely on cash payments currently, and this share is expected to shrink to a quarter by 2025. A rise in digital payments is likely to take over this seven percent reduction in cash payments.
The booming e-commerce market and favorable regulatory changes are driving the rapid adoption of digital payment modes in Vietnam. E-wallets feature the highest growth projections of all payment modes, with their share to rise by over 15 percent in the next five years, compared to a nine percent estimated growth of other digital payment methods.
The accelerated development of Vietnam's 4G infrastructure has dramatically brought down its mobile internet costs, making it the 10th cheapest in the world. Affordable mobile internet access has increased the country's mobile phone base to over 100 million registered subscriptions. This massive internet user base and affordable internet access have been one of the pillars for the rapid adoption of e-commerce and digital payments in Vietnam.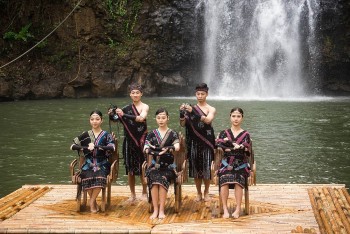 Travel
Many passengers applaud the creativity of the flight instruction video that Vietnam Airlines has recently introduced on their flights. This video not only creatively conveys the message of flight safety but also helps to spread globally the unique, indigenous cultural values ​​of the country and people of Vietnam.