Vietnam to aim for more Indian investment opportunities at joint business forum
At a joint India-Vietnam business forum held this week in Chandigarh city, Pham Sanh Chau, Vietnamese ambassador to India asks Indian bussinesses on exploring Vietnamese market's opportunities and investment in the country.
Vietnam became one of the few countries in the world to enjoy positive economic growth of 2.9% last year, despite the negative impact of the novel coronavirus (COVID-19) pandemic, Ambassador Chau told delegates attending the forum.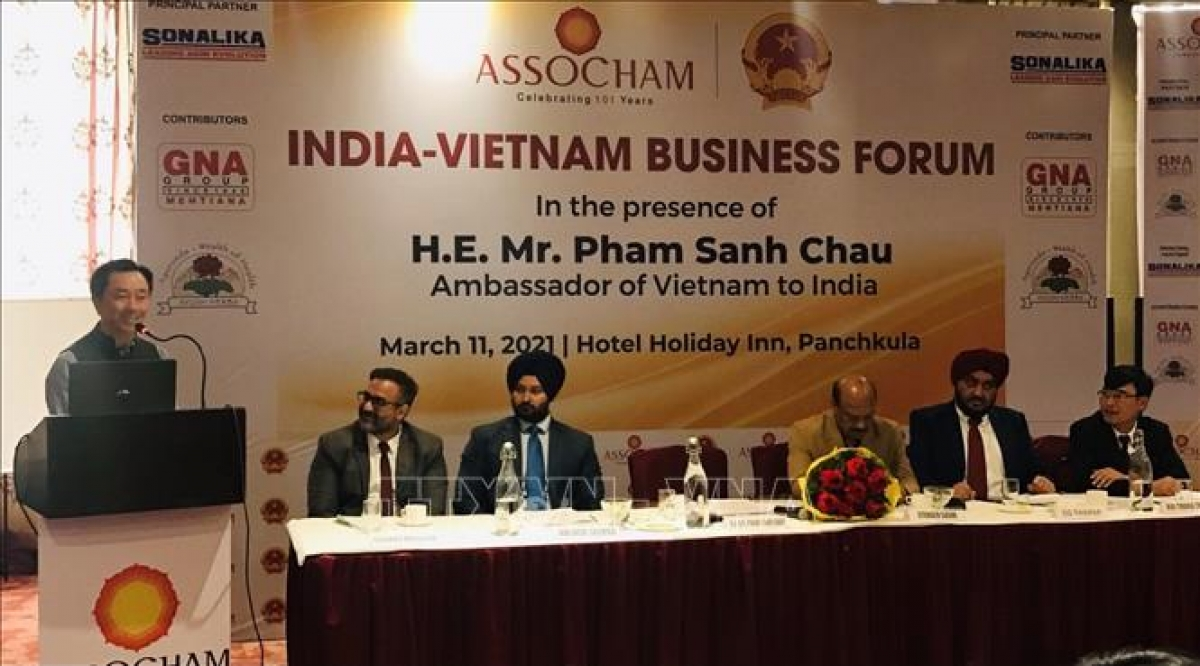 Vietnamese ambassador to India Pham Sanh Chau (L) addresses an India-Vietnam business forum on March 11. (Photo: VNA)
The country has also made remarkable progress in poverty reduction following more than three decades since the implementation of the Doi Moi (Renewal) process, serving to lower the local poverty rate from 60% to 3%, he added.
According to the diplomat, Vietnam can be viewed as an attractive location for foreign businesses, including those from India, largely due to its strategic location in Southeast Asia, whilst also boasting a long coastline and a modern deep water seaport system that hosts many transshipment routes, VOV reported.
Vietnam has also entered into 14 free trade agreements (FTA) with more than 50 countries and territories globally, including new generation FTAs such as the Comprehensive and Progressive Agreement for Trans-Pacific Partnership (CPTPP) and the European Union – Vietnam Free Trade Agreement (EVFTA).
Furthermore, the country has introduced a host of tax and land rent incentives, alongside building modern infrastructure and boasting a young and skilled workforce with competitive labour costs.
Meanwhile, Bui Trung Thuong, Vietnamese Trade Councilor to India noted that India makes up one of Vietnam's 10 largest trade partners, with two-way trade turnover for last year reaching more than US$10 billion, and the figure is set to rise to US$15 billion in the near future.
Representatives of Indian businesses attending the forum. (Photo: VNA)
According to VOV, Vietnam mainly exports machinery & equipment, phones, chemicals, copper, coffee, along with iron and steel to India, while importing iron and steel, meat and seafood, cotton, pharmaceuticals, auto parts, and machinery from the Indian market.
It is thought that textiles, pharmaceuticals, support industries, and renewable energy will be the new driving forces for bilateral trade ties moving forward, said Thuong.
In terms of investment, India has so far poured approximately US$1.9 billion into the Southeast Asian nation, including investments through third-party countries. Data compiled by the Ministry of Planning and Investment of Vietnam reveals that India has some 300 valid projects nationwide, with a total investment of roughly US$900 million as of December, 2020, ranking 26th among foreign investors.
The major fields of investment include energy, mining, agricultural processing, sugar production, tea, coffee, agrochemicals, information technology, and auto part manufacturing, Thuong said.
During the forum, Indian speakers expressed their admiration for Vietnamese economic development achievements over recent years, adding that the nation is viewed as a highly attractive destinations for foreign investors. Indeed, with investment shifts from China continuing to take place there is an increasing need to diversify supply chains.
Participants also maintained that bilateral co-operation will rise, not only in trade and investment, but also in education, people-to-people exchanges, and tourism on the back of the fine development of the mutual ties and the launch of direct air routes between the two countries.
Ambassador Chau answered questions from Indian firms concerning the Vietnamese investment and business environment, as well as the possibility of implementing additional joint cooperation projects in the country.
Vietnam – India: Increasing Trade and Investment Relations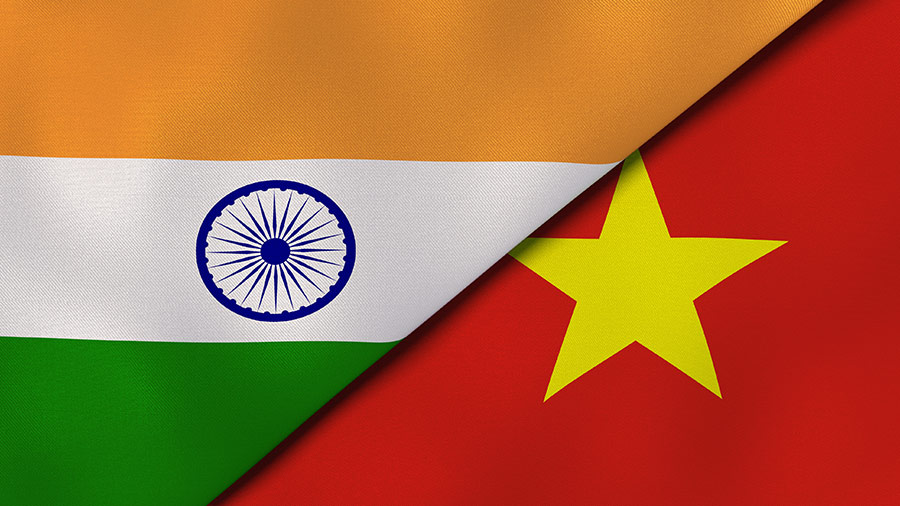 Illustrative photo
The year 2020 marks the 42nd anniversary of India-Vietnam bilateral trade. Vietnam and India have shared strong bilateral relations historically, and for the past two decades, trade between the two countries has risen considerably. These economic ties have materialized into several Indian investments in Vietnam in various sectors.
The enormous volatility in the global trade environment has pushed businesses into diversifying their supply chains away from China, which has increased the importance of the India-Vietnam trade route for international business, according to Vietnam Briefing.
India, which is one of the fastest-growing economies in the world, currently ranks fifth globally in terms of GDP. The ASEAN-India Free Trade Area (AIFTA), which Vietnam is a part of, was established in 2009 as a result of convergence in interests of all parties in advancing their economic ties across the Asia-Pacific.
Vietnam's manufacturing industry has rapidly emerged as a highly effective location for incoming electronics and telecom manufacturers who are relocating from China due to increased costs and the US-China trade war. The country has bolstered investor confidence with quick and efficient containment of the COVID-19 pandemic. Vietnam is becoming a leading choice for major companies looking to set up their new manufacturing hubs and diversify their supply chains.
India has significant expertise in IT services, pharmaceuticals, and oil & gas, all of which can significantly benefit Vietnam. Additionally, there are export opportunities in zinc, iron, steel, and man-made staple fibers from India to Vietnam.
A large middle class in India's 1.3 billion population and its customs-duty exemption for ASEAN products make it a lucrative destination for Vietnamese exports. There is a notable scope for the development of services related to wholesale & retail trade, transportation & storage, business support along with trade opportunities in cotton and knitted clothing.
Bilateral trade
Over the past two decades, bilateral trade between Vietnam and India has steadily grown from US$200 million in 2000 to US$12.3 billion in the financial year 2019-2020.
The two countries aimed to raise bilateral trade to US$15 billion by 2020, but COVID-19 related trade disruption resulted in a 9.9 percent trade shrinkage to US$12.3 billion in the last financial year. Vietnam has emerged as the 18th largest trading partner of India, while the latter ranks seventh among Vietnam's largest trading partners.
Exports from Vietnam to India include mobile phones, electronic components, machinery, computer technology, natural rubber, chemicals, and coffee. On the other hand, its key imports from India include meat and fishery products, corn, steel, pharmaceuticals, cotton, and machinery.
After India announced its decision to opt-out of the Regional Comprehensive Economic Partnership (RCEP), the India-ASEAN FTA is expected to be reviewed to compensate for the potential trade loss.
Foreign direct investment
Vietnam's strategic location close to existing manufacturing hubs, its favorable position in accessing other Southeast Asian markets, and its proactive approach towards opening its markets to the world has helped it gain popularity as an attractive manufacturing and sourcing location.
The rising importance of Vietnam in global supply chains has the potential to strengthen India-Vietnam ties further. India is estimated to have invested nearly US$2 billion in Vietnam including funds channeled via other countries. Over 200 Indian investment projects in Vietnam are primarily focused on sectors including energy, mineral exploration, agrochemicals, sugar, tea, coffee manufacturing, IT, and auto components. Several major Indian businesses such as Adani Group, Mahindra, chemicals major SRF, and renewables giant Suzlon have shown interest in venturing into Vietnam.
India's salt to IT conglomerate Tata Coffee recently inaugurated their 5000 MTPA freeze-dried coffee production plant in Binh Duong province of Vietnam last year. This US$50 million coffee facility was commissioned within 19 months of the ground-breaking ceremony.
Another example is HCL Technology Group, which is considering establishing a US$650 million technology center in Vietnam and plans to recruit and train over 10,000 engineers within the next five years.