7-Eleven's Free Slurpee Day cancelled, offers app-ins instear, No Tax day freebies, National Fry Day going on
The well-known convenience store 7-Elevens is not going to offer free Slurpees Day as the summer on July 11 as the summer promotion was scrapped due to the coronavirus pandemic.
NBC News reported that 7-Eleven has been giving away its slushy beverage to all customers for nearly 20 years on July 11, but it scrapped the promotion this summer to reduce the risk of people flocking to its stores and risking contracting the coronavirus. The decision comes as the economy continues to struggle with efforts to reopen hampered by soaring cases across the country.
The U.S. saw another record day for new [email protected] Friday, surpassing 70,000 for the first time according to an NBC News tally.
"Gathering nine million of our closest friends in stores on one day just didn't feel right," said Marissa Jarratt, 7-Eleven's chief marketing officer.
The Dallas-based chain instead decided to donate 1 million meals to Feeding America, a hunger relief group.
The roughly 33 million people who had 7-Eleven's membership app installed on their smartphones as of July 1 are also eligible for a free medium Slurpee at any time this month.
7-Eleven is offering in-app deals instead
It's an icily iconic occasion, but it doesn't appear pre-printed on calendars, or those page-a-day reminders, or the alerts on your phone, accoridng to Nbclosangeles.
It's a cool-down holiday that's as much a part of our summer sip scene as lemonade stands and a brew by the barbecue, and Slurpee-ists eagerly await the arrival of 7/11, all to enjoy a frosty freebie and, socialize with other Slurpee lovers in the line.
The company, which started in Dallas close to a century ago, is marking its birthday month with a deal that wraps on July 11: Order through the 7NOW® Delivery app and score your complimentary Slurpee.
There's also a deal for a five-buck pizza through the app, and, yep, the deal ends on July 11.
There's also a free delivery code, good every July Saturday, and other birthday-month-y details to know about the app, free goodies, and such. You can peruse everything here.
It's hot out, and while we can daydream about sitting in a hot tub filled with our favorite Slurpee flavor today, we can't queue up for that free Slurpee Day giveaway.
Chick-fil-A's Cow Appreciation Day postponed
There's more time to prepare your cow costume. Chick-fil-A has not said it has canceled its largest customer appreciation event of the year but has postponed it.
Cow Appreciation Day started in 2005 with the free food giveaway traditionally being held in July at restaurants across the nation. The 2009 event was July 9 and nearly 2 million people have participated in past years.
"2020 has been a challenging year, and for the time being, we have decided to postpone the annual holiday in honor of our beloved bovines," Chick-fil-A said in a statement to USA TODAY.
When the day will be scheduled has not been announced.
No Tax Day 2020 freebies?
As many as 11.3 million people still had not received federal income tax refunds for 2019 taxes – down 10.8% from a year ago, based on data through June 19 from the IRS.
Tax Day is usually a big day to collect free food offers and deals. Not so much in 2020.
Here are three deals shared with USA TODAY that are available Wednesday, July 15:
Farmer Boys: Get two breakfast burritos or two Double Big Cheese burgers for just $10.40 Wednesday.
Olive Garden: The chain will offer $15 bottles of wine, available for "Carside Pickup" or in-restaurant at select locations. The selection includes Confetti Pink Moscato Blend, Roscato Rosso Dolce or Moscato Primo Amore. For more information and to view options, go to www.olivegarden.com.
Yard House: The chain's Wine Wednesday will take place July 15. For Wine Wednesdays, Yard House has half-off bottles of wine along with select $5 glasses at participating locations. During Happy Hour, select appetizers and all pizzas are half price and draft beer is $2 off. Learn more and see offers in your area at www.yardhouse.com.
Know of another deal held Wednesday at 50 or more locations? Businesses can submit deals here.
National Fry Day still hits Monday
The pandemic hasn't canceled National Fry Day, which is held annually on July 13.
The following discounts and offers available at participating locations Monday unless otherwise noted. Offers can vary and most times are offered while supplies last. To be on the safe side, always check with your closest location before heading out. Also, some will require you to have a restaurant's app or be signed up for emails.
Beef 'O' Brady's: Get a free basket of fries with a $10 purchase Monday.
BurgerFi: Get half-price double cheeseburgers with an in-store purchase of a regular-sized French fries Wednesday. Then Thursday through July 17, get free regular-sized fries with any purchase ordered on the BurgerFi app.
Burger King: Find several offers including $1 large fries on the BK app. App specials are listed at www.bk.com/offers.
Checkers: Get a small, medium or large order of fries for $1 Monday. You can also get free fries for joining the chain's text messaging program. Text SNACK to 88001 to sign up or sign up online at www.checkers.com/flavorhood.
Farmer Boys: Get fries for $1 with any purchase made after 2 p.m. Monday.
Fatburger: Get a free order of Skinny or Fat Fries with any purchase of $20 or more made on Postmates Monday through July 19.
KFC: To celebrate National French Fry Day and the permanent addition of its new Secret Recipe Fries to the menu at all U.S. restaurants, the fast food chain is offering individual orders of fries for 30 cents with any purchase Monday, according to a news release.
McDonald's: Get a free medium fries Monday through McDonald's app. No purchase is necessary and you can access the deal one of two ways. Use Mobile Order and Pay or scan the deal code at the restaurant, drive thru or kiosk. Limit one offer per customer.
Rally's: Get a small, medium or large order of fries for $1 Monday. Get free fries with any purchase when you join the Flavorhood program at www.rallys.com/flavorhood.
Smashburger: Get a free side of signature Smash Fries with the purchase of any double burger Monday.
White Castle: Get a free small French fries in-restaurant, online or via the White Castle app Monday.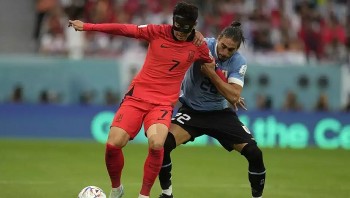 World
Both South Korea and Ghana are searching for their first wins at this year's World Cup. Ghana are facing the prospect of an early elimination from World Cup 2022 Group H when they travel to the Education City Stadium to face South Korea on Monday.