Covid-19 Bristish pilot: 'No media' following hospital discharge
Covid-19 Briton pilot (patient 91) who has recovered and prepared to return home does not want to contact with media, take interview or photograph after being discharged from hospital.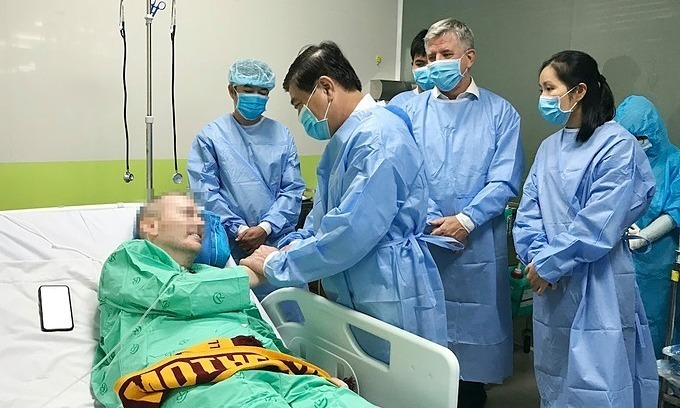 Stephen Cameron talks to doctors and health officials at HCMC's Cho Ray Hospital. Photo by VnExpress.
This morning (July 11) marks the end British pilot's
Covid-19
treatment itinerary that has lasted for 116 days in Vietnam as he will be repatriated home with a virus-free confirmation.
The 91st patient, Stephen Cameron, 43 was the most critical patient in Vietnam, who underwent the longest treatment in Vietnam including 65 days of curing at Ho Chi Minh Hospital for Tropical Diseases and 51 days of intensive care and rehabilitation at Cho Ray Hospital in Ho Chi Minh City. He was considered the "unprecedented case ever in Vietnam" and he was Vietnam's last patient in the ICU.
To keep his alive, Vietnam Ministry of Health had gone all out, mobilizing all leading experts in the fields of infection, respiration, resuscitation, hematology, rehabilitation among others. Beside many national-level consultations, the medics almost made supreme efforts and resources to save the patient "from the hand of the Dead".
Before leaving the country, the pilot agreed to receive officials from the Ministry of Health, Ho Chi Minh City, and Cho Ray hospital as well as other departments and units and only agree to be followed by a photographer as he is discharged from the hospital and bid the farewell.
The expectation of the patient is also noted in an open letter sending from the British General Consulate in Ho Chi Minh City to Cho Ray Hospital.
Up to now, the Ministry of Health, Vietnam's Ministry of Foreign Affairs, and British General Consulate in Ho Chi Minh City completed all procedures and schedule to repatriate the patient home.
The long flight home is expected to last for 32 hours including the flights from Ho Chi Minh City to Hanoi and Hanoi to Germany. Vietnam will allocate six pilots, 16 flight attendants, and three doctors to accompany a British pilot throughout his flight back to the U.K.
Doctors will carry six oxygen tanks and specialized medical equipment to ensure they could respond immediately to any health issues the patient may develop during the journey, expected to last 15 hours.
The patient was tested positive for the virus in Marc and doctors said at one point they considered a lung transplant as the man's lungs were 90% damaged and non-functional. However, he makes a full motor recovery, sleeps well, sits up and walks with a walking frame now.
Vietnam has reported a total of 369 coronavirus cases. It has not found a locally transmitted infection in nearly three months. All recent cases are people who were infected abroad and the patients were placed in the government's centralized quarantine facilities upon their arrival in Vietnam.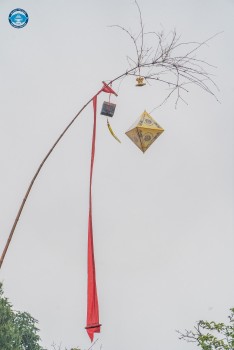 Viet's Home
In the past, the Neu pole (a tall bamboo pole with red garment strips used to ward off evil spirits during the lunar New Year) lowering ceremony at the royal palace of the Nguyen Dynasty was performed to mark the end of the New Year holiday and prepare to enter a new working year.