(Video: Conflits)
"We believe that at least seven people were burned to death in this tragic accident," said Fabian Ospino, mayor of Pueblo Viejo, in a video posted on social networks on June 6.
Video of the incident shows dozens of people gathered around the vehicle, which had turned on its side in the grass off a highway 40 miles (65 kilometers) east of Barranquilla, along Colombia's Caribbean coast
A large cloud of fire suddenly erupted, sending people running, some so severely burned they were left with barely any clothes.
Local authorities confirmed the explosion had killed 7 people and injured 46 others. Carlos Caiceso, governor of Magdalena province, said that among the injured victims there were those who burned up to 90% of their body. He added that forces are still working hard to transfer severely burned victims to specialized hospitals.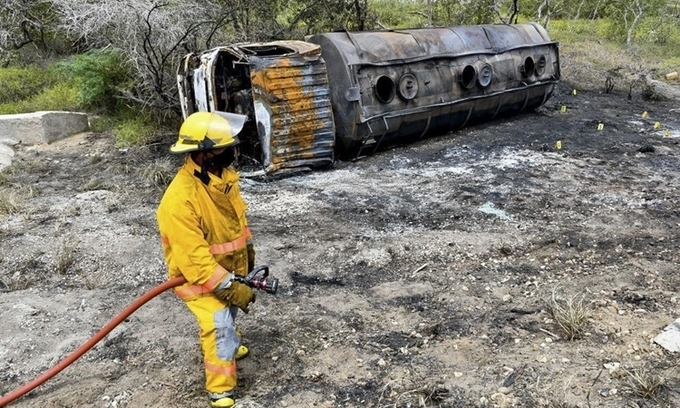 Local authorities confirmed the explosion had killed 7 people and injured 46 others (Photo: AFP)
"We are working with the air force to bring patients to hospitals in other cities that have burn-treating wards since hospitals in Magadalena doesn't have one," Caicedo said.
Colombian President Ivan Duque had sent his condolences to the families of the victims, saying the situation they faced was "painful".
Such unfortunate accidents related to petrol often occur in populous areas where residents lived in poverty. Last year, a tank truck exploded in Nigeria, killing 50 people who were attempting to siphon off fuel from the overturned vehicle. In October 2018, 60 fuel collectors in the country also died when a petrol pipeline leaked and exploded.
The explosion comes as the Caribbean coast is struggling hard with the COVID-19 pandemic. Some Twitter accounts decried the incident as the desperation many Colombian are suffering, partly due to the pandemic's economic blow, long government's attention to poor communities outside big cities, and inequality.
Jasmine Le