A 29 year old Vietnamese female PhD created a new approach for cancer treatment in Singapore
The 29-year-old Ph.D. Le Anh Phuong has studied cell adhesion's physical properties and the changing of skeletal frame, developing a new method in cancer treatment.
Phuong was born and grew up in Ho Chi Minh city, graduated from Biomedical Engineering at the Mechanobiology Institute, Singapore National University and a post-graduate currently at the Institute, Chief Scientific Officer of Purple Ribbon, a non-profit organization for cancer prevention in Vietnam. Her research domain revolves around the importance of dead cell processes in the epithelial cells' biological homeostasis. With a strong passion for basic science studies and cell studies particularly, Phuong pursues her new researching directions in that profession.
The process of regulating dead cell cycle plays an important role in studies and finding out new cancer treatments. How to regulate the dead cell cycle in biological homeostasis has always left a question to researchers.
Instead of finding chemical signaling pathways to regulate the cell cycle, Phuong sought to study the physical properties of cell adhesion and how the cellular skeleton changes so that the tissues are not hurt by the dead cycle of cells.
Le Anh Phuong on graduation day (Photo: NVCC)
The epithelium is responsible for metabolism and protects the body from environmental invasion such as radiation, pathogenic microorganisms. Having to expose to physical and chemical influences from the environment, the epithelial cells die quickly, causing surrounding cells divided to create new epithelium, concurrently signaling to eliminate old cells and ensure a balanced number of cells and keep the epithelial structure stable. This is the biological homeostasis. Conversely, if this balance is broken, many cells will divide without the presence of dead cells, which facilitates tumors formation.
"The study results on cell adhesion and cell skeletal frame will open up many applications approached in drug development and cancer treatment supportive methods", said Phuong. Research results are in being reviewed in the international scientific journal NCBI.
Phuong seems to be predestined with researches related to the origin of cancer. She started researching and discovering the tumor marker specific for phyllodes tumor of the breast since 2013, when she was still a fourth-year university student. At that time, researches on breast's phyllodes tumor, cause of breast cancer are still limited, also there was no specific marker for this disease. The discovery won her the second prize in scientific presentation at the International Student Conference on Biomedical Sciences (ISCOMS) in the Netherlands. Thanks to the excellent research results and ]school's scholarship, she was able to go straight to her Ph.D., becoming a Ph.D. student in the Institute of Biomechanics, NUS.
"I always like studying the basic science of cells, because the cell is the unit of life. There are 30 trillion cells in the human body. How do each of the individual cells work independently, forming organs with their functions and living organisms; what principles guarantee that and how they break down in cancer ... are questions that any scientist wants to answer with their own approach", Phuong explained.
She said that when a question is answered, the results will open up many applications for drug manufacturing, treatments as well as methods serving human life. The result of why T-cells cannot recognize cancer cells has led to the development of immunotherapy, which won the 2018 Nobel prize, is one outstanding example.
Soon, Phuong will expand her research to study the invasive processes and the interaction of cancer cells with the environment on 3D models, based on the research about dead cells precess in biological homeostasis.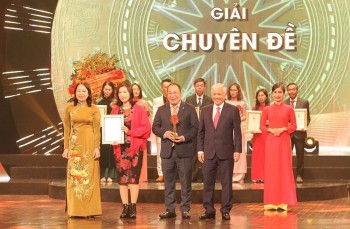 Overseas Vietnamese
VietnamTimes (Viet Nam Union of Friendship Organizations) is a reliable address for overseas Vietnamese to quickly and objectively update political, economic, cultural, and social news. The agency has created a helpful forum and connection between expatriates and the motherland.