A Corner of Vietnamese Cuisine and Culture in England
Vietcentric introduces Vietnam's rich and unique cuisine through cooking classes, where students learn how to use Vietnamese ingredients and spices to cook traditional dishes.
Located in the bustling Sneinton Market area in the East Midlands of England, Vietcentric is a familiar address for local people who love Vietnamese culture and cuisine as well as for the overseas Vietnamese community.
Vietcentric's lovely two-story house is simply designed, but imbued with Vietnamese culture and landscape paintings, conical hats, ao dai, lanterns, and traditional wooden furniture, creating a familiar feeling for all Vietnamese tourists visiting this destination.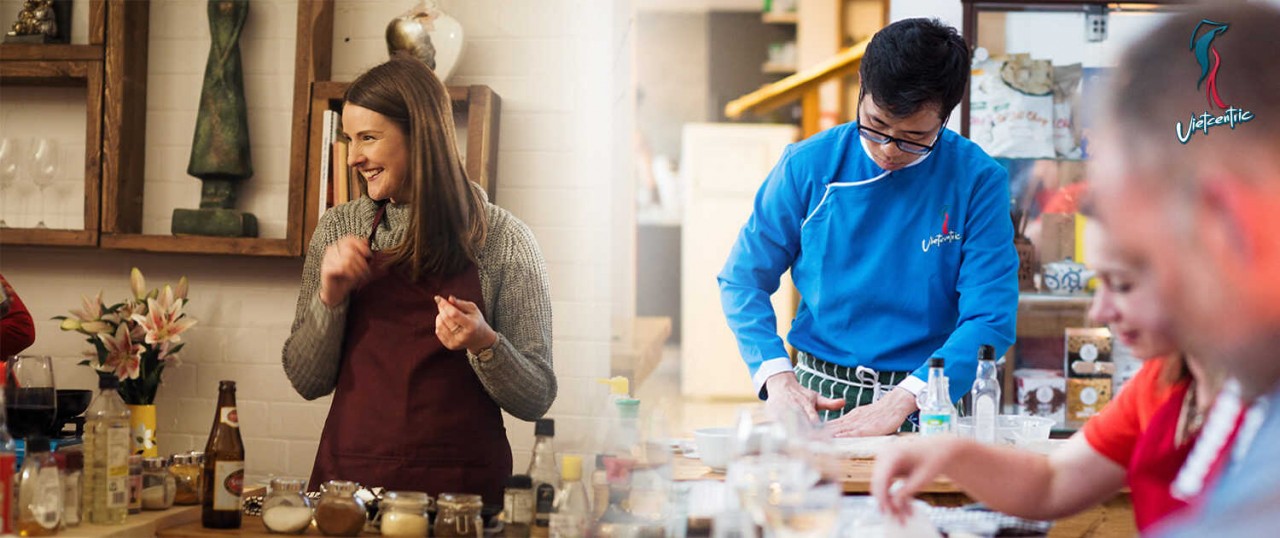 Photo: vietcentric.uk
Founder and Director of Vietcentric, Leu Thi Kim Lien, an overseas Vietnamese living in the UK for more than 30 years, said Vietcentric is designed to be a place where people can connect, explore and exchange the unique features of two cultures, Vietnam and England.
The idea of establishing Vietcentric was formed after Kim Lien's mother passed away in 2013. After many years of struggling in a foreign land with the desire to create a good future for her children, she did not have much time for her family.
Her mother died after a short period of serious illness after struggling to make a living for her children and sacrificing her health. The two kids grew up with almost no knowledge about their own origins. The great loss made her understand what is truly important in life, which is family, tradition, and home. And home, for Kim Lien, is Vietnam, where she was born.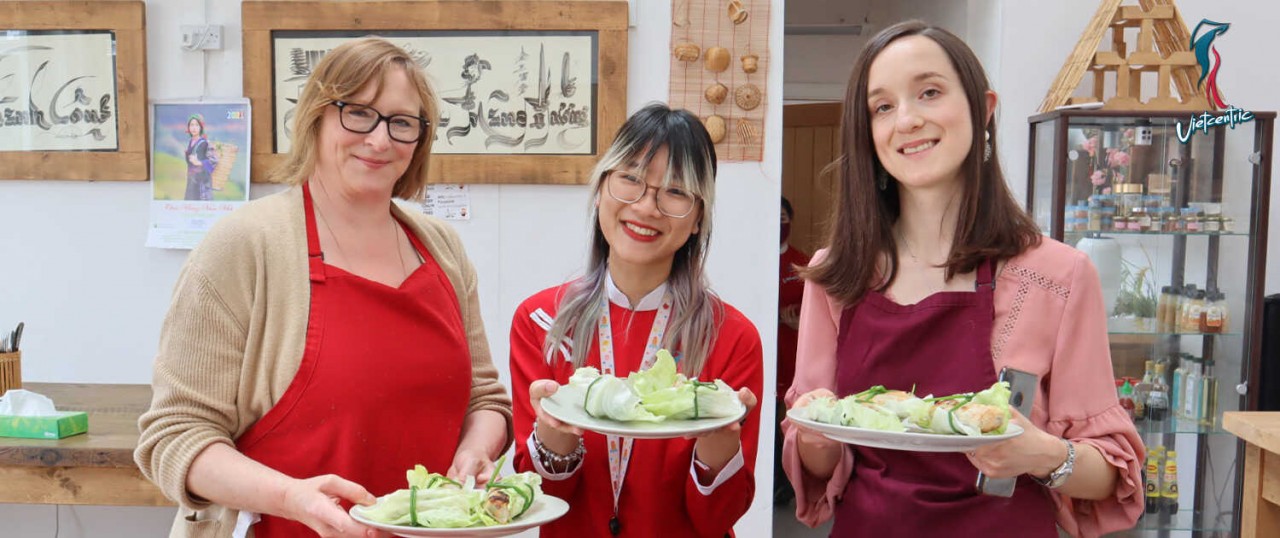 Photo: vietcentric.uk
That was when she created Vietcentric, as a tribute from Leu Thi Kim Lien to her deceased mother, and to remind expatriate children that the Vietnamese home is right in the heart of England, while at the same time spreading the image of Vietcentric among the community.
According to her, the kitchen is the symbol of the family home, where the happiest moments are often associated with the joy of enjoying the mother's cooking. Therefore, she chose cuisine as a way for Vietcentric to promote the quintessence of Vietnamese culture in the UK.
Vietcentric introduces Vietnam's rich and unique cuisine through cooking classes, where students learn how to use pure Vietnamese spices to cook traditional dishes and world-famous street foods of Vietnam such as pho, beef noodle soup, Bun Cha, fried spring rolls, and Banh Mi.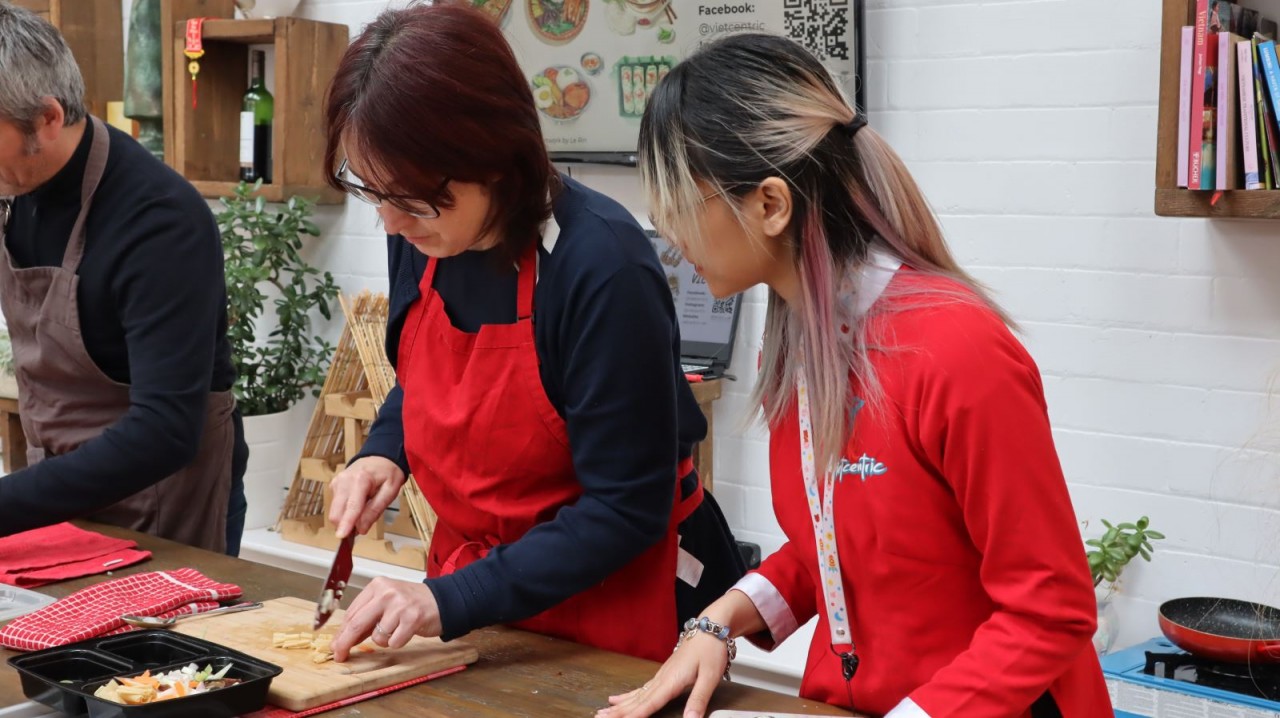 Photo: Baotintuc
Students will enjoy meals cooked by themselves and share experiences about Vietnam with the center's teachers. At the end of the class, there will be a tea party where students can enjoy traditional teas and learn about the Vietnamese tea ceremony.
Kim Lien said that Vietcentric's cooking program is meticulously designed down to every detail, from ingredients, and spices to cooking techniques, ensuring dishes have pure Vietnamese flavors, helping students understand and enjoy the sophistication of Vietnamese culinary art.
She researched, learned, and created recipes for 4 types of spices including pho seasoning, baking seasoning, seafood seasoning, and five spices, using entirely Vietnamese ingredients and herbs to introduce in cooking shows as a way to promote the unique features of Vietnamese cuisine.
Vietcentric's cooking classes have received enthusiastic responses from local people. Maddy from Nottingham said she and her husband took a cooking class at Vietcentric on the weekend and had a great experience.
She shared that not only did she learn how to cook delicious Vietnamese dishes, but she and her husband also learned many things about Vietnamese culture and language, especially the Vietnamese tea ceremony. Maddy was also very impressed with Vietcentric's employees, who are very enthusiastic, and dedicated, with a wide knowledge of Vietnamese regional culture and cuisine.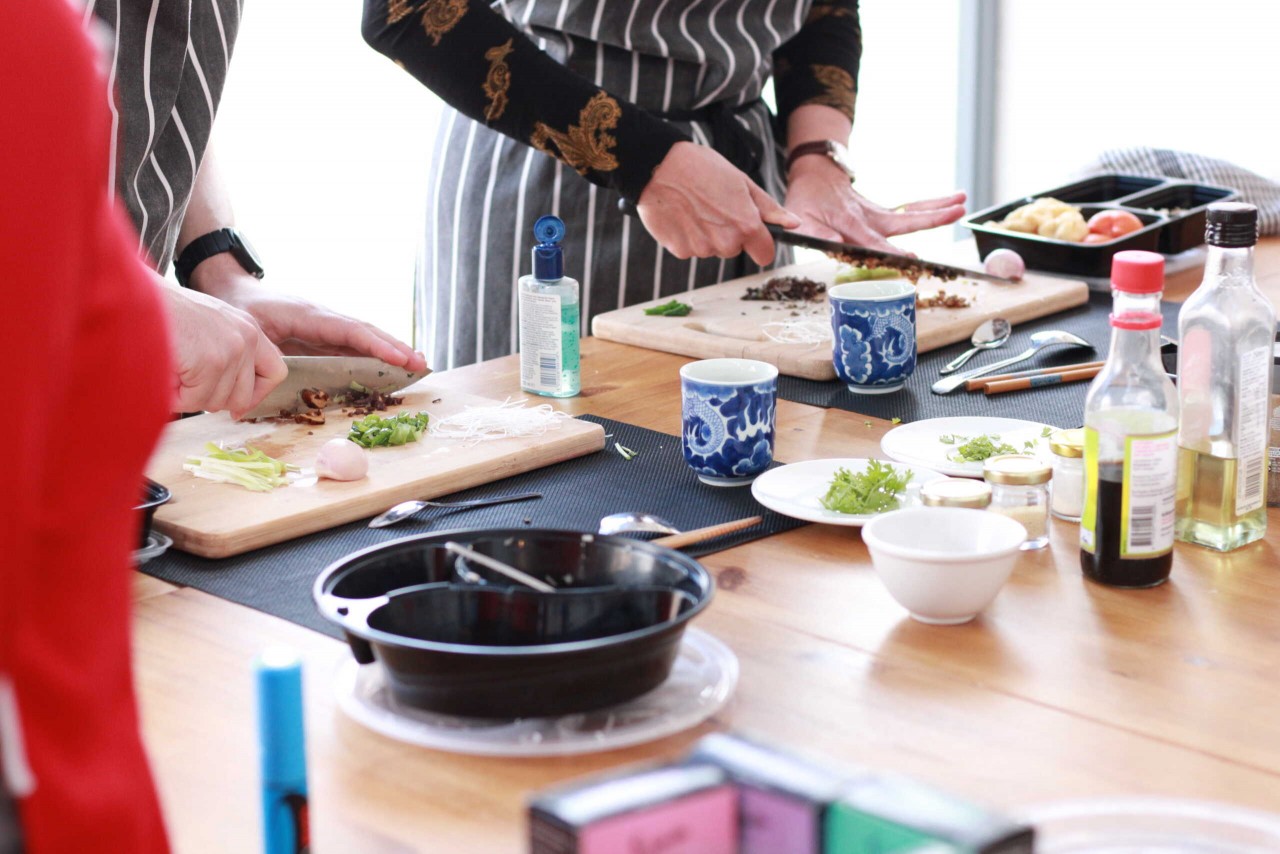 Photo: Vietcentric.uk
In addition to cooking classes, Vietcentric organizes cultural activities such as the Mid-Autumn Festival, Ao Dai performances, traditional musical instrument performances, and teaching Vietnamese to second and third generations of Vietnamese people in the UK.
A special feature is that Vietcentric's members, including cooking teachers, are all Vietnamese students studying at universities in Nottingham.
With fluent English and knowledge of Vietnam, along with dynamism and enthusiasm, these students are the perfect messengers to spread Vietnamese cultural values. Kim Lien shared that she has trained hundreds of students in cooking skills so they can pass it on to local students. They are also ideal teachers to teach Vietnamese and spread Vietnamese culture in cultural events organized by Vietcentric.
Kim Lien said that this was also her goal when founding Vietcentric, which is to create a playground for the young Vietnamese generation to express themselves and build an image of dynamic, friendly, and knowledgeable Vietnamese people.
Vu Song Hoa, a master's student in Accounting and Finance at Nottingham Trent University and a cooking instructor at Vietcentric, said the center is a creative and effective model for promoting Vietnamese culture.
Song Hoa said she considers Vietcentric a second home in the UK, a place that provides opportunities for her to connect with Vietnamese friends and helps her discover herself by spreading the good values of Vietnamese culture to her friends. Hoa hopes that models like Vietcentric will be replicated throughout the UK and Europe as a way to build a stronger Vietnamese community abroad.
As a small, not-for-profit center, Vietcentric has contributed to supporting Vietnamese people born in the UK to learn, maintain, and develop Vietnamese culture.