Korean Tourists Love Vietnamese Cuisine
Recently, Nha Trang-Khanh Hoa has become a favorite destination for Korean tourists to enjoy Vietnamese cuisine.
Perched on a pristine stretch of the southern coast, Nha Trang is a playground for sunseekers. Days here are spent dining on delicious seafood, snorkeling around stunning islands, and partying on the sand after dark. Nha Trang lays claim to some of the country's finest luxury resorts and thrilling watersports.
Besides the beauty of the sea and island landscape of Nha Trang, Korean tourists have a passionate love for the local cuisine.
Discover many delicious dishes
On the afternoon of September 10, on Bach Dang Street (Nha Trang City), many Korean tourists stood in line waiting to buy bread from Phan Banh Mi shop. Inside, the store's employees worked tirelessly in order to make enough Banh Mi dishes for guests.
Each customer who comes here has to wait about 10 - 15 minutes to receive the food. Yang Song Hee, a tourist from Seoul, Korea, said that the Phan Banh Mi shop is very famous because many Korean tourists coming to Nha Trang previously introduced this bakery.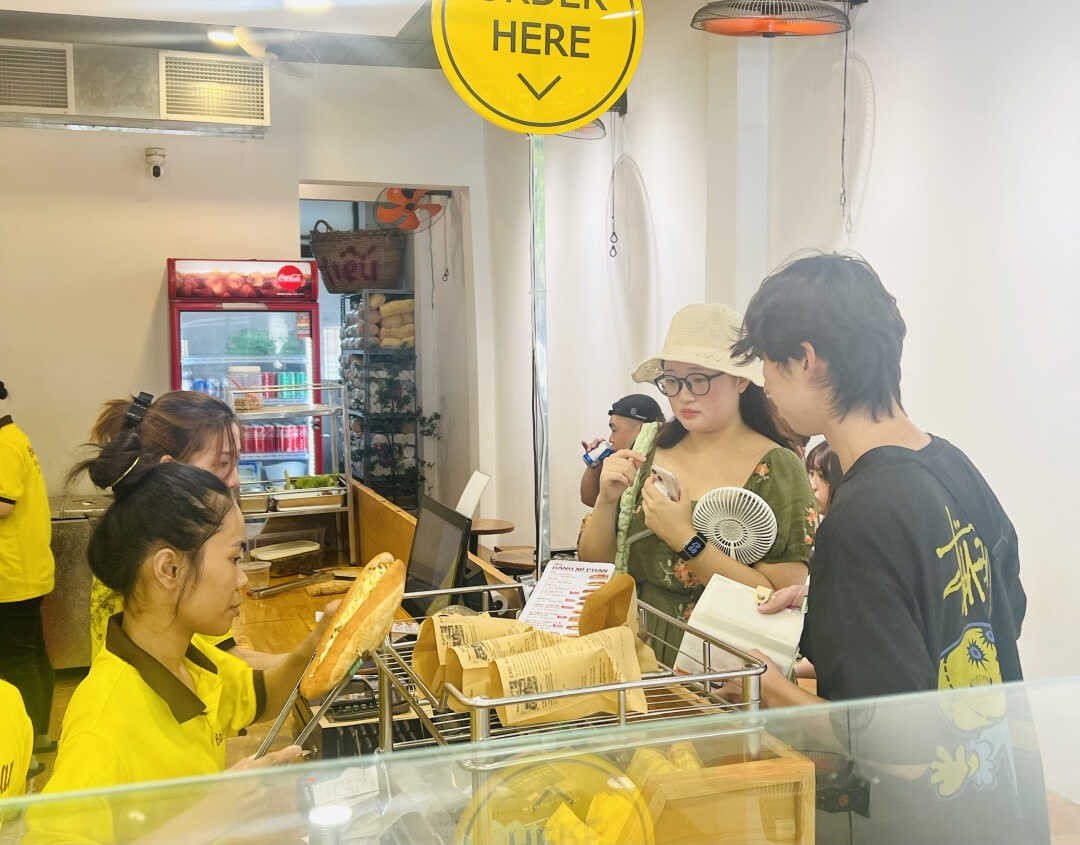 Phan Banh Mi staff is making food for Korean tourists. Photo: Baokhanhhoa
There are many restaurants in Nha Trang, but I like Banh Mi Phan because the shop has a menu in Korean, which includes the price and calorie index of each dish so customers can easily choose. Guests can sit and eat on the spot or buy Banh Mi to take away. In the reviews section on Google, many Korean tourists said that buying bread here takes a long time but the bread is very delicious.
"You will have the opportunity to taste the special flavor of bread. Here, there are many different types of bread with very delicious mixed fillings," commented tourist Silver Kim. "I have eaten bread here 3 times, and each time I had to wait quite a while, but in return, the bread here is very delicious. Next time when I come to Nha Trang, I will try this local food again", another tourist responded in the review section for Phan Banh Mi restaurant.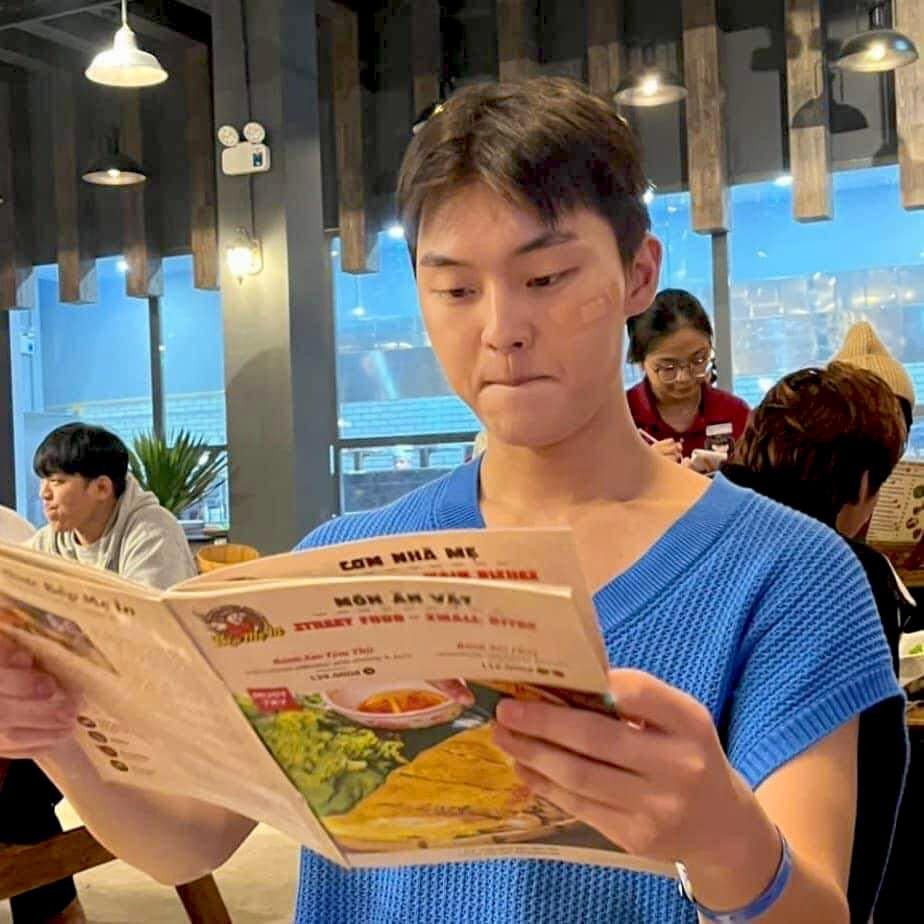 Korean customers are choosing food at Xom Moi Garden restaurant. Photo: Baokhanhhoa
In addition to bread, Korean visitors to Nha Trang also love to eat Pho, Can cake, Xeo cake, seafood, and coconut milk coffee. Especially, cafes and restaurants that were visited by Korean actors and singers before. For example, in July, actor-singer Lee Hyeri (famous for playing Duk Sun in the movie Reply 1988) and Miss Korea 2022 Lee Seung Hyun, runner-up Choi Jung Yoo came to Xom Moi Garden Restaurant to enjoy Vietnamese cuisine.
After that, the number of Korean customers coming to this restaurant increased significantly. On Google.com, Korean tourists highly appreciate the restaurant's space, the warm service attitude of the staff (who can communicate in Korean), and especially the pure Vietnamese dishes such as Banh Xeo, spring rolls, fried rice, and grilled ribs.
"This is a Vietnamese restaurant that is very suitable for Korean customers. The restaurant design, food taste, and service quality are very good. The price seems a bit high, but I had the most delicious and comfortable meal in Nha Trang," tourist K J "Pangyo" responded after having lunch at Xom Moi Garden on September 11.
The "transformation" of Vietnamese cuisine
In the current tourism development trend, attracting tourists through promoting culinary values is emphasized. In recent years, the world tourism industry has increasingly appreciated the value of Vietnamese culinary culture. At the 3rd World Culinary Awards at the end of 2022, Vietnam was awarded the "Best Culinary Destination in Asia 2022" award.
In early 2023, the American travel magazine Travel + Leisure honored Vietnam as one of the top culinary destinations in Asia in the Bucket List Places in Asia 2023 list. The typical dishes that make up the Vietnamese culinary brand are Pho, Banh Mi, and steamed rice rolls.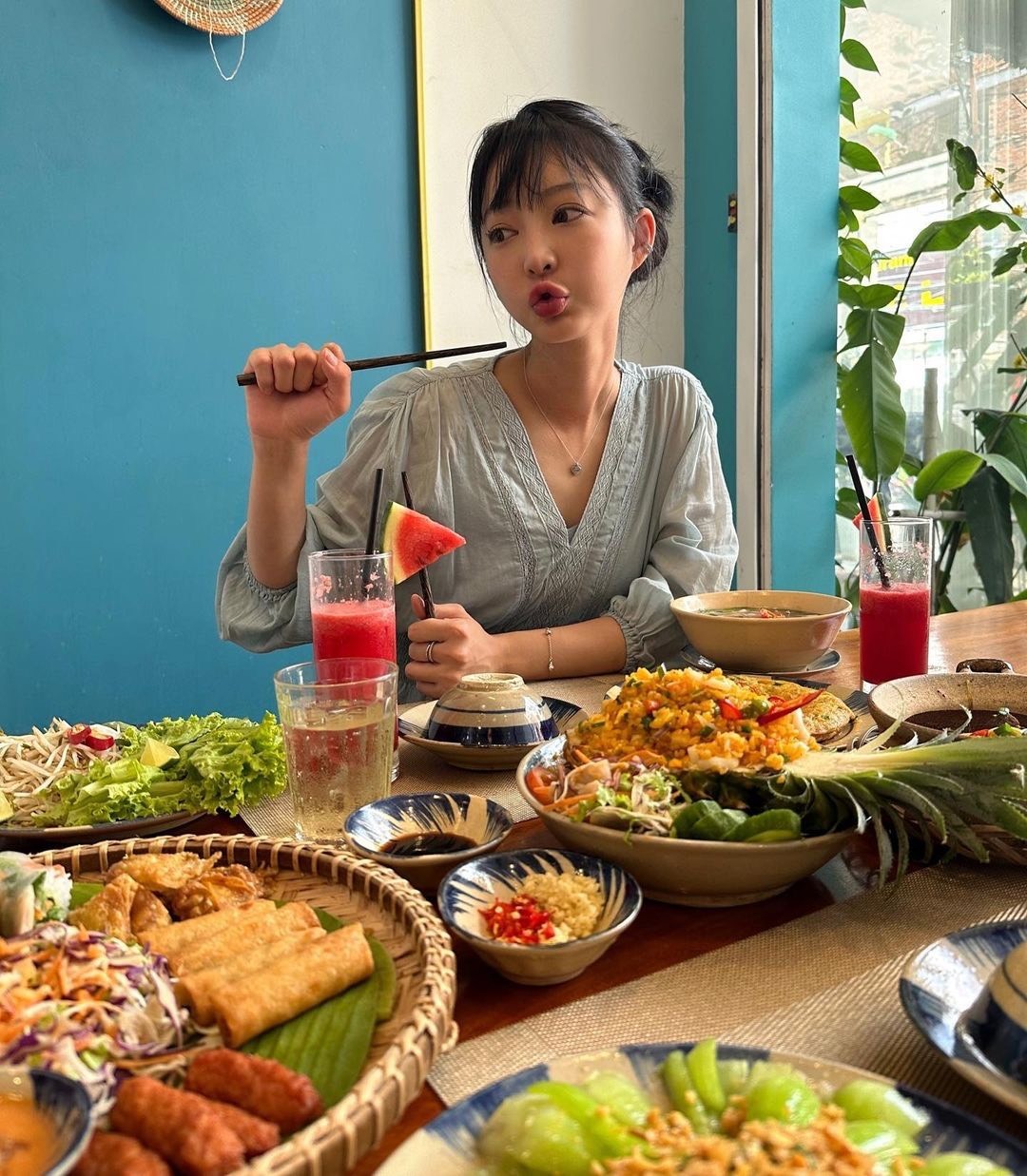 Singer Hyelin of the band EXID enjoys Vietnamese cuisine during a trip to Nha Trang at the end of May 2023. Photo: baokhanhhoa
Faced with the wave of Korean tourists coming to Nha Trang, hotels have adjusted their menus to include dishes that these tourists love. The number of restaurants specializing in serving people from Korea is increasing. And in that shift, many small shops also "transform" to follow the wave of Korean customers.