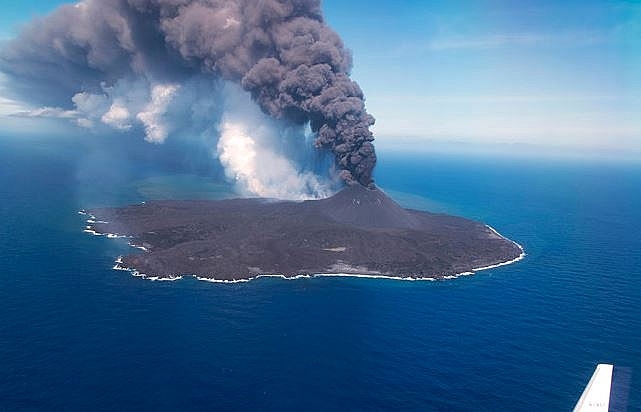 Nishinoshima in June 2020. Photo: Japan Coast Guard
Nishinoshima is a volcanic island located around 940 km (580 mi) south-southeast of Tokyo, Japan that is part of the Volcano Islands arc. It has also been known as Rosario Island.
Originally the above-water part of the ridge of an underwater caldera, Nishinoshima was enlarged in 1974 after fresh eruptions created a new section of the island. Another eruption that began in November 2013 further enlarged the island and attracted worldwide attention. Volcanic cone soon formed, raising to an estimated height of 142 m (466 ft) by July 2016. The eruptions ceased by November 2015, though emissions of volcanic gases continued for several months afterward.
As of 2016, the island was about 2.7 km2 (1.0 sq mi) in size and evinces the return of various plants and animal species
There were further eruptions in 20172018 and 2019, with the latest eruption continuing as of July 2020. This increased the island size to 2.89 km2 (1.12 sq mi) as of 2019

Nishinoshima has been almost doubled after 7 years. Photo: Google Earth
Kenji Nogami, a volcanologist at the Tokyo Institute of Technology who has been keeping tabs on Nishinoshima since 2013, tells NHK that the volcanic island is positioned squarely above a huge reserve of underground magma. He says this means lava will likely continue to flow, further increasing the island's size.
According to news reports citing the Geospatial Information Authority of Japan, the southern shore of the island grew by at least 150 meters between June 19 and July 3. The European Space Agency's TROPOMI satellite also observed a sizable plume of sulfur dioxide from the eruption.
Reports from July 4 revealed that volcanic bombs, or larger fragments of solid and molten material, were ejected up to 1.6 miles (2.5 km) and clouds of ash reached up to 27,200 feet (8,300 meters) — the highest altitude recorded since the volcano emerged in 2013, according to the statement.
The Moderate Resolution Imaging Spectroradiometer (MODIS) on NASA's Aqua satellite also captured a stunning view of the island's volcanic activity on Monday (July 6). The natural-color image shows a volcanic plume stretching hundreds of kilometers to the north and several thousand meters into the sky.
The growth of Nishinoshima and the evolution of the island's volcanic activity can be viewed online at NASA Earth Observatory with NASA satellite images of the island date back to 2013.
Le Dang