A strange life on London's River Thames
Eel Pie Island is one of around 180 islets on the Thames, born of the river's meandering, 184-mile path from the Cotswold hills to the North Sea.
Eel Pie Island is one of around 180 islets on the Thames, born of the river's meandering, 184-mile path from the Cotswold hills to the North Sea.
I arrived at a pea-green footbridge to nowhere. From my vantage point on the towpath, the bridge's brushed-steel curves rose and dipped over the river before disappearing into a thick cluster of privet. I watched passersby stroll over. Most peeped and retreated. The more brazen continued, swallowed by the hedges into one of London's most fascinating enclaves.
This is Eel Pie Island, one of around 180 river islets – known as 'eyots' or 'aits' – on the Thames, born of the river's meandering, 184-mile path from the Cotswold hills to the North Sea.
Eel Pie Island is one of around 180 river islets along the Thames (Credit: Ella Buchan)
Mudbanks like Chiswick Eyot, a thickly-wooded nature reserve populated by herons and Canada geese, were sculpted on the river's route. At high tide the tiny piece of land is swallowed whole, just a few lone branches eerily piercing the surface.
Eel Pie Island, near Twickenham, was carved as the river took a detour and forged a parallel path, slicing it from the mainland. Since the 17th Century, when according to a 1635 map there was a bowling alley on the island, it has been a haven for hedonists, music lovers and philanderers.
Its seclusion – it could only be reached by boat until the footbridge was erected in 1957 – made it a dream for extra-marital affairs. Local stories say that wealthy men would bribe the ferryman not to let their wives across so they could canoodle with their mistresses undisturbed.
The island is named for the eel pies sold at its 19th-Century hotel; rarely spotted now, the slippery, snake-like fish were once abundant in this part of the Thames. The inn burned down in a mysterious 1971 fire, but the decades of entertainment, from ballroom dancing and beatnik jazz to early performances by the Rolling Stones and Rod Stewart, are still spoken about in reverential tones.
Since the 17th Century Eel Pie Island has been a haven for music lovers and hedonists (Credit: Ella Buchan)
Trevor Baylis frequented the hotel as a teenager, lured from his home in Kilburn in north-west London by "pretty girls and jazz music". Smitten by the spit of land, the inventor built a home here in 1971.
The community grew from "just a few huts" to around 50 homes with old hippies, young families and people "with a special kind of spirit".
"We were a family then, and we're a family now," Baylis said.
The footbridge led onto a narrow, shaded footpath, marked by a 'Private Island' sign. I followed it past tumbledown cottages to a screeching, spitting, working boatyard, emerging among a cluster of ramshackle artists' studios. The walkways were cluttered with pots, wrought-iron tables and empty Champagne bottles stuffed with candles. A skeleton's spindly legs dangled from a birdcage overheard; dressmakers' dummies were topped with plant-pot heads.
This avant-garde display is the work of island gardener 'Twig', Lee Campbell explained, as we sat in the forest-green, corrugated-tin shed she shares with elderly lurcher Holly. Campbell, a landscape painter from New Zealand, has rented the studio for 17 years, but lives "on the mainland".
"Now and then a bunch of old hippies come staggering over, asking if the hotel is still here," she said. "They're looking for the party."
Eel Pie Island could only be reached by boat until a footbridge was built in 1957 (Credit: Ella Buchan)
For Campbell, the island's appeal is a tranquil space to paint. She also likes walking back over the bridge each afternoon, to "dry land".
For those who live, work or accidentally visit here, Eel Pie is endlessly enthralling.
Like many of the other eyots that loop along the Thames like the eyes of needles, it's a time capsule of land, memories and tall tales.
Before ship-shape Ravens Ait became a luxury wedding venue, a dozen squatters took over for several months in 2009, claiming it should be common land. They argued that it was on this tiny islet that King John signed documents leading to the ratification of the Magna Carta. (It was actually the Treaty of Kingston, a 1217 peace treaty with France, that was signed here.)
Further west, as the river flows through Berkshire, the boldly named Magna Carta Island also contends to be where the king sealed the charter. It's yet to be proven.
Oliver's Island, near Kew, is named after claims that Oliver Cromwell took refuge here and built a tunnel connecting the eyot to the Bull's Head pub on the opposite bank. The story has been widely discredited (and no amount of digging has unearthed the tunnel).
Artists, writers and those with money to spare flocked to Taggs Island in the late 19th and early 20th Centuries (Credit: Ella Buchan)
On nearby Taggs Island, a dusty path loops past gardens rambling with roses, lavender and bamboo canes. A sun-dappled footbridge spans the central lagoon, circled by floating homes. Boatbuilder Thomas George Tagg leased the island in the 1850s, crafting a reputation for vessels painted in bold colours and adorned with balustrades, elaborate carvings and striped awnings. Artists, writers and those with money to spare flocked to the island.
Fred Westcott watched with envy. Busking near Hampton Court lock, he dreamed of living by the teardrop-shaped island.
Changing his surname to Karno, he launched a circus with a troupe of then-unknown performers including Charlie Chaplin and Max Miller, and invented the custard-pie-in-face gag. Fortune made, he moved to Taggs in 1903, ensuring his was the biggest and most luxurious boat circling the land.
The richly-textured tapestry of history and culture on these 180 isles, of which 30 are inhabited, deserves to be preserved and shared. Michele Whitby, who rents a houseboat moored to Eel Pie Island, is working on doing just that.
Whitby has been gathering oral histories from the island's residents for her Eel Pie Museum, set to open in Twickenham by early 2018.
"The first buildings were beach huts," she said. "There are stories of rich businessmen spending weekends there with their mistresses."
The community started off with just a few huts and grew to around 50 homes (Credit: Ella Buchan)
For Eel Pie residents, who are aged 17 to 70, the common thread that binds them is an "adventurous spirit".
"This life isn't for everyone. Sometimes you have to wade through water to get home because the tide has risen across the bottom of the bridge," Whitby said. "But our world is the real world. People either leave within a year, or leave in a wooden box."
Baylis won't leave any other way. At 80, the bachelor still has a spring in his shuffle. His house and studio, The Haven, is tucked down a dusty track off the main path. Entering is like ping into Mary Poppins' carpet bag.
I was greeted by a tiny, white, stuffed cat, curled in permanent sleep on a drawing board. Beyond were higgledy-piggledy racks of tools, plastic trays overflowing with nuts and bolts and steering wheels hooked to the wall. Baylis invented the wind-up radio, and a dozen early models were dotted around the workshop.
"I built the house of my dreams," he said, escorting me past his swimming pool to his living area. The walls were a collage of photos – a gaggle of girlfriends, posters of Audrey Hepburn (Baylis' all-time favourite actress) and a picture of Nelson Mandela with the inventor, proudly holding the radio that helped educate people about the spread of HIV and Aids in Africa. The pair became "good pals," Baylis told me.
Bookshelves buckled under encyclopedias. A wine rack made with leftover piping was built into the wall. Smudged glass doors led out to the turfed terrace overlooking the river. Upstairs, Baylis sleeps surrounded by more books and under a huge poster of Audrey.
Trevor's CV (he gave me a copy) reads like the achievements of an entire alumni. There's his OBE in recognition of his inventions; his career as a stunt double for Peter Cook and Dudley Moore; the fact he swam for the British National team when he was 15.
He even built a car, designed and cobbled together by hand, despite the island having no roads.
"She has about 5m on the clock," Baylis chuckled, sweeping a hand towards the lipstick-red motor that's permanently parked on his lower terrace.
Blondie, a Hokkaido dog, lolled by the counter as Baylis brewed tea in his tiny kitchen. Back on the terrace, we listened to one of his wind-up radios.
The island is home to people "with a special kind of spirit" (Credit: Ella Buchan)
On the opposite bank, a jogger appeared intermittently through the trees. A lone kayaker paddled by. Occasionally, large tourist boats pass by and guides point Baylis out as a local attraction.
A raven squawked above our heads, hopping from side to side on a branch. "There's my neighbour," Baylis joked. Reclining and puffing on his pipe, he heaved a contented sigh.
"I've been a lucky guy," he said, eyes crinkling in a smile. "What more could I want?"
VNF/BBC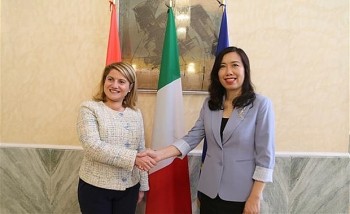 Friendship
The Vietnam - Italy political consultation is part of the occasion of the 50th anniversary of diplomatic ties and the 10th anniversary of the framework of the strategic partnership.