A thankful letter from an Azerbaijan father
(VNF) - Many Vietnamese people have stood by Eldaniz's side, a young teacher from Azerbajan who suffers from blood cancer. Being touched by those kind hearts, Mr. Valex Nasibov, Eldaniz's father, has recently expressed the family's gratitude to their special Vietnamese friends via a letter. The English version of the letter is shown below.
(VNF) - Many Vietnamese people have stood by Eldaniz, a young teacher from Azerbajan who suffers from blood cancer. Being touched by those kind hearts, Mr. Valex Nasibov, Eldaniz's father, has recently expressed the family's gratitude to their special Vietnamese friends via a letter. The English version of the letter is shown below.
"I am sending my greeting to Vietnam and my heartfelt thank to the Vietnamese friends,
In March 2017, when my son Eldaniz told me about his plan of going to Vietnam to work as an English teacher, I was very delighted since Vietnam, the country and its people, had long been holding a special place in my heart.
Eldaniz spent a short while working in the capital of Vietnam, Hanoi, before moving to Son La, a province located 400km from the city. Everything went on smoothly. Eldaniz was respected and well-received by his students and their parents. Eldaniz was also happy with the job and the good relations he had with Vietnamese colleagues.
In addition to keeping in touch via phone call, our son kept us updated frequently by sending us his pictures. We were glad about that and felt very proud of him.
Unfortunately, these pleasant moments didn't last long. On June 4, 2017, we were shocked to find out that Eldaniz was diagnosed with acute blood cancer.
Vietnamese friends take care of Eldaniz when he was hospitalized. (source: NIHBT)
I tried to get the visa to Vietnam as soon as possible and took a flight to Hanoi on the next day, rushing to see my son. After a 15-hour flight, I arrived at Noi Bai airport, and was taken straightaway to the National Institute of Hematology and Blood Transfusion (NIHBT) by a friend of my son, Eđuar.
When I met Eldaniz, his condition was severe. He suffered from eyes haemorrhage. On his two arms, there was a widespread area of bruise marks, caused by the side effect of chemotherapy.
The doctor who took care of Eldaniz then was Dr. Vu Quang Hung. He gave my son lots of encouraging words. I had never met such a supportive doctor like him before.
On the next day, Dr.Hung took me to see the Head of the Chemotherapy Department, Assoc.Prof.Dr. Nguyen Ha Thanh.
Dr.Thanh was a medical specialist graduating from the I.M. Sechenov First Moscow State Medical University (Russia) and later received higher training in Australia. He spoke fluently English and Russian, and was an amicable man. He explained to me in details about my son's condition, recommending that an intensive treatment programme was in urgent need.
However, I was afraid that we would not be able to pay for the medical bills, since I only brought along USD 2,000.
I asked Dr.Thanh whether I could take my son back home and he was resolutely opposed to that idea: "You are absolutely not allowed to do that. The laycosit ratio in Eldaniz's blood was 85%, while the standard level was from 5-10%. The patient can not travel by air carrier, because the variation of pressure can cause brain haemorrhage. Eldaniz's first phase of treatment must be done in Vietnam."
What he said made me feel better, but I still didn't dare to believe in what I heard. I still told Dr.Thanh: "I brought along USD 2,000, but please kindly start the treatment for him, my family and friends will help provide more..."
Sensing my concern, Dr. Thanh tried to calm me down by saying: "Don't worry, we, the Vietnamese people, never leave our friends alone when they need us."
His words were true, as we have received tremendous supports from Vietnamese friends. Prof.Tri (the General Director of NIHBT) mobilized donation from the public via online social platform. Ms. Trinh, an English teacher, also did the same thing.
Friends and colleagues of Eldaniz were very caring. They did their best to distract Eldaniz from the negative thought about his condition, despite my son's health was getting worse, due to the late diagnosis and intensive chemotherapy.
The doctors who took care of Eldaniz were so considerate that sometimes I had to hide myself in a corner, being moved to tears.
Many time, when I communicated with Vietnamese people, I figured out that, we were able to understand each other through the look in the eyes, the body gestures. And I realized that, if we are willing to communicate, we can do it without words. If we don't want to do so, no word can help.
In the hospital, we have met many amazing people, who have been unconditionally dedicating their efforts to supporting needy people, including the sick children. I would love to mention their names here, with deep gratitude. They are Ms. Hanh, Ms. Phuc, Ms. Lan, Ms. Quy, Ms. Hoa, Ms.Thanh, Ms.Do Lan, Ms.Mung, Ms.May Ha and her husband Do Hy and many other wonderful people. I wish them good luck and health.
They did everything for us, for the people who speak a different language, who practice a different religion, who were from a faraway country. I want to write a book about them, about the people working in the hospital, including the General Director, Prof.Tri and his team, the practitioners, the nurses, the staff, and all the Vietnamese people in general.
Dear readers,
Have you ever seen any doctor who helps his patient with personal care like shaving, bodywashing, and tried his best to mobilize support from friends and relatives to raise fund for the patient.
Dr.Vu Quang Hung was the one who did all those things. He has become a close friend of ours.
Eldaniz taken care by doctor in NHBTI (source: NHBTI)
The Head of the Department, Dr. Thanh, is also an amazing person. He went to see my son everyday to keep track of his health condition. Meanwhile, talking about the nurses, words are not enough to describe their gentle care, sincerity and sense of responsibility.
I still remember one day, a group of students from Son La came to see Eldaniz. Eldaniz had to try hard to sit up and speak to his students in English. Due to the impaired vision, he could not see, and had to ask the students who was who. When the students got to know that, they bursted into tears, sobbed, and broke the silence of the hospital. I could not hold back my tears, either.
The sound caught people's attention. They rushed to see us, as they were afraid that an unpleasant incident just occured, something which usually happened in a hospital. When they saw the students crying, they came to comfort them. But the kids kept crying till Eldaniz stood up, made a few steps toward them and requested them to be quiet, "otherwise teacher will feel worse", and assured them that he would get over the disease to come back to teach them.
That was the sacred affection between teachers and students that I have witnessed in my son's case.
I am sure that training is not what make someone become a teacher. It requires an innate ability. My son possesses it, and I was not aware.
It was the first time I have had the chance to come close to Vietnamese people, and I was astounded to know they share a lot of similarities with people in my country. Nowadays, in the modern world, the way people treated the others are getting different. Vietnamese people have shown us the real example of humanity, the multi-cultural harmony and humanitarism.
Presenting sponsored cash to Eldaniz (source: NHBTI)
General Director of NHBTI Nguyen Anh Tri, was a friendly, sincere and knowledgeable man. Together with other leaders of the hospital, he spent time visiting Eldaniz frequently. After seeing the improvement of Eldaniz's condition, he had organized a press conference to help me thank those who had supported us.
He also managed to hold a farewell party before we headed back to homecountry. I and my son promised that we will keep in mind their kindness, and will come back Vietnam once he got better.
This letter is not enough to express my gratitude to Vietnamese people, but I hope, at least, it can help you catch a glimpse of the Vietnamese people, in case you are yet to know them or know too little about them. I have told my Vietnamese friends that I knew about you guys earlier via movies. I knew that you were brave soldiers, the genuine patriots, but I didn't know that you have such a loving heart, a lofty soul.
Dear all,
To be honest, the treatment in Vietnam costed over USD 10,000, wholly sponsored by Vietnamese donors.
Later, they still raised fund for us to support Eldaniz in two phases of treatment in Minxk – Belarus and now in Azerbaijan. That was about the material supports.
The mental support we have received was uncountable. Vietnamese friends were the one who took us to the airport, with their eyes filled with tears.
Currently, everyday, they still make phone call to enquire us about Eldaniz's condition.
Once again, I would love to express my special thank to Mr.Khai, the doctors, nurses, and staff in the NHBTI and the volunteer mothers. Thank you all for your unconditional supports during difficult time.
On occasion of the new year 2018, let me send my warm wishes to the Vietnamese people, wishing them health, successes, and lucks.
You are the wonderful people!
Best regards,
Valex Nasibov./.
( Translated by Phi Yen )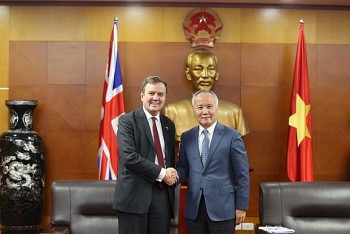 Economy
UK ready to boost CPTPP's economic firepower, said the Trade Minister on Vietnam visit