A Travel Guide To Explore The Amazing 2 Million Year-Old Phong Nha Cave
Along the Son river, Phong Nha cave in Quang Binh appears like heaven on Earth. With the beauty of the stalactites and the surrounding landscape, Phong Nha has been recognized by many international organizations and received a lot of prestigious titles.
About Phong Nha – Ke Bang
Where is Phong Nha – Ke Bang? The answer is Phong Nha Ke Bang National Park is located in Quang Binh province, one of the central provinces full of sunshine and wind all year round.
Phong Nha cave is a stalactite cave located in Qua Phong Nha - Ke Bang garden, in the territory of Quang Binh province. Phong Nha is one of the last few places on Earth yet to be completely discovered. This is not just a beautiful remote village in Vietnam, it's a different world in itself and it beckons you to be a part of it. First nominated as a UNESCO World Heritage Site in 1998 and recognized as one in 2003, Phong Nha – Ke Bang National Park is truly a marvel of nature.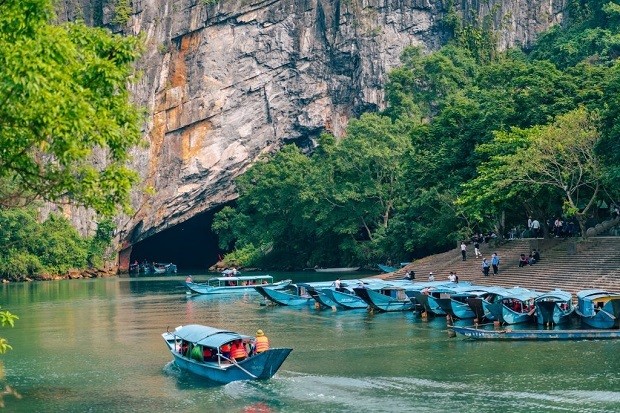 Photo: Vietnam Booking
Phong Nha Cave is a stalactite and limestone cave formed about 2 million years ago. Thanks to the long-term weathering, rainwater and other effects of nature, the limestone in the cave has been "carved" into beautiful and stunning shapes.
The name "Phong Nha" means the wind blows through the teeth, based on the sound of the wind blowing through the rows of white stalactites in the cave.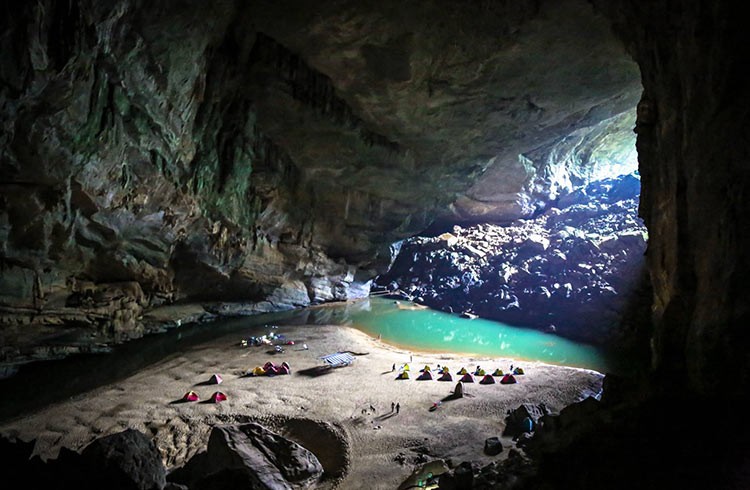 Photo: World Normals
The fact that the Phong Nha cave system is home to the world's biggest cave – Hang Son Doong – is what attracts passionate adventurers worldwide. Besides the glorious Hang Son Doong, this region has the most spectacular cave systems in the world.
The cave is about 7729m long, 10m high, and about 83m deep. Not only that, but the cave also owns 12 main caves and many other caves connected together, forming an attractive cave system that invites tourists to come to explore.
Ticket prices to visit Quang Binh may vary depending on the attractions such as caves or include boats and other entertainment services.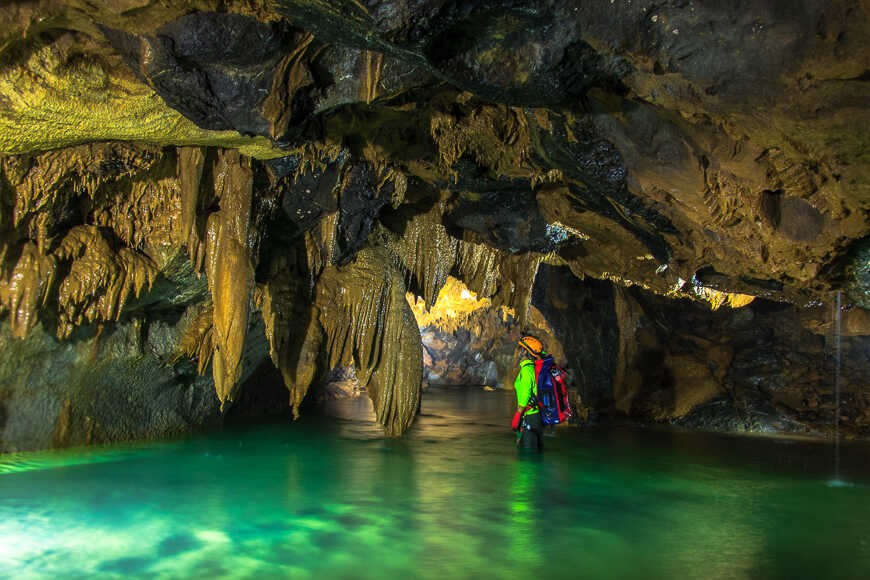 Photo: Vietnam Tourism
Why you should visit Phong Nha – Ke Bang
Phong Nha cave is the first cave to be put into tourism operation, welcoming tourists from all over Vietnam to this national park. It has been recognized and admired by many domestic and international organizations for its incredible beauty. Here are the most significant highlights that you can only find in Phong Nha Cave and not any other places.
The cave system with the longest water cave
In the Phong Nha - Ke Bang limestone cave system, Vom cave is the longest water cave at 28km in length. Hang Vom is also the headwater of the Son River - the river that flows through this limestone mountain complex. Another impressive point is that the scale of Hang Vom is very large, starting from Ruc Ca Roong cave near the Lao border with an altitude of about 360m above sea level.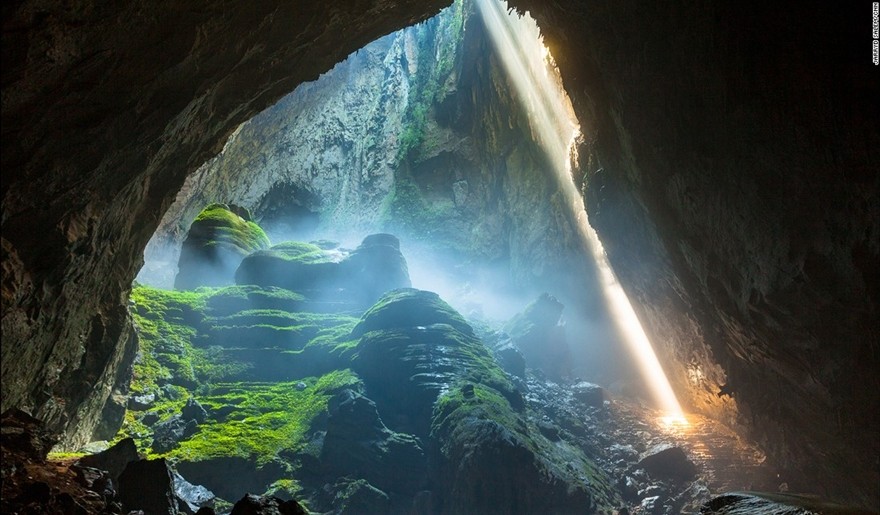 Photo: Vietnam Motorbike Tours
Even though Vom cave has just been popular for tourism since 2019, this is one of the caves that welcomes many visitors to experience and enjoy a relaxing time here.
The cave has the highest and widest cave entrance in the cave complex in Phong Nha - Ke Bang
Phong Nha cave in Quang Binh is the cave with the widest entrance with a width of up to about 20m - 25m. Not only that, but it also has the highest entrance of up to 10m.
From a distance, Phong Nha cave looks like a giant upside-down bowl on the water. Besides, this is also considered as a light intersection, when the boat drifts from the outside through the cave entrance, visitors will find another world opened in front of their eyes, where the water's surface is calm and covered with shadows.
The cave with the most beautiful underground lake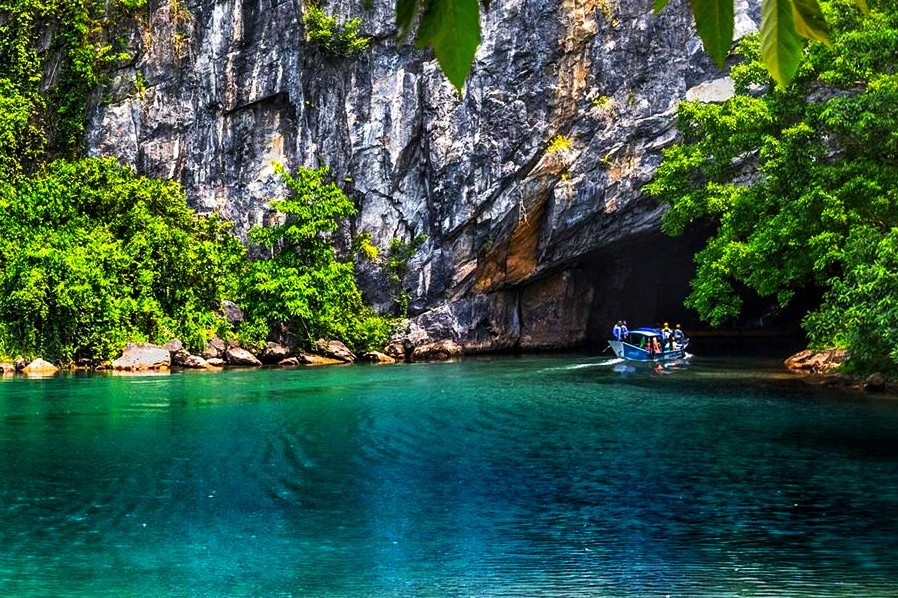 Photo: Asian Discovery Travel
Phong Nha cave in Quang Binh is also considered the most beautiful underground lake. Due to being located in a limestone cave, the groundwater here has a beautiful jade green color. The scenery is even more alluring when the rays of light hit the blue water surface, which is reflected on the stalactites, creating wonderful colors.
Visitors will have a chance to admire the most beautiful scenery of the cave where there is an underground lake, and blue water mixed with shades of beautiful yellow, white, purple, pink, and blue colors.
The most beautiful sand and reefs
Over millions of years of water erosion and weathering, the stalactites inside Phong Nha cave have the most bizzare and strangest shapes that impress tourists coming here. Some of the shapes of stalactites that visitors can see resemble statues of Buddha, unicorn, and lion.
Along with that is the golden sand that is mixed with the light to create a beautiful sparkling look. Visitors coming to Phong Nha cave take the opportunity to capture the most beautiful Instagram check-in pictures and witness the majestic creations of Mother Nature.
The cave has the longest and most beautiful underground river
With a length of about 1500m flowing throughout the cave, Phong Nha Cave in Quang Binh owns the longest underground river in the world. Visitors can use kayaks to flow along the water into the cave to explore the cave.
Kayak is the most perfect choice for transportation since it is easy to control and can be paddled at a slow speed to see the mesmerizing stalactites inside the cave.
What to see in Phong Nha – Ke Bang
Camping and Caving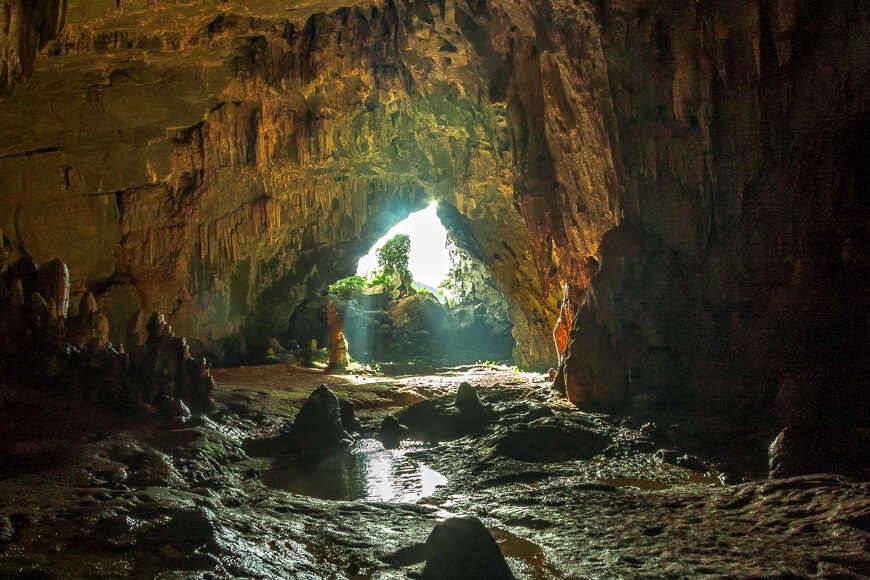 Photo: Vietnam Travel
Caves in Phong Nha range from tame to tremendous. For conservation reasons, local authorities restrict access to the larger caves. Some tour companies have exclusive rights to take travelers inside certain caves, while others are open to all. Son Doong looms large as one of the world's greatest natural wonders, but do not let that overshadow the allure of Phong Nha's other treasures.
Son Doong
Son Doong is the world's largest cave, with stalagmites that compete in height with London's Big Ben. An expedition to Son Doong takes four days with camping spots set up on scenic parts of the trail. This is the most challenging and expensive expedition in the area and is often booked out months in advance.
Tu Lan
The Tu Lan cave system lets you wade, swim, climb and crawl through a never-ending network of tunnels. If you enjoy floating down underground rivers and burrowing through tight passageways, this is the cave system for you. Tours of Tu Lan range from one-day moderate trips to full-on, four-day expeditions.
Hang Va and Nuoc Nut
Famous for their striking stalagmites and picturesque rock pools, Hang Va and Nuoc Nut is ideal for a two-day tour. The trip is short but challenging, as you'll need to navigate razor-sharp rocks and clamber over karst passes to access the caves. Hang Va is undoubtedly the highlight, especially from January to March when the rock pools are at their wholeness.
Pygmy Cave
Exploring Pygmy Cave, the world's fourth largest, involves a challenging three-day expedition complete with abseiling and climbing. En route, you'll swim underground rivers in Tiger Cave and wade through jade-colored ponds in Over Cave. If you don't have the time or budget for Son Doong, Pygmy Cave provides a great alternative at a fraction of the price.
Hang En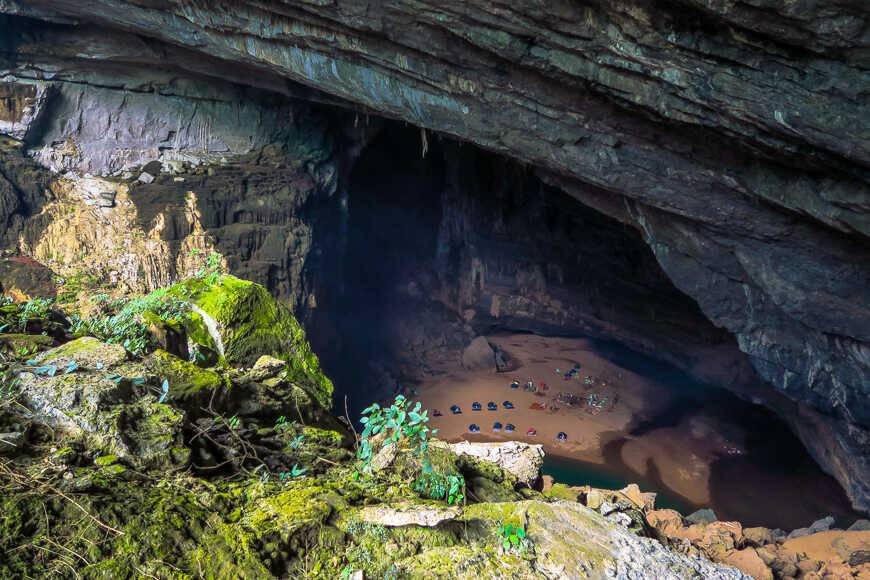 Photo: Vietnam Travel
A moderate, full-day trek through the national park brings you to Hang En, the world's third-largest cave. Expeditions in Hang En include an overnight stay out in the jungle or at the cave entrance, beneath thousands of darting swallows.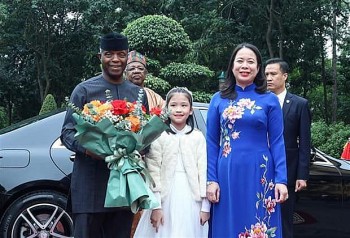 National
The two countries have strived to raise their bilateral trade to over USD 500 million and become important trade partners of each other in respective regions.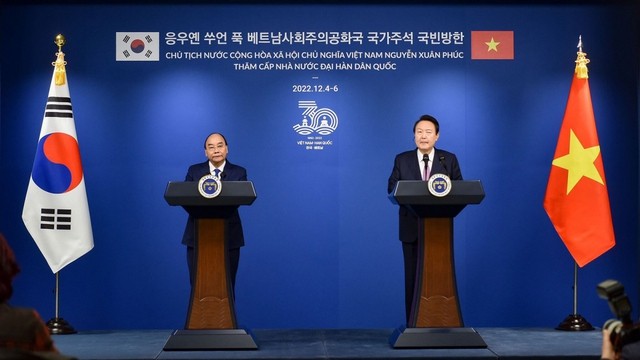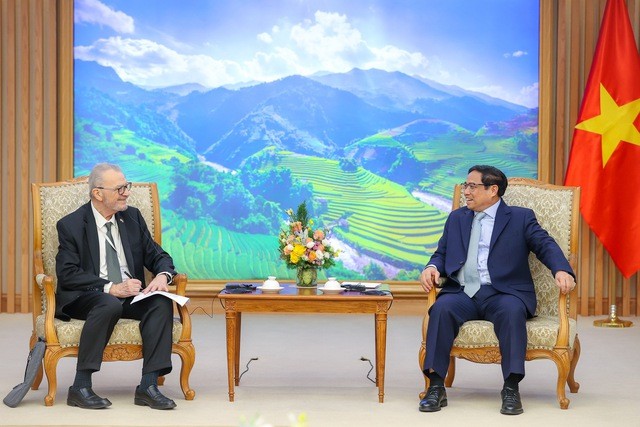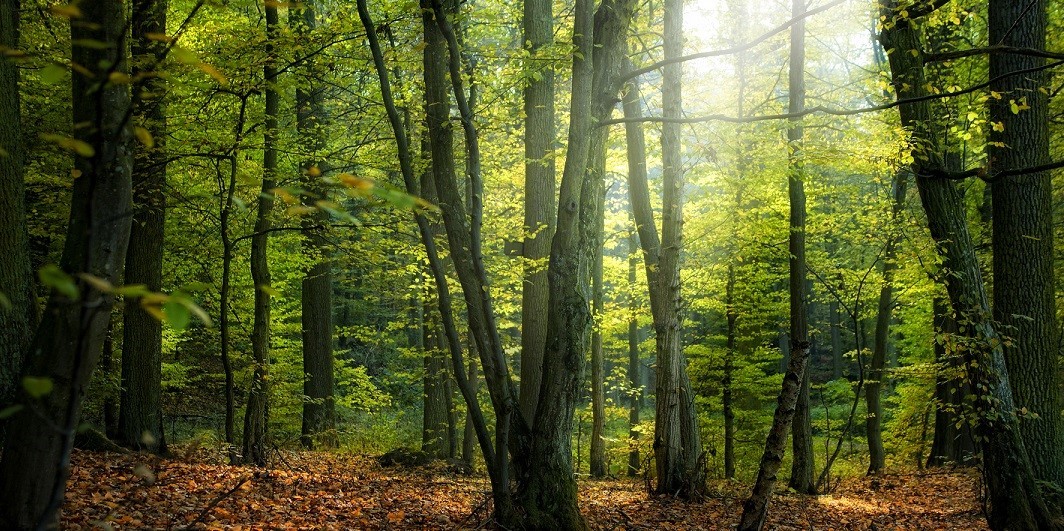 Multimedia
Vietnam's epic cave made the list of interesting, natural locations that will shock and awe you!
December 05, 2022 | 12:07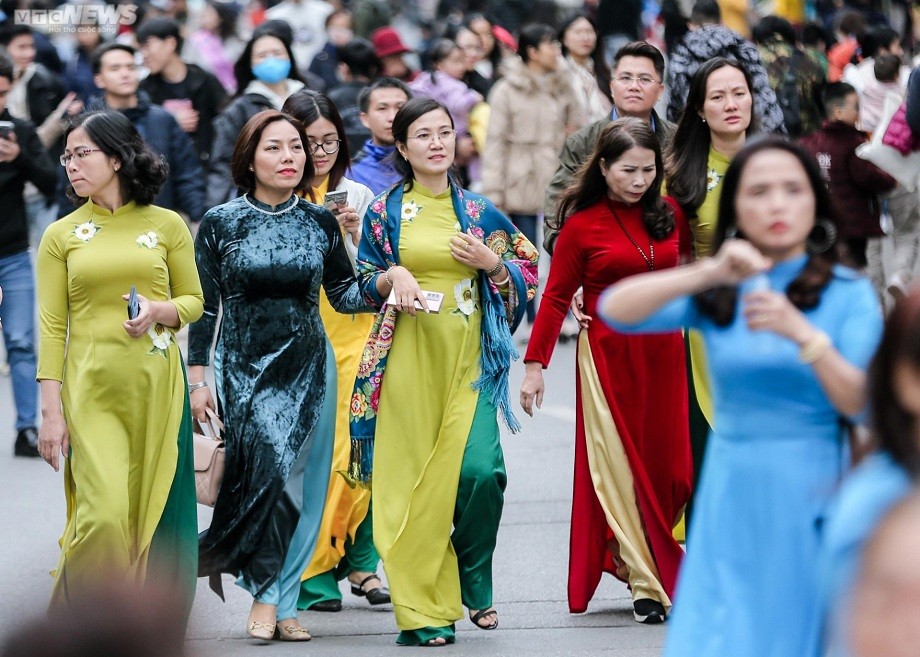 Multimedia
The three-day event featured activities to honour traditional and cultural values of traditional long dress (Ao Dai) – an outstanding tourism product of Hanoi which is expected to gradually become an "Ambassador of Tourism" from "Ambassador of Culture".
December 05, 2022 | 08:30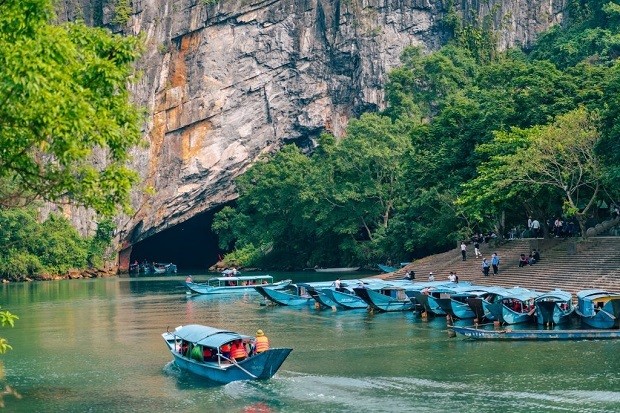 Multimedia
Along the Son river, Phong Nha cave in Quang Binh appears like heaven on Earth. With the beauty of the stalactites and the surrounding landscape, Phong Nha has been recognized by many international organizations and received a lot of prestigious titles.
November 20, 2022 | 13:37