A wedding ceremony of Red Dao ethnics
An entourage of the bride's family on their way to the house of her husband.
A traditional wedding ceremony of the Red Dao ethnic community in the northern province of Yen Bai takes place in modern setting.
The bride, Ban Thi Vi - a resident of the Khe Phao 1 village in Luc Yen district, is being dressed up, before walking to her future husband home as tradition dictates.
Happy faces captured in the procession
Representatives from the groom's family are waiting for ​the bride to come.
An opening ceremony held at the groom's house to bless the couple
The bride, wearing a bridal veil, is sitting outside the house, waiting until the end of the traditional blessing ceremony.
The newly-wed couple. The groom, Trieu Tien Loc, is also a resident of the Khe Phao 1 district.
The couple greet guests at the wedding ceremony.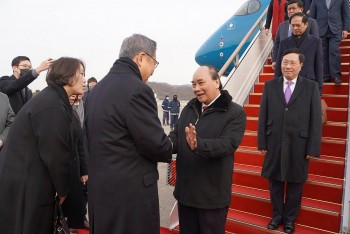 National
Vietnam News Today (Dec. 5): Additional 204 Covid-19 cases recorded on December 4; State President warmly welcomed in Seoul on RoK visit; Vietnam, Venezuela boast potential for fishery cooperation; Northerners feel chill as cold wave intensifies.