ActionAid – AFV Presented VND 100 million to Support Handicaps in Bac Lieu
The aid was given to Bac Lieu Union of Friendship Organizations (BUFO) to build and repair houses for the handicapped people.
The 22nd Partnership Meeting (APM 2023) was held in Bac Lieu on Feb. 28. The event lasts for three days, discussing investment solutions to support young people to access the equitable digital economy, green carbon, and sustainable community development.
Initiated by ActionAid International, APM has run continuously since 2002, aiming to share information and improve the management quality of programs funded and co-funded by ActionAid in Vietnam.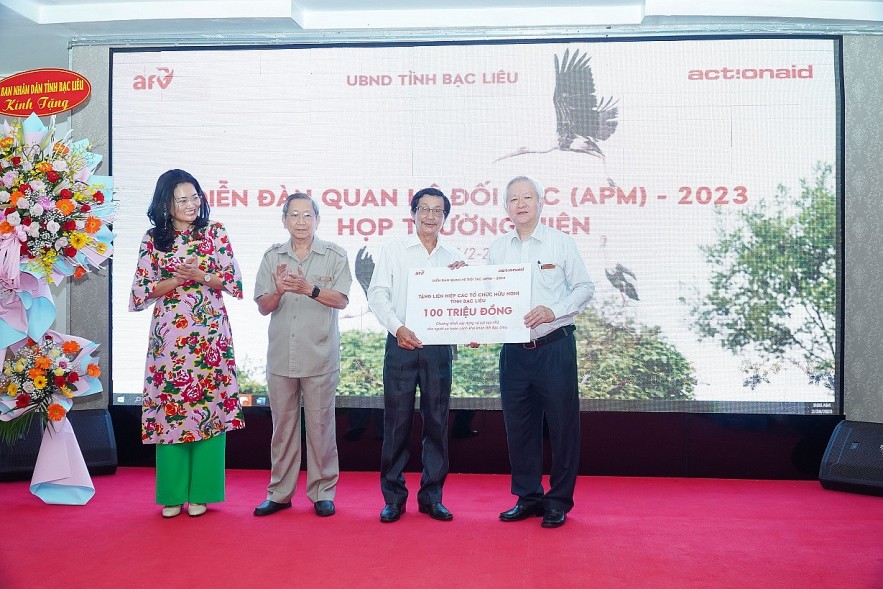 ActionAid – AFV presented VND 100 million to support handicaps in Bac Lieu (Photo: ActionAid).
APM 2023 is hosted by the Management Board of Dong Hai District Development Assistance Program and Bac Lieu Union of Friendship Organizations (BUFO), sponsored by ActionAid - AFV and Bac Lieu People's Committee. The event provided a forum to exchange between central and local partners and ActionAid – AFV.
In his remarks, Le Hoang Minh, BUFO's president said: "Bac Lieu, located in the coastal Mekong Delta, is one of Vietnam's most important provinces in producing wind power, solar power, shrimp, salt and processing seafood. In recent years, natural disasters and salinity intrusion have been causing serious impacts on the livelihoods of many households. Appreciating projects sponsored by ActionAid-AFV in Bac Lieu for more than 10 years, we hope through this forum, we can introduce Bac Lieu's potential in cooperation with NGOs to implement short- and medium-term projects in renewable energy and sustainable agriculture in the Mekong Delta."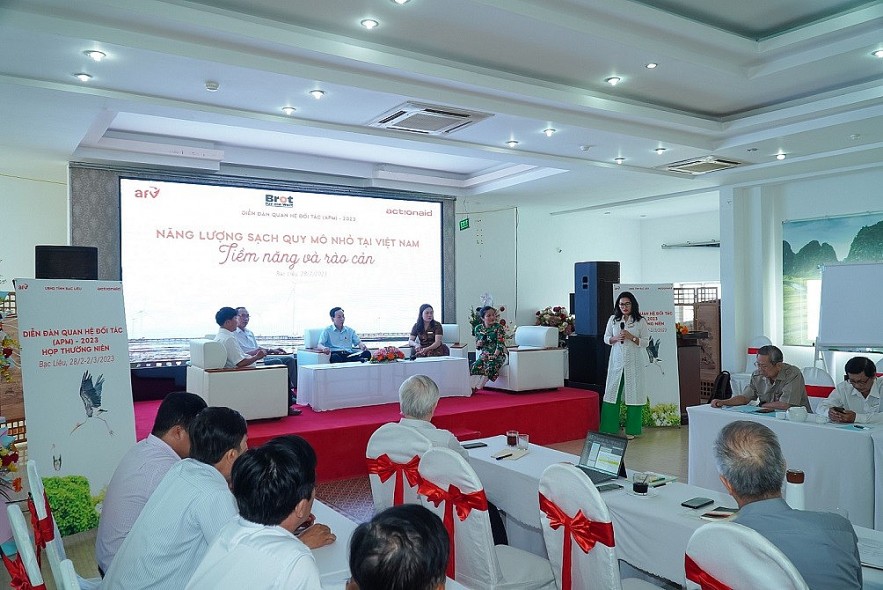 At the event (Photo: ActionAid).
On this occasion, ActionAid-AFV presented BUFO an amount of VND 100,000,000 to cooperate in building and repairing houses for people with disabilities towards the BUFO congress for the third tenure (2023-2027), which was approved by Bac Lieu People's Committee to be held in the fourth quarter of 2023.
During the 10 years of cooperation, ActionAid-AFV has sponsored more than a total amount of VND 26 billion for long-term and short-term programs, supporting nearly 28,000 beneficiaries in Dong Hai district, Bac Lieu.