Recently, a communication campaign on "Prevention of sexual harassment at work" was organized by The Centre for Community Health Research and Support (CCHS) in Ho Chi Minh city. This program aimed to provide female garment workers with more knowledge and skills in order to prevent the issue of sexual harassment and contribute in creating a safe working environment for female workers.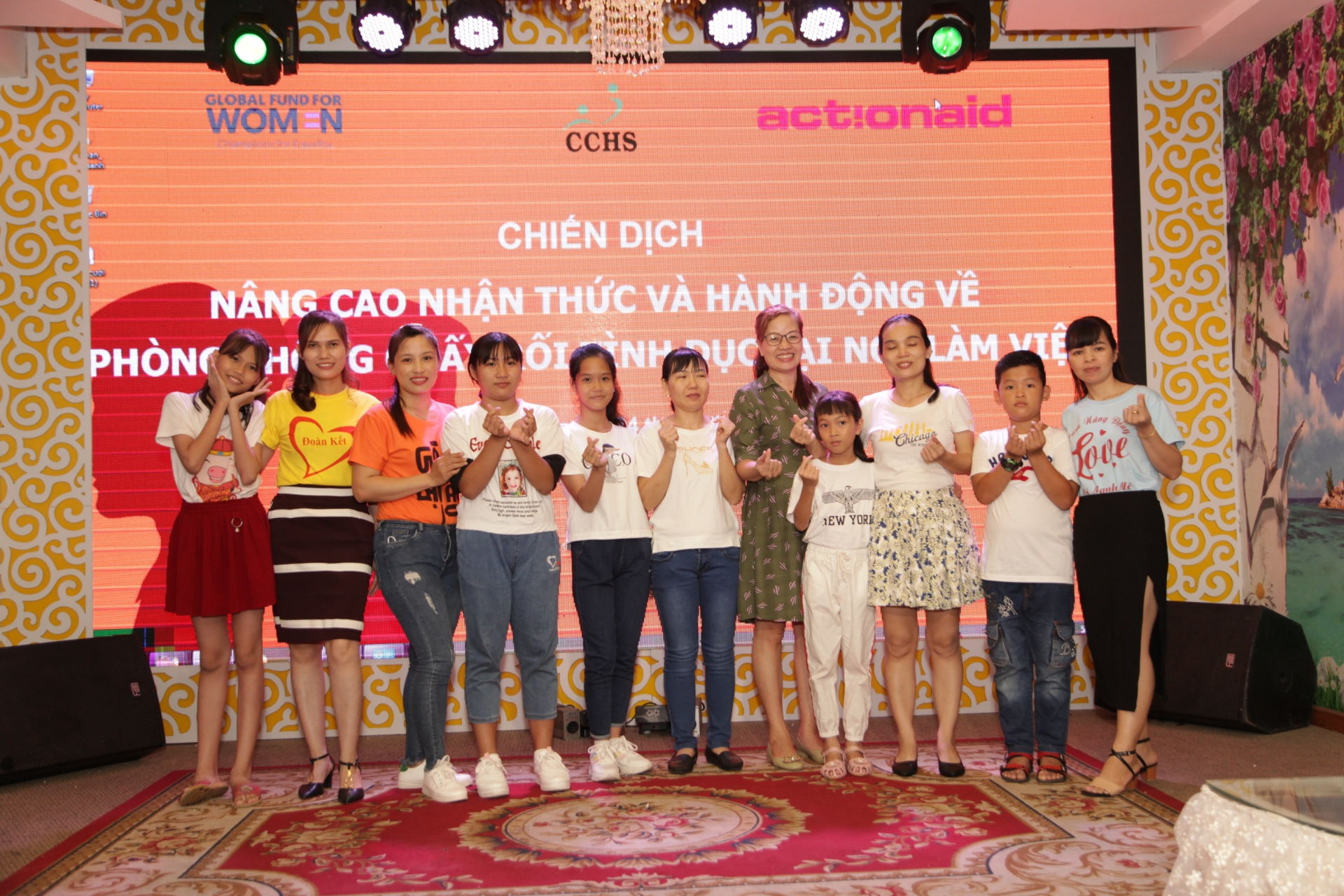 The event was organized for female garment workers in HCM city. Photo: Nguyen Thuan
According to Clause 3, Article 8 of the Labor Code 2019, sexual harassment at the workplace is unlawful. Safety for women both in private, public spaces and in the work environment is one of the key indicators of the sustainable development of gender equality on the global 2030 agenda, which has been approved by Vietnam and many other countries around the world since 2015.
However, despite a number of stakeholder efforts towards women's safety in the public and the workplace, the issue of sexual harassment still happens frequently with negative consequences for women.
According to the baseline survey of the Safe City Program in Ho Chi Minh City in 2017, 18.5% of women said that, they had been sexually harassed in public areas; around 12% of men admitted that they had committed sexual harassment. However, sexual harassment still has not been considered as a serious behavior, and therefore, has not been responded in a timely manner.
In 2018, another survey conducted by ActionAid Vietnam and the Vietnam Women's Academy at four garment factories in Hai Phong and Ho Chi Minh City showed that more than 53% of workers have ever been harassed or witnessed this behaviors at work, in which 87% are female workers and 23% are male workers. Again, it is worth noting that no cases of harassment have been handled.
Sexual harassment in the workplace is a form of gender-based discrimination that adversely affects the working environment, equality between male and female workers with psychological effects. It also causes anxiety and stress to the victims leading to an unsafe working environment and bad working productivity.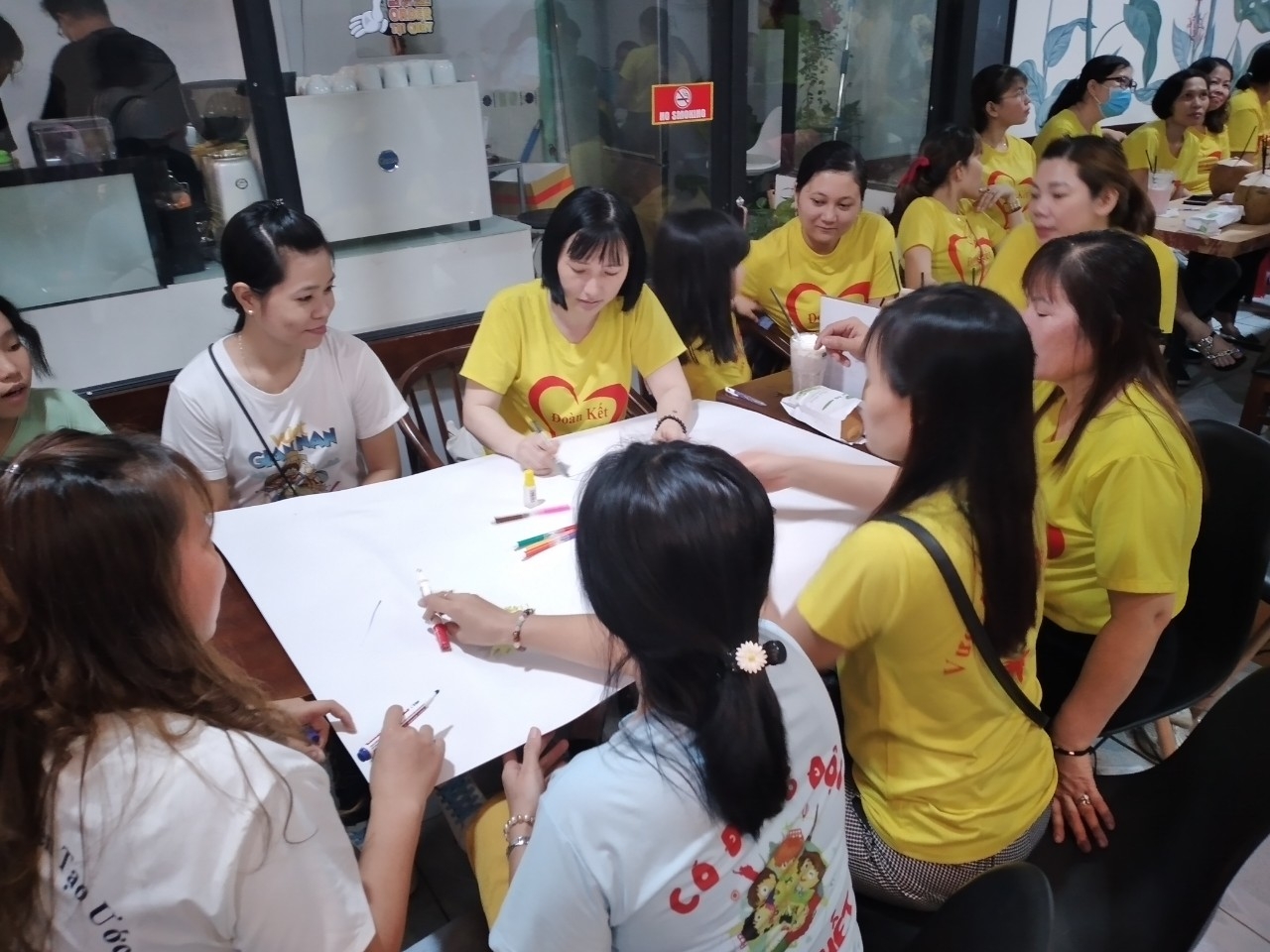 Workplace sexual harassment is internationally and locally condemned as sex discrimination and a violation of human rights. Photo: Nguyen Thuan
Taking this issue seriously, in January 2021, CCHS Centre has implemented the project named "Initiative to end gender violence in the garment industry" in Ho Chi Minh City and Long An province. This project are funded by ActionAid Vietnam and the Global Women's Fund with the overall goal: Increase the capacity and voice of female garment workers to protect their rights through effective protection mechanisms to combat sexual harassment in the workplace.
Since then, a variety of communication activities on the topic of sexual harassment prevention has been conducted with the participation of arround 150 people, including many female workers and workers at factories and enterprises in the garment sector in HCM city. In addition, the project also continues to disseminate and guide women to install and use the S-City application developed by ActionAid Vietnam in order to monitor and respond to harassment incidents happening to women and girls.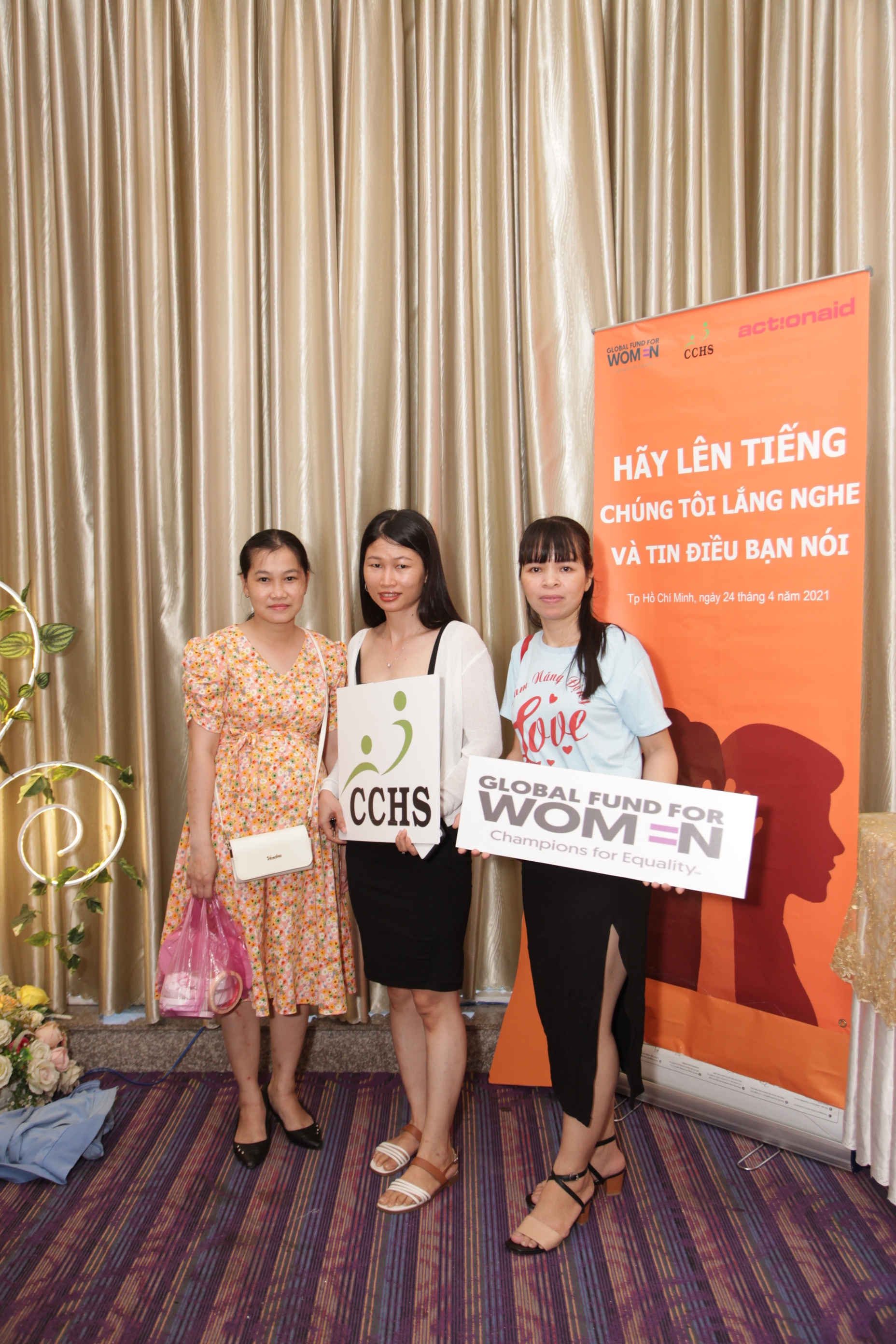 More female workers are now willing to speak out and fight against the issue of sexual harrasement in the workplace. Photo: Nguyen Thuan
Centre for Community Health Research and Support (CCHS Centre) is a non-government organization, non-profit organization operating in the field of primary health care and community development based in HCM City.
Over the past 15 years of establishment and development, CCHS Centre has constantly strived to build a society where all people in the community have the capacity to cooperate and gather resources to improve health, high quality of life and develop their sustainable community through self-determination.
Through research, policy advocacy, technical assistance and capacity building activities, CCHS Centre contributes to support vulnerable groups in the community (especially the poor, ethnic minorities), people who is affected by climate change, disaster risks, migrants, women, children, people with disabilities, ...) have the ability to analyze the situation, identify problems, find solutions and working together for a healthy, thriving community.
Thuan Nguyen