New Zealand partners and ActionAid Vietnam to help informal female workers
The New Zealand Embassy has just provided NZD 50,000 (approx. USD 35,600 ) to help more than 350 female informal workers in central Da Nang City and Thua Thien-Hue province during these challenging times.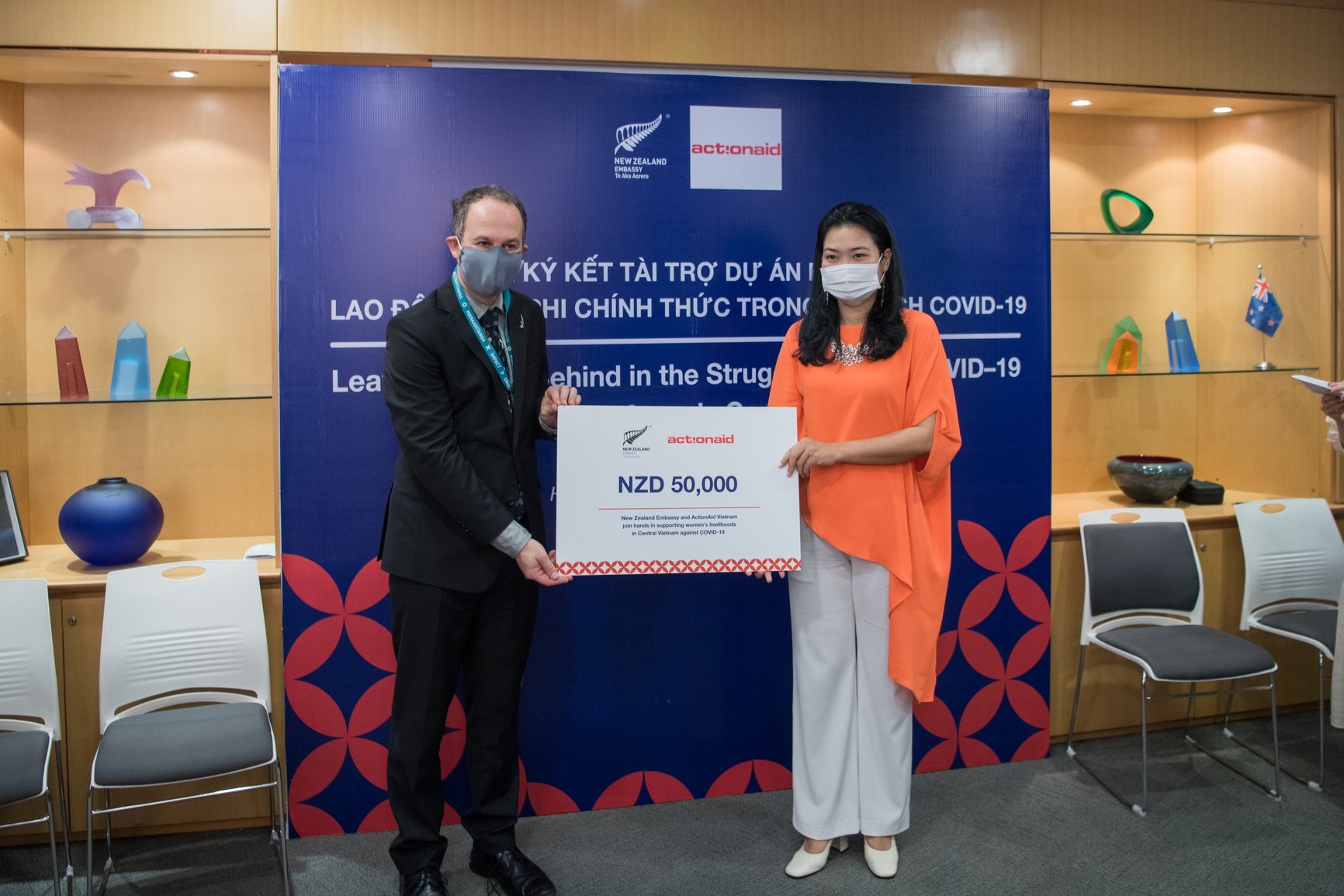 The New Zealand Embassy in Vietnam will provide 50,000 NZD (approx. 35,600 USD) to support more than 350 women workers in informal employment in Da Nang and Thua Thien-Hue over the next three months. Photo:
The New Zealand Embassy and ActionAid Vietnam launched a partnership to "Leave No One Behind in the Struggle Against COVID–19".
The project will assist women workers in informal sectors of the economy in Da Nang and Hue. Leaders of the Department of Foreign Affairs (DOFA) of Thua Thien Hue Province, the Department of Labour, Invalids and Social Affairs (DOLISA) of Da Nang City and the Centre for Community Development and Social Work - CODES participated the launch.
The New Zealand Embassy will provide NZD 50,000 (approx. VND 790 million) to the project, which aims to reach more than 350 women workers in informal employment as street vendors, junk collectors, or housemaids, over the coming 3 months.
The workers will all receive capacity advice and support on household economic literacy, gender equality, and child nutrition. In addition, they will be provided a hardship relief package of VND 2 million to each recipient to help meet their immediate needs resulting from COVID-19 pandemic.
The partnership between the New Zealand Embassy and ActionAid Vietnam supports workers in the informal economy to ease their financial stress and strengthen their resilience during the pandemic.
Speaking at the launching event, New Zealand Chargé d'Affaires Joseph Mayhew said, "This is a practical initiative to help ease the economic impacts of COVID-19 and strengthen the resilience of more than 350 women workers, and their families, in Da Nang and Hue's informal sectors."
"I believe that supporting women workers in sectors that are hardest hit by the pandemic is a vital component of robust, inclusive, and equitable recovery," he said.
Informal workers constitute up more than 50 percent of the labour force in Vietnam (approx. 18 million labourers). More than 70 percent of these informal workers are women, and they are the hardest hit by the COVID-19 pandemics, a recent (Jan 2021) study commissioned by ActionAid and conducted by Vietnam National University of Agriculture (VNUA) and National Economics University (NEU) stated.
Key findings from the study highlighted the dilemma that informal workers must face to survive the economic downturn, due to the virus spread and locking down. Although Vietnam has done an excellent job in containing the virus and saving people's lives, distributing the emergency packages to citizens and continue to maintain the economic most important activities, informal workers seem to be missing from most of the key policies and supports.
COVID-19 has caused significant disruption to the Vietnam tourism industry. In 2020, international arrivals of just 3.8 million were down 78 percent compared to 2019, while the 56 million domestic travellers were down 34 percent.
Performance of hotels and resorts slumped, with many forced into temporary closure. Occupancies and average daily rates (ADR) both dropped, resulting in revenues being down 70 percent compared to 2019.
The pandemic has disrupted Vietnam's tourism industry, with Da Nang and Thua Thien-Hue, the two major international tourism hubs particularly affected. The project includes training on household economic literacy and management, women's rights and child nutrition. The financial support can be used to purchase food, living essentials or small livelihood options.
More than 90 percent of the tourism sector's workers lost employment and income due to COVID-19. In Da Nang and Thua Thien-Hue, almost 90,000 people either became unemployed or suffered from greatly reduced income. Only 22 percent of the surveyed workers currently have access to the government's VND-62-trillion support package.
"This project is one way to help women workers become more visible in the public eye, and at the same time trying to set up a practical model where support can be delivered to the target groups and individuals in an efficient and transparent manner," said Hoang Phuong Thao, Country Director of ActionAid Vietnam.
"We want to contribute to the commitments of Vietnam and New Zealand, of Leaving No One Behind in the struggles to overcome COVID-19."/.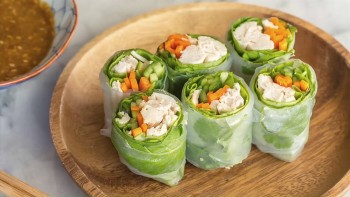 Travel
Rolls are a easy-to-make dish that is loved by many Vietnamese diners as well as Korean stars.