Additional 6 countries added to Vietnam's pilot e-visa programme
Citizens from an additional six countries, alongside the 40 countries that are already permitted, are applicable for e-visas when entering Vietnam, according to a recently-issued document signed by the Prime Minister.
(VNF) - Citizens from an additional six countries, alongside the 40 countries that are already permitted, are applicable for e-visas when entering Vietnam, according to a recently-issued document signed by the Prime Minister.
Visitors are also no longer required to provide letters of guarantee or invitation letters as currently required when applying for standard visas.
PM Nguyen Xuan Phuc issued Resolution 124/NQ-CP, on November 29th, supplementing the list of countries whose citizens are piloting e-visas when entering Vietnam under the Decree No. 07/2017/NĐ-CP, including Australia, the United Arab Emirates, Canada, India, the Netherlands, and New Zealand. The resolution took effect immediately following its signing date.
Previously, Decree No. 07/2017, which took effect in February 2017, stipulates that visitors from the following 40 countries can apply for and receive Vietnamese visas online, including Azerbaijan, Argentina, Armenia, Ireland, Poland, Belarus, Bulgaria, Brunei, the Republic of Korea, Germany, Chile, Colombia, Czech, Cuba, Denmark, Timor-Leste, the U.S., Hungary, Greece, Italy, Kazakhstan, Russia, the UK, Luxembourg, Myanmar, Mongolia, Japan, Panama, Peru, Finland, France, the Philippines, Romania, Spain, Sweden, China (not applicable for Chinese e-passport holders), Uruguay, Venezuela, Norway and Slovakia.
The move was an effort by the Government to boost socio-economic development, making it more convenient for foreigners to enter the country without being given guarantees by certain organisations or inpiduals.
It also aimed to contribute to the development of the tourism industry, which hopes to attract between 15 and 20 million tourists in the next two years. In addition, it is expected that there will be more incentive policies as Vietnam still remains less competitive than regional peers in terms of visa exemption.
The Government's Decree No. 07 stipulates the procedures for the pilot issuance of e-visas for foreigners entering Vietnam, effective within two years from the beginning of February this year.
According to the decree, foreigners can apply for e-visas by accessing www.xuatnhapcanh.gov.vn or www.immigration.gov.vn to upload photos and passport pages following the designed form, before receiving the electronic file code and paying the visa fee to the account specified on the e-visa information page.
Within three working days from the date of receiving the information on the application for e-visas and visa fees, the Immigration Department shall consider and settle the applications and reply to the electronic visa applicants through the electronic visa information page.
An e-visa valid for 30 days without requiring letters of guarantee or invitation.
Foreigners applying for e-visas can use the electronic file code to check the results at the above e-visa website; if they are granted electronic visas, they can use the electronic code to print their visas.
As many as 490 foreigners have registered for electronic visas to enter Vietnam, 210 of whom have been issued their visas, after the first week of the e-visa pilot scheme, according to the Ministry of Public Security's Department of Immigration.
In the region, Thailand grants visa exemption to residents of 58 countries, Malaysia 158 countries and Indonesia 169 countries, meaning that most tourists can visit major regional destinations without visas.
In addition to specifying the list of countries having piloted e-visas to Vietnam, the governmental decree also promulgates a list of 28 international border gates and airports allowing foreigners to enter or exit Vietnam on an e-visa, including eight airports (Noi Bai, Tan Son Nhat, Cam Ranh, Da Nang, Cat Bi, Can Tho, Phu Quoc and Phu Bai); 13 border crossings (Mong Cai/Quang Ninh province, Huu Nghi/Lang Son province, Lao Cai/Lao Cai, Nam Can/Nghe An, Cau Treo/Ha Tinh, Cha Lo/Quang Binh, Lao Bao/Quang Tri, Bo Y/Kon Tum, Moc Bai/Tay Ninh, Tinh Bien/An Giang, Song Tien/An Giang and Ha Tien/Kien Giang); and seven sea ports (Hon Gai/Quang Ninh province, Hai Phong/Hai Phong, Nha Trang/Khanh Hoa, Da Nang/Da Nang, Quy Nhon/Binh Dinh, Vung Tau/Ba Ria-Vung Tau, and Ho Chi Minh City/in Ho Chi Minh City).
VNF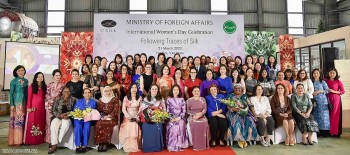 Friendship
Female ambassadors, representatives from diplomatic corps and international organizations, along with spouses of diplomats in Vietnam gathered together to find about more about silk weaving and silk products in Vietnam.