AHK Hosts Conference Connects Vietnam - Germany Business Opportunity via Football
The German Chamber of Industry and Commerce in Vietnam (AHK) and the German delegates from NRW. Global Business (North Rhine Westphalia) co-hosted a conference on Nov 29 in Hanoi with the theme "Business and Football". The event also welcomed representatives of Borussia Dortmund (BVB Dortmund) to interact with local football lovers.
In his opening remarks, Chief Representatives of AHK Vietnam Marko Walde emphasized the significance of information exchange between businesses in Vietnam and the delegation from North Rhine Westphalia (NRW), one of the most important federal states of Germany.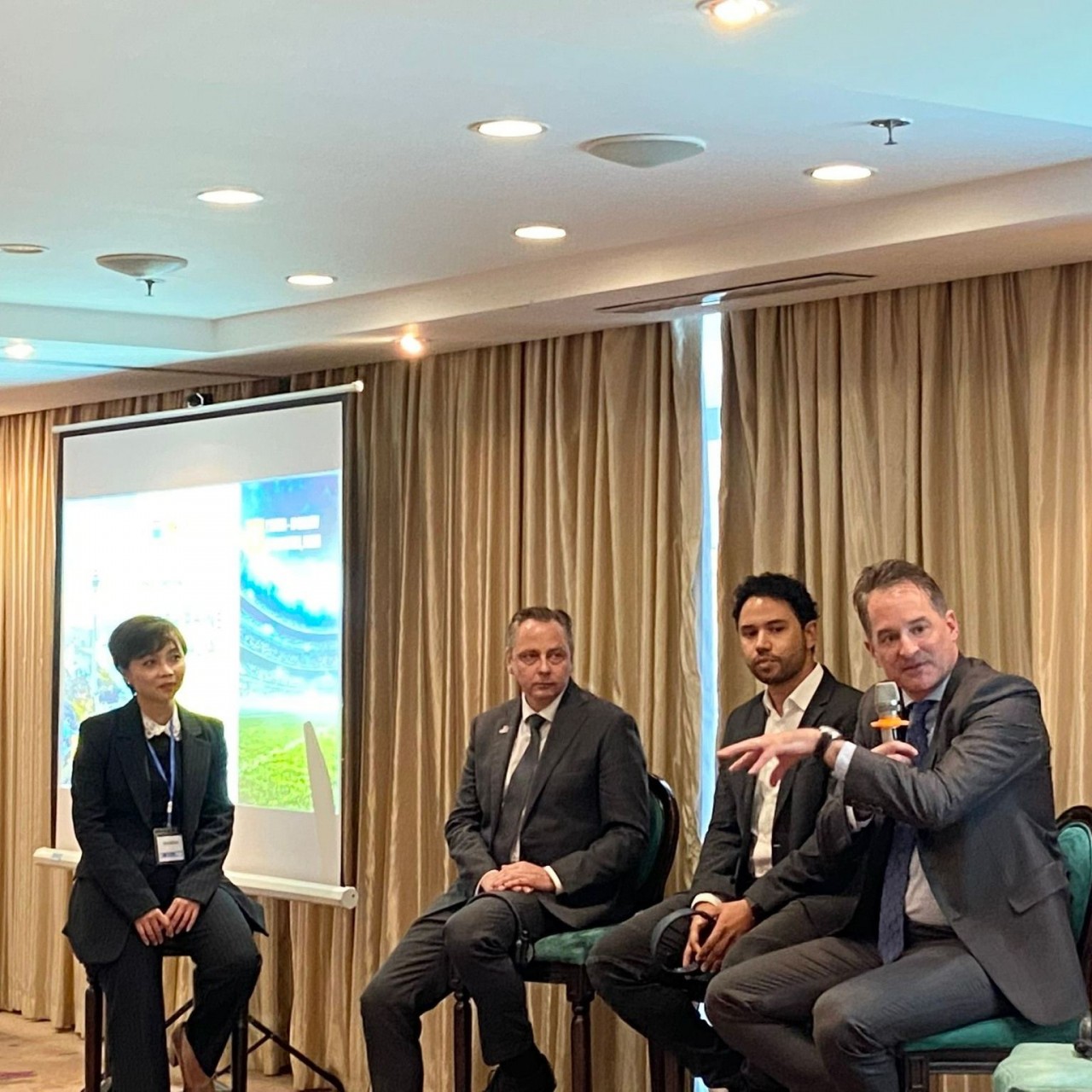 The German delegates at the Q & A session (Photo: DBND).
"The official visit of Germ Chancellor Olaf Scholz to Vietnam as well as the friendly match between Vietnam's national team and German football club BVB Dortmund team showed the good relationship between the two countries. There are also many similarities between the two countries' cultures, people, so we can take this opportunity to take the relationship to the next level," said Marko Walde.
Marko reaffirmed that this conference in Hanoi and the on-going Green Economic Forum and Exhibition (GEFE 2022) in Ho Chi Minh City serve as platforms for companies to develop a network with Vietnamese and German business partners.
Agreeing with Marko, CEO of NRW. Global Business Felix Neugart said that NRW. Global Business is looking for potential partners in the Southeast Asia, and that Vietnam in partcular. Felix encouraged more Vietnamese businesses to consider partnering opportunities with his agency in investment sectors like information and communication technology (ICT) and renewable energies.
Both the Vietnamese side and German side are confident that the cooperation between NRW, AHK and Vietnamese partners will open up new growth prospects.
North Rhine Westphalia - a Dynamic Business and Football location in Europe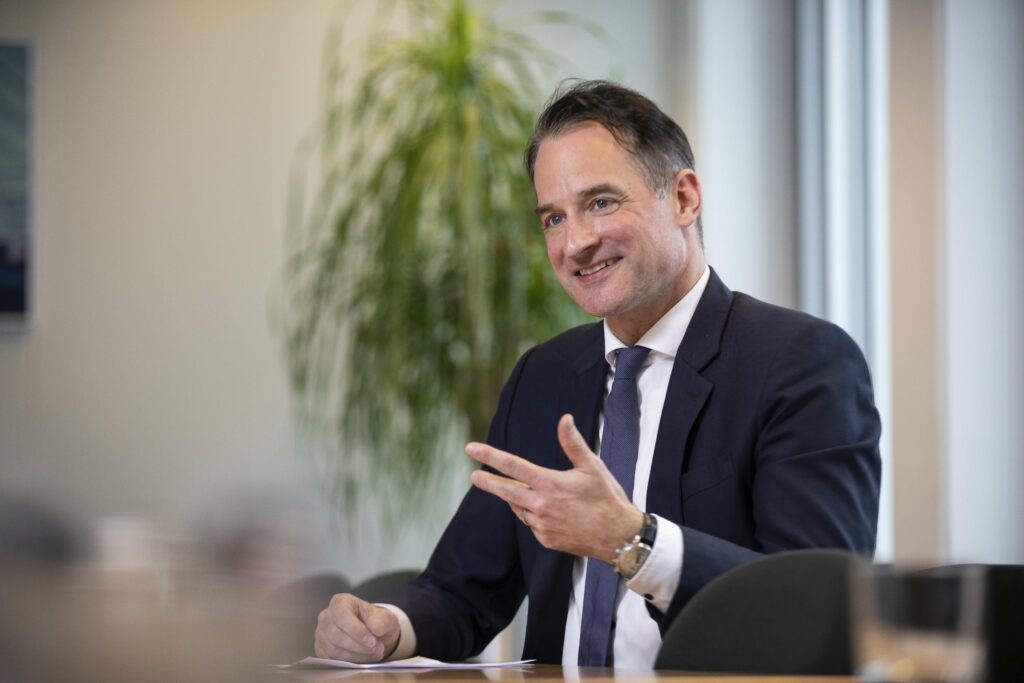 CEO of NRW. Global Business Felix Neugart (Photo: Startup Germany Tour).
"There are 8,000 football clubs in NRW, and estimately 127,000 full-time jobs created by German's top footbal league, Bundesliga alone.
The economic factor of football is highly valued in NRW with EUR €11 billion in gross value added to professional football up to now.
NRW. Global Business is committed to further expanding and strengthening the economic relations.
Together with AHK Vietnam, I am happy to be in Vietnam, to meet and exchange information with the potential partners from this country," said Felix Neugart.
Special guested at the event are Managing Director and Head of Marketing Casten Cramer, professional footballer Felix Passlack, former professional footballers Roman Weidenfeller, and Patrick Owomoyela from BVB Dortmund.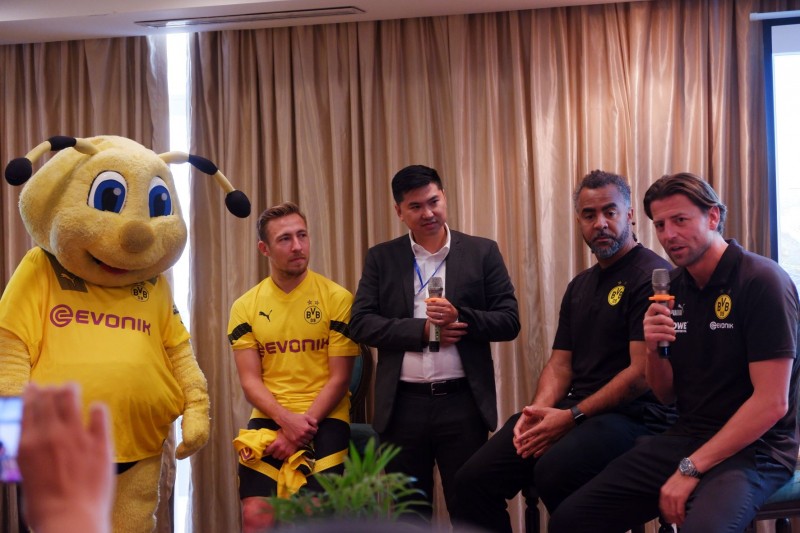 Special guests: professional footballer Felix Passlack (second from left), former professional footballers Patrick Owomoyela and Roman Weidenfeller from BVB Dortmund (fourth and fifth from left) (Photo: DBND).
Casten Cramer believed football opens up opportunities for cooperation in many fields between Vietnam and Germany, both at national and local levels.
"We hope that after the match in Hanoi, the Borussia Dortmund club will have more fans, and the state will have more friends and partners," said Crasten.
The players of BVB Dortmund spoke about the preparation for the match with Vietm's national team at 7pm on November 30, saying that among the countries they visited in BVB Dortmund Asia Tour, Vietnamese fans has been one of the most passionate and energetic. From what they saw Vietnamese people's love for football, the players of BVB Dortmund believed the mutual business - football cooperation will achieve positive results.
BVB Dortmund is a team with German tradition that has won the Bundesliga eight times, the regional cup five times, the German Supercup six times and the UEFA Champions League once. Dortmund currently has many famous stars such as Erling Haaland, Marco Reus, Mats Hummers …
Last year, BVB Dortmund signed an agreement with its Vietnamese partner, Next Media, to build and develop youth training institutes and football learning programs at schools across Vietnam. The goal is to open Asia's largest football academy in Vietnam, following the resounding success of Nova Dortmund Football Academy in Japan in 2018 to present.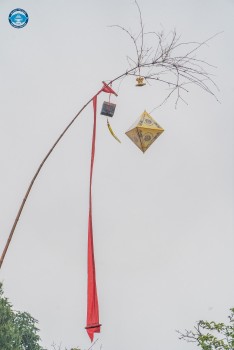 Viet's Home
In the past, the Neu pole (a tall bamboo pole with red garment strips used to ward off evil spirits during the lunar New Year) lowering ceremony at the royal palace of the Nguyen Dynasty was performed to mark the end of the New Year holiday and prepare to enter a new working year.