All You Need To Know About Lakes In Vietnam
Vietnam has been famous for having many lakes and rivers as tourism attractions. Here is everything you need to know about lakes in Vietnam.
About two thirds of Viet Nam's water resources originate from catchments in riparian countries. Viet Nam is the lower riparian country in the Mekong and Red Rivers and is susceptible to water resource decisions made in upstream countries. This susceptibility exacerbates the highly variable seasonal (droughts in the dry season and flooding in the monsoons) and geographical distribution of water. Despite the total abundant water resources, the dependency on upstream countries and the uneven distribution have made Viet Nam's ranking low in Southeast Asia's water availability per capita (4170 m³/person compared to average 4900 m³/person in Southeast Asia and 3300 m³/person in Asia)
There are several major natural lakes in Viet Nam, one of those is Ba Be lake with a surface area of 4.5 km² and a volume of 90 million m³. In addition, there are numerous other smaller lakes - including urban lakes in Hanoi.
What is the largest lake in Vietnam?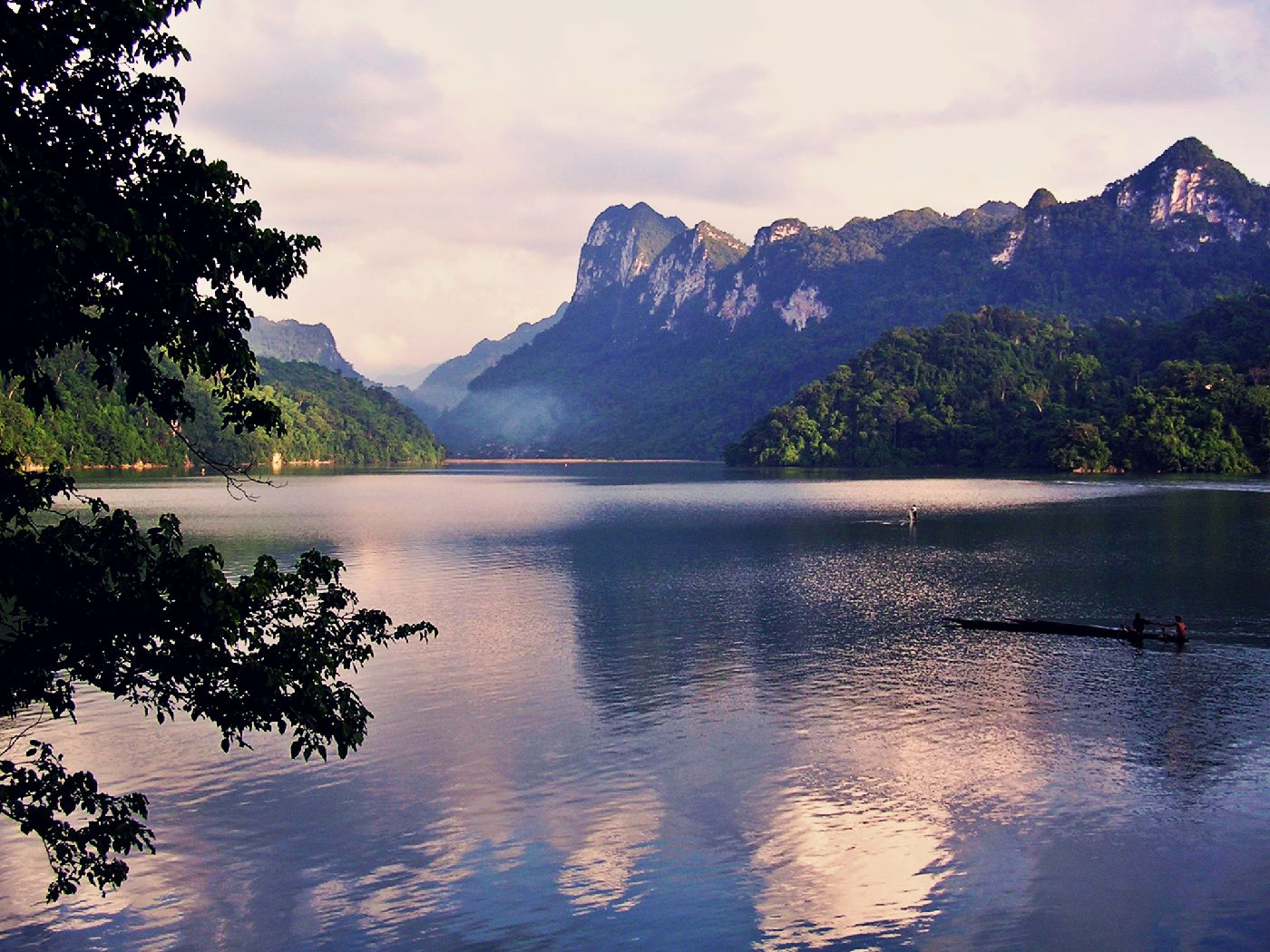 Photo: Asianway Travel
Ba Be Lake is one of the most famous lakes in Vietnam, which is listed on the top 100 biggest freshwater lakes in the world. At the end of 2004, this destination is recognized as one of the ASEAN Heritage Garden. Along with the unique features of geography and high values of biodiversity, Ba Be Lake is renowned as the largest freshwater lake in Vietnam. Once you are ready, consider the special Northern Vietnam Adventure for our combined excursion to Ba Be. Not sure yet? Follow us to discover the miraculous stories about this beautiful land.
Located in Bac Kan province, Ba Be lake is one of 21 national tourist zones in Vietnam. The lake rises 145 m above sea level. With an area of 650 hectares and 8 km in length, Ba Be lake will certainly bring memorable experience for visitors because of its stunning harmony among the pristine beauty of lakes, lush forests on limestone mountain, mysterious caves, and underground streams.
Ba Be Lake literally means "three lakes" in the Vietnamese language. Its name actually derives from an ancient story of Vietnamese people. It is said that local people used to annually organize a huge Buddhist festival. Suddenly, a dirty old woman comes and begs everyone for a meal. But no one compassionate for her miserable situations, even they banish the old woman from the festival. Luckily, there is a kind widow and her son, who invite her to their house and supply water and food for the old woman. At night, the hostess suddenly wakes up because of terrifying sound in the place, where the old woman sleeps. At that time, the widow sees that the woman disappears. Instead, a Giao Long – a kind of snake and a holy animal, is lying on that place. Both the widow and her son extremely scare about this strange phenomenon and they cannot sleep all night.
In the morning of next day, the old woman awakes and tells the truth for the hostess: "I am not a normal person. I come to evaluate the humanity of everyone". Unfortunately, they are so cruel. So they have to receive punishment. After that, the old women guide for both of them escape from a terrible event, which happens in the village. After that, the woman disappears. In the main day of festival, a cataclysm floods everything in the village and many people deaths. The terrible flood created 3 sublime lakes in the present time. And for this reason, local people call it as Ba Be Lake.
Along with Ba Be Lake, visitors can explore many amazing places, which are close to the Lake such as Puong Cavern, Tien pond, Dau Dang Waterfall, and Hua Ma Cavern. All of those destinations belong to Ba Be National Park, a perfect stopover for any Vietnam trekking tours.
What are the famous lakes of Vietnam?
Quan Son Lake, My Duc, Hanoi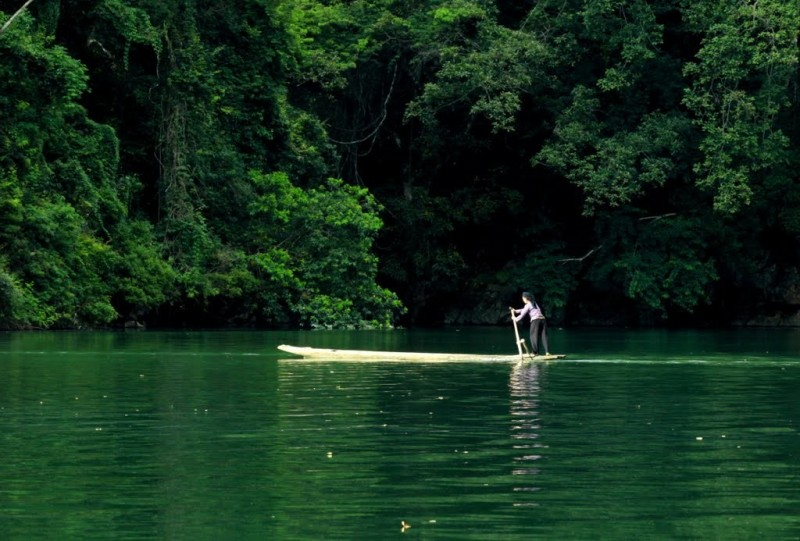 Photo: Vietnam Travel
Quan Son is a 850-hectare lake located in My Duc District, 50 kilometers from Hanoi. The entire view of Quan Son Lake is covered with rich vegetation like flowers, lotus and so on. The view of the limestone mountains that surround the landscape creates a romantic landscape for Lake Quan Son. If you go to Son Quan from May to June, you will have a chance to contemplate the perfect beauty of lotus flower as it is in the blooming season.
Lake Suoi Hai, Ba Vi, Hanoi
Photo: Nuibavi
Lake Suoi Hai is located at the foot of Ba Vi Mountain, far from Hanoi about 70 kilometers away. It has become a tourist attraction for all those who like to discover the beauty of Vietnam lakes. There are 14 large and small islands in the 90-hectare reservoir area. You can visit the lake by boat, come to the island or the orchard nearby. There are also many bird species that make the natural landscape more varied. In addition, you can choose Suoi Hai station with many quality services.
Dai Lai Lake, Vinh Phuc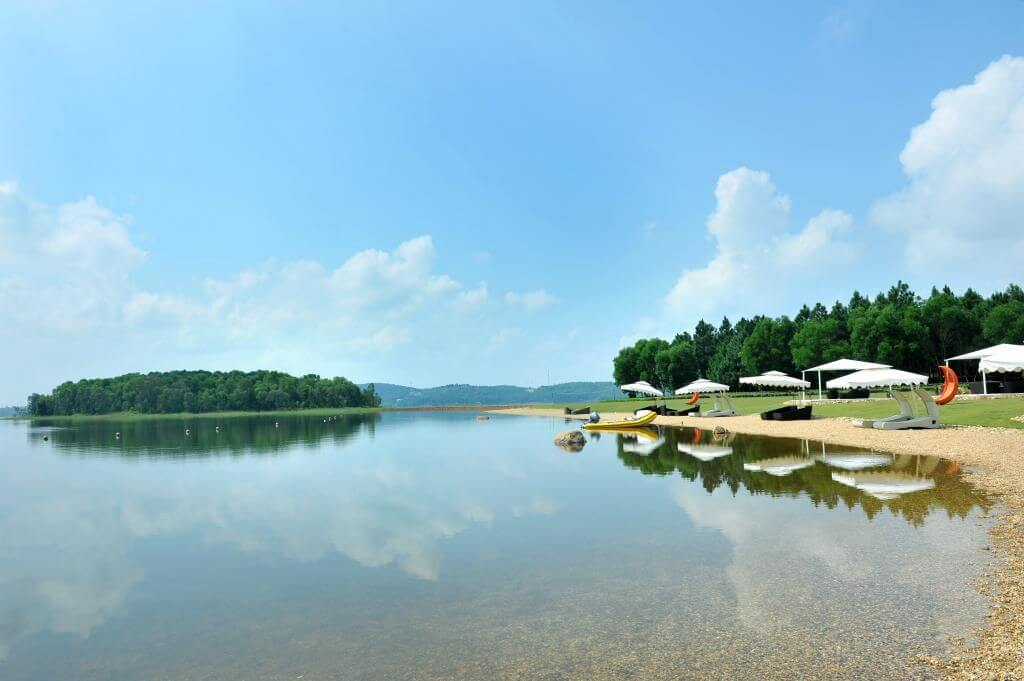 Photo: VietnamOnline
Dai Lai Lake is a famous artificial lake in Vinh Phuc province, located in Phuc Yen commune, 50 kilometers from Hanoi. For a long time, Lake Dai Lai has become a popular destination for those who want to enjoy a trip to Vietnam, whether in winter or summer. Thanks to the cool climate of Dai Lai throughout the year, as well as the luxury resort system with many entertainment programs, it always makes visitors feel satisfied.
West Lake, Hanoi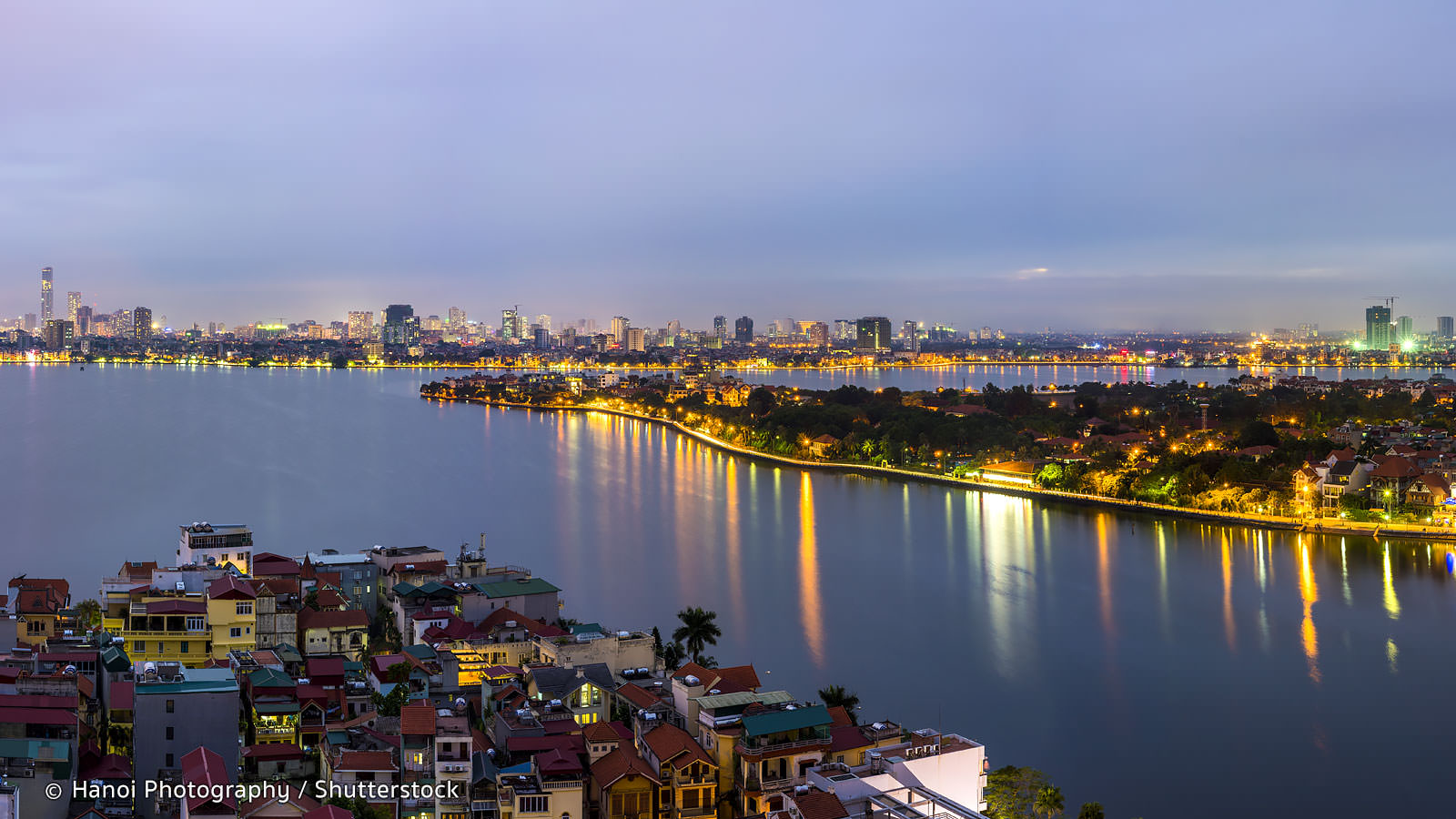 Photo: Vietnam Travel Guide
The West Lake is one of Vietnam's most famous natural lakes so the places around West Lake always attract a large number of visitors each weekend. With open spaces and calm landscapes, visitors can enjoy the sensation of rowing, swim on the lake, or have a coffee by the lake.
In summer, the water park amusement park at West Lake with many attractive games such as sliding gutters, gravity sliding pipes will not let you down. In addition, tourists can come here for shopping, relax in luxury 5-star hotels, or visit more than 20 relics, temples, pagodas around the lake.
Lake Thac Ba, Yen Bai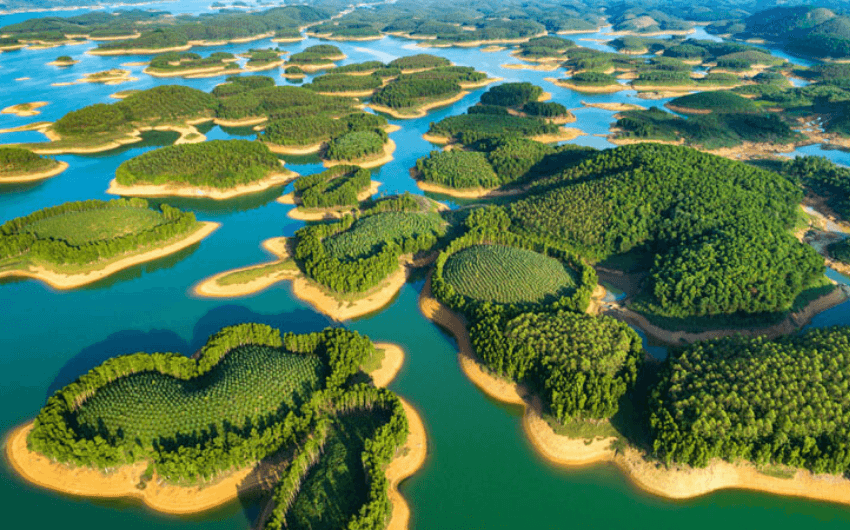 Photo: Vietnam Motorbike Tours
Thac Ba Lake is one of the three largest artificial lakes in Vietnam to be located far from Hanoi about 160 kilometers to the northwest. This lake consists of over 1,300 islets and many beautiful caves and majestic mountains around, you will have to spend a lot of time exploring all the beauty here.
While coming here, tourists will have plenty of outdoor activities options such as fishing, exploring the lake on the boat, visiting cultural villages along the lake to learn the culture of the minorities around.
Ba Be Lake, Bac Kan
Ba Be Lake is the largest freshwater lake in Vietnam and also the largest in the world. The ecosystems, flora and fauna of Ba Be Lake are very diverse, with a picturesque landscape of forests, waterfalls, rivers and streams.
At present, the lake has become a national monument, an attractive destination for many Vietnamese and foreign tourists. Here, you can explore the poetic natural landscape down the Nang River, visiting Puong Cave or the majestic waterfall upstream.
Five lake in Bach Ma National Park, Hue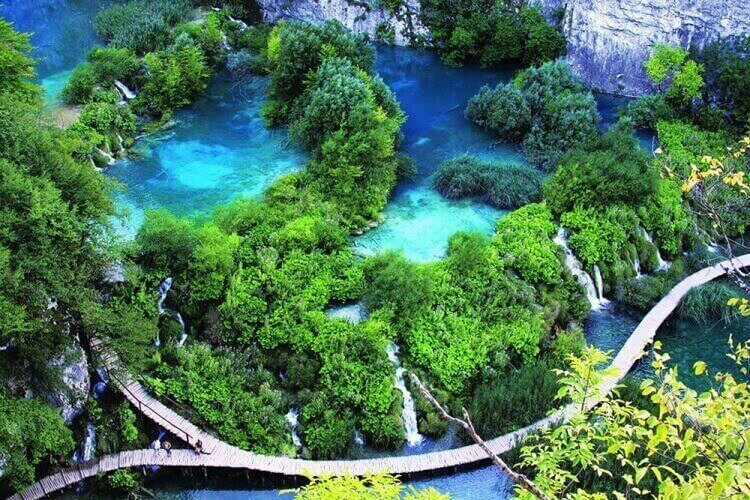 Photo: I Love Asia Tour
The five lakes are a natural wonder, located in the Bach Ma National Park, where the system of fauna and flora of the landscape is very diverse and attractive. By visiting the five lakes, tourists can admire the large currents of water at every step of the mountain, whose end of the ladder is a majestic tower 300 meters high.
Coming here in early spring, which is the season of hundreds of blooming flowers, you should visit the five lakes or Bach Ma Jardins in your Vietnam trip. They are covered with beautiful flowers, especially rhododendrons.
Lake Tuyen Lam, Da Lat
Lake Tuyen Lam is only 7 kilometers from downtown Da Lat. It is a natural green lake surrounded by beautiful pine forests. In addition, the oasis is also the highlight that Lake Tuyen Lam attracts a large number of visitors at all times of the year. Do not forget to visit the lake by boat to enjoy the peaceful scenery and special specialties.
The Lakes of Hanoi
Hanoi has a lot of lakes. The city, built on lowlands between rivers, is even sometimes known as the "city of lakes." They provide a scenic and tranquil respite from the crushing traffic and incessant bustle in other parts of the city.
Unfortunately, as you'd expect from a bustling, industrialized city of several million people (estimates range from 3.5 to 7 million) in a country with a decidedly mixed record of dealing with environmental challenges, most of those lakes are severely polluted. It's not unusual for thousands of fish to turn up floating belly-up on the surface. And that, for the environmental health of the city and residents, not to mention the local fishermen, isn't a good sign.
Ho Hoan Kiem (Hoan Kiem Lake) sits in the middle of Hanoi's Old Quarter, the cultural and historic heart of the city. While not especially big, the lake is a beautiful setting for the Thap Rua (Turtle Tower) and provides an aquatic home to the elusive and revered Hoan Kiem Turtle. The Ngoc Son Temple (Temple of the Jade Mountain) sits on a small island on the southern end. And the tree-lined banks of the lake provide a calming setting for locals doing their dawn Tai Chi or an evening stroll.
Not far from the Old Quarter, Ho Tay (West Lake), Hanoi's largest lake, is picturesque in a different way. It still boasts some temples and parks on its shores. But it also has apartment buildings that some of the city's more affluent residents call home. West Lake is a popular place for recreation boating and fishing, although with all the pollutants in the water I'm not sure I'd knowingly eat the fish that's caught there, regardless of how fresh it might be.
Right next to it, separated only by a narrow, artificially built roadway, the much smaller Ho Truc Bach (Truc Bach Lake) is famous for a different reason. It's here that John McCain crashed when shot down in October 1967 during a bombing mission to knock out, for a second time, a power plant on the lake's shores. But his plane was downed by the city's formidable antiaircraft defenses—at the time Hanoi was one of the most heavily protected cities in the world. He landed in the water, weighed down with equipment and seriously injured. Fighting his way to the surface, he was dragged from water by North Vietnamese, beaten, and then taken to Hao Lo Prison, known sarcastically by the POWs as the Hanoi Hilton.