Amazon lures Vietnamese merchants as exports surge
Amazon saw the number of Vietnamese merchants exporting at least $1 million worth of goods from Vietnam triple last year.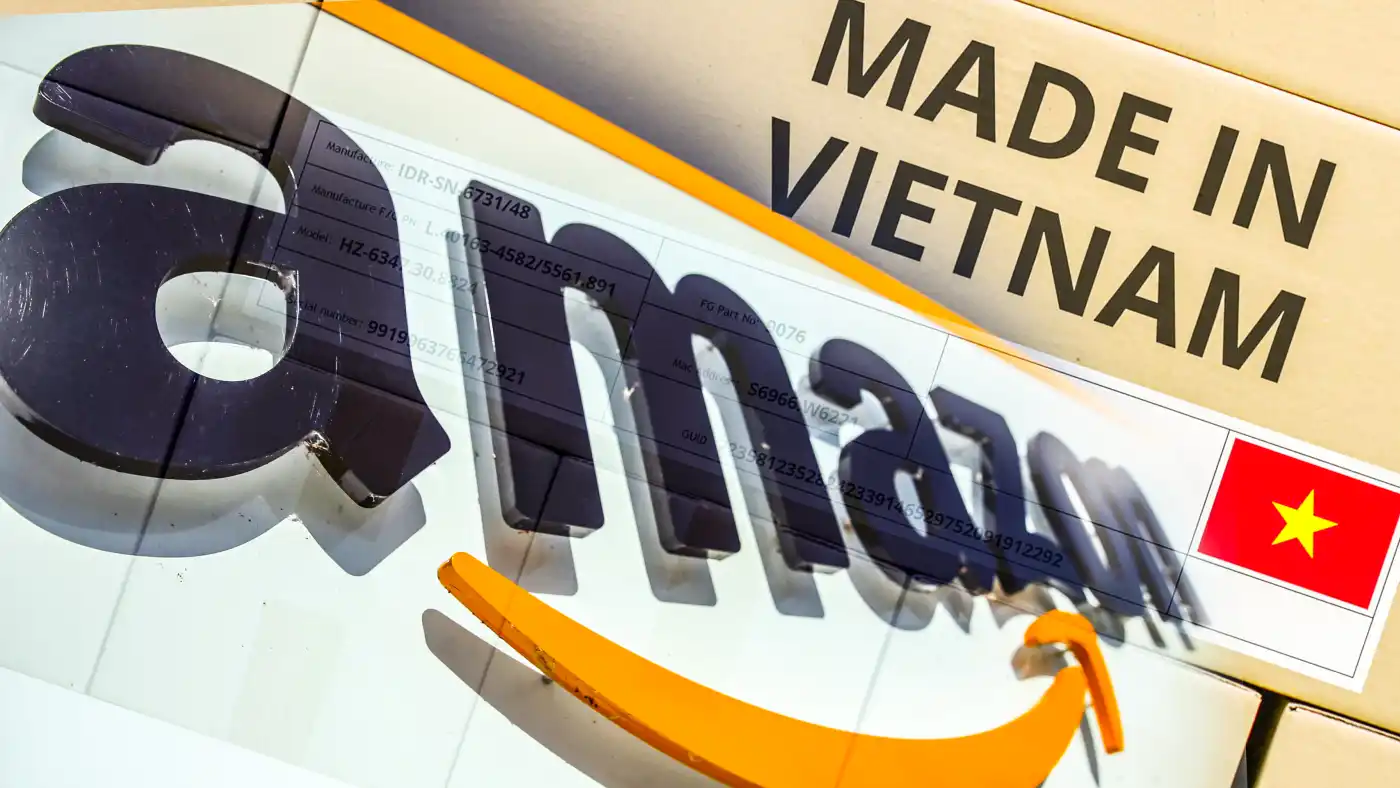 Amazon sellers in Vietnam are taking advantage of pandemic-fueled spending by customers in the US and other overseas markets. Photo: Reuters
US e-commerce giant Amazon is stepping up its recruitment of Vietnamese merchants given exports in the country soaring.
The company said the number of Vietnamese merchants exporting at least $1 million worth of goods from Vietnam tripled last year as overseas customers in lockdown spruced up their homes and refreshed their wardrobes. The rise was driven by demand for tools, kitchenware, handicrafts, home goods, and apparel.
According to Nikkei Asia, the focus on Vietnam is part of Amazon's broader strategy of tapping suppliers in Asia.
"Vietnamese sellers have enriched our global product selection," Gijae Seong, head of Amazon Global Selling in Vietnam, told Nikkei Asia.
Vietnam is already a top source of the world's clothing, coffee and seafood, which are sent to professional importers. But the rise of e-commerce means more Vietnamese businesses can now ship lamps and lawn chairs straight to overseas consumers, a trend Amazon is eager to accelerate.
After opening offices in China and Thailand, Amazon Global Selling, which brings international merchants onto the platform, set up a Hanoi office in March to train new sellers, adding to its Ho Chi Minh City branch.
Seong said companies "have competitive advantages in manufacturing" in Vietnam, where a wave of factories relocated from China to sidestep the trade war with the US and to reduce other costs and risks.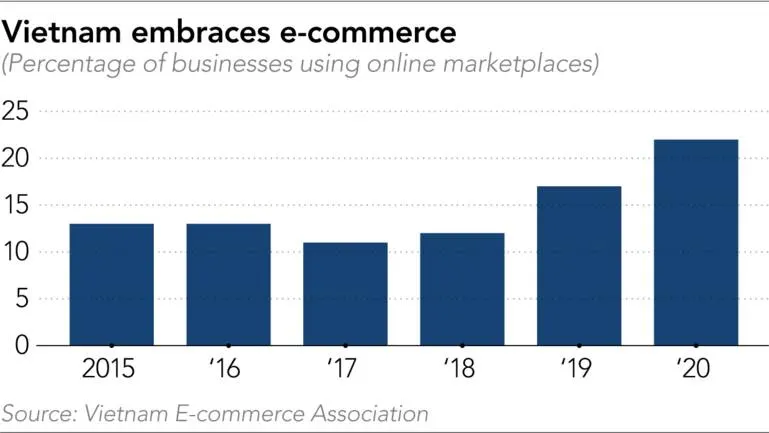 A study this year from the Vietnam E-commerce Association showed 22% of businesses used online marketplaces in 2020, up from 13% in 2015.
Vietnam was America's eleventh-biggest source of imports in 2015, according to UN Comtrade data. By 2020, it had risen to No. 6.
The US, meanwhile, is Vietnam's biggest customer, a fact intensified by the pandemic as Americans stuck at home ordered more made-in-Vietnam goods for remote work and leisure.
The race between global giants Amazon and Alibaba
As part of efforts to develop the internet economy, the Vietnamese government works with Amazon to hold training sessions for hundreds of businesses in towns across the country, teaching merchants how to do everything from list items and register trademarks to ship goods through Fulfillment by Amazon. The company was even given a subdomain on the website of the state e-commerce agency, Nikkei Asia said.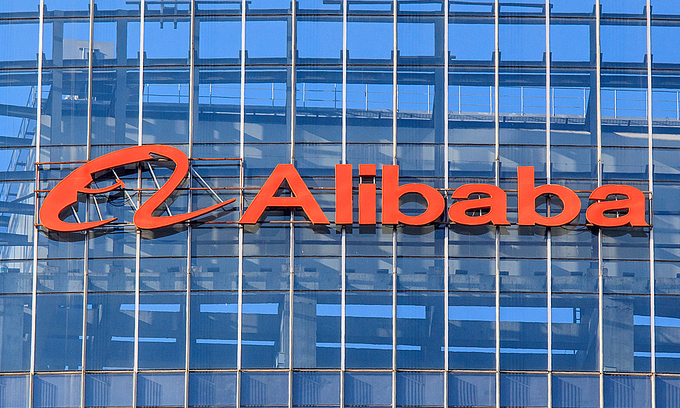 Alibaba's office in Beijing, China. Photo by Shutterstock/testing.
Meanwhile, China's Alibaba has also been making moves to have more Vietnamese sellers.
In March, a company representative said that it planned to have over 10,000 Vietnamese small and medium-sized enterprises selling on its platform by 2025.
It has been working with government authorities since last year to run training programs for Vietnamese vendors.
As of March, over 300 companies have been provided consultancy in online cross-border sales.
The competition between the two giants is heating up as e-commerce booms in Vietnam with rising demand for online shopping amid the Covid-19 pandemic, VnExpress said. /.
Vietnam's e-commerce market expanded by 18% last year to $11.8 billion, the only country in Southeast Asia to record double-digit growth amid the Covid-19 pandemic, according to the Vietnam e-Commerce and Digital Economy Agency.
The country's digital economy is forecast to grow to $52 billion by 2025, an annual 29% increase from 2020, according to a study by Alphabet Inc.'s Google, Temasek Holdings Pte and Bain & Co, and reported by Bloomberg.
Between 2016 and the first half of 2020, investors funneled $1.9 billion into Vietnam's online sector, the study by Google, Temasek and Bain showed.
The government targets online shopping to account for 10% of Vietnam's retail sales -- and as much as 50% in Hanoi and Ho Chi Minh City -- by 2025.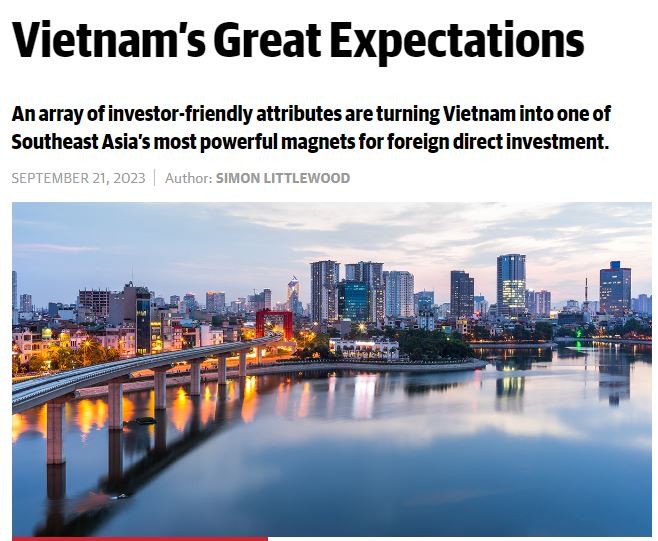 Economy
"An array of investor-friendly attributes are turning Vietnam into one of Southeast Asia's most powerful magnets for foreign direct investment," said Global Finance Magazine in a recent article.
September 23, 2023 | 16:38
Economy
Vietnam has a fast-increasing semiconductor ecosystem and possibilities to improve its position in the global supply chain. In the joint announcement of the US-Vietnam Comprehensive Strategic Partnership, the two countries acknowledged Vietnam's significant potential to become a key nation in the semiconductor industry, adding they "are supportive of the rapid growth of the semiconductor ecosystem in Vietnam."
September 22, 2023 | 09:22