Ambassador Emphasizes New Chapter in Vietnam - Luxembourg Cooperation
Ambassador Nguyen Van Thao emphasized that the 50th anniversary of Vietnam - Luxembourg relations will open a new, brighter, much better chapter that Vietnam needs to take full advantage of in the coming time.
The 50th founding anniversary of diplomatic ties between Vietnam and Luxembourg (November 15, 1973 - 2023) will open up a new chapter for the bilateral relations, the Vietnamese diplomat has affirmed.
Vietnamese Ambassador to Belgium and Luxembourg Nguyen Van Thao, who is also Head of the Vietnamese delegation to the European Union (EU), noted that the relationship has witnessed "very good" development steps over the past five decades.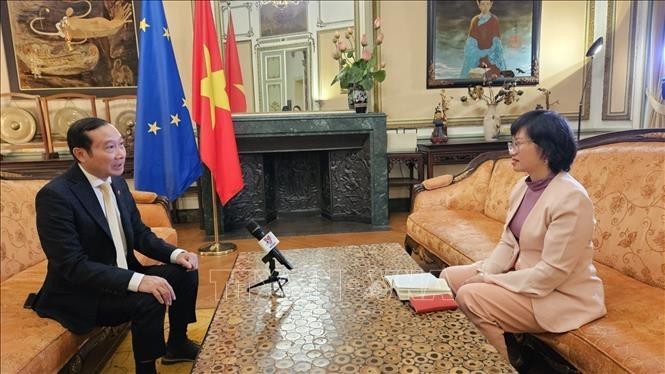 Vietnamese Ambassador to Belgium and Luxembourg Nguyen Van Thao, who is also Head of the Vietnamese delegation to the European Union (EU), in an interview with the Vietnam News Agency's resident correspondent. Photo: VNA
According to the ambassador, the signing of the EU-Vietnam Free Trade Agreement (EVFTA) and particularly the visit to Luxembourg by Prime Minister Pham Minh Chinh in December 2022 have opened up a new page for the bilateral relations, which targets green finance – an outstanding strength of Luxembourg over the past decades.
Ambassador Nguyen Van Thao emphasized that Luxembourg is one of the six founding countries of the EU. 50 years ago, Luxembourg was a poor country, mainly focusing on developing agriculture and steel industry, but this country has changed its guidelines and policies, shifting to developing financial services, which focuses on green finance and high technology. This is a very important secret to help Luxembourg achieve miraculous growth, from a poor country in Europe to one of the leading countries in terms of per capita income, a center for green finance not only in Europe but also globally.
Vietnam should learn from Luxembourg's experience in financial services to make changes in its development path and optimize advantages to create development breakthroughs, he said.
Luxembourg is a global green finance center, while Vietnam is a country heavily affected by climate change and Vietnam's orientation is to develop a green and sustainable economy. To do this, according to Ambassador Nguyen Van Thao, green finance plays a crucial role as Vietnam is pursuing a green, sustainable economy, he said, adding the country and its international partners announced the establishment of the Just Energy Transition Partnership (JETP), and it made strong commitments at the 26th United Nations Climate Change Conference (COP26).
The ambassador also highlighted the establishment of the Vietnam-Luxembourg strategic partnership on green finance on the occasion of the official visit to Vietnam by Luxembourg Prime Minister Xavier Bettel in May, which, he said, has laid a firm foundation for the bilateral cooperation.
Assessing Vietnam - Luxembourg cooperation, Ambassador Nguyen Van Thao emphasized, "We do not cooperate widely or formally, but we choose areas where both sides have needs." Green finance was also tabled for discussion during the visit to Luxembourg by Minister of Finance Ho Duc Phoc and representatives from the State Securities Commission (SSC), the Hanoi Stock Exchange, the Ho Chi Minh Stock Exchange, and four major banks of Vietnam in July, the ambassador said.
The two sides agreed to coordinate to issue government bonds and green bonds, towards corporate bonds in Luxembourg, he continued, noting to that end, Vietnam needs good legal and technical systems and capable human resources.
Looking back at the cooperation between Vietnam and Luxembourg over the past period, Ambassador Nguyen Van Thao affirmed the successful relationship, based on the results achieved over the past 50 years, especially the strategic orientation of cooperation between the two countries. The diplomat expressed his belief that there will be specific action programs that are expected to give momentum to Vietnam's green development in the coming time.