Armenia Attaches Great Importance in Developing Cooperation with Vietnam
Newly-appointed Ambassador of Vietnam to Armenia Dang Minh Khoi presented his credentials to President Vahagn Khachaturyan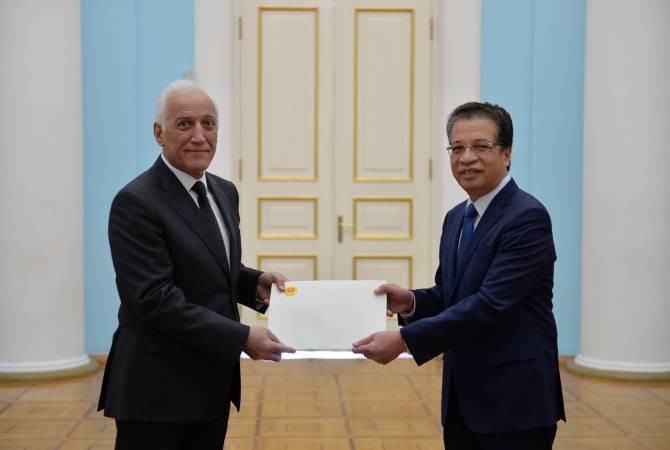 The new Ambassador of Vietnam presents credentials to Armenian President. Source: armenpress.am
Vietnam is an important and reliable partner and Armenia always attaches importance to expanding cooperation with the country, Armenian President Vahagn Khachaturyan told Vietnamese Ambassador Dang Minh Khoi on September 16, VNA reported Saturday.
Highlighting the good traditional friendship inherited from the Soviet era, the President expressed his strong impression of Vietnam's miraculous economic development after more than 35 years of Doi Moi (Renewal) process as well as appreciated the role and prestige of Vietnam in the international arena.
Congratulating the ambassador on appointment, the Armenian leader believed that the ambassador will effectively promote the friendship and cooperation between the two countries.
As Ambassador to Russia and Armenia, Khoi briefed his host on some achievements Vietnam has made in recent years, especially in economy, trade, investment and tourism.
After presenting his credentials to the President, the Vietnamese diplomat had working sessions with Armenian Economic Minister Vahan Kerobyan and National Assembly Vice President Hakob Arshakyan.
The two sides discussed issues of mutual concern and agreed to strengthen economic-trade-investment cooperation to match the good traditional relationship between the two countries.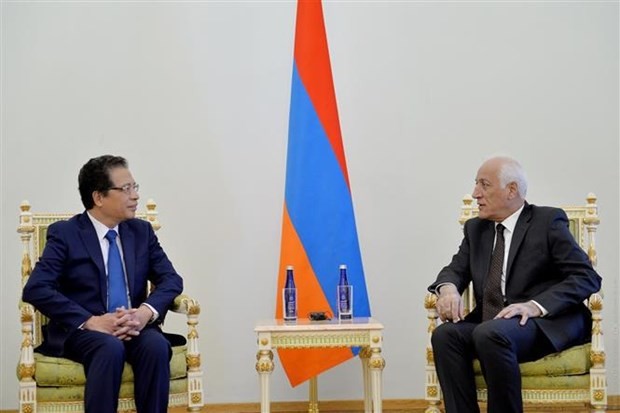 Armenian President Vahagn Khachaturyan receives Vietnamese Ambassador Dang Minh Khoi on September 16. Photo: VNA
Earlier, on September 15, the ambassador met with Mnatsakan Sararyan, Deputy Minister of Foreign Affairs of Armenia, to talk about measures to enhance relations and jointly carry out external relations between the two sides.
Vietnam and Armenia have maintained good political ties since they established diplomatic ties on July 14, 1992. Armenia opened its embassy in Vietnam in August 2013.
The West Asian country has given Vietnam precious assistance in national construction and defence, including help in training human resources.
Vietnam and Armenia have signed agreements on cooperation in economy-trade, culture and science-technology, and investment encouragement and protection.
The two countries have set up an inter-governmental committee for Economic, Commercial, Scientific and Technological Cooperation, which convened its first meeting in March 2017.
High-level visits between the two countries included those made by Vice President Gagik Harutyunyan of Armenia in December 1992, and President Serzh Sargsyan in June 2012. On the part of Vietnam, Minister of Justice Ha Hung Cuong visited Armenia in October 2015.
The official visit to Vietnam by Armenian Prime Minister Nikol Pashinyan and his spouse in July 2019 opened up a new promising period of bilateral cooperation in various fields such as economy, trade, science-technology, culture and people-to-people exchanges.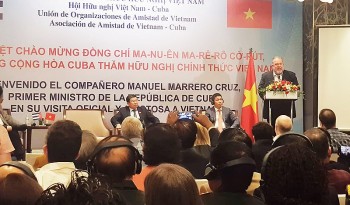 Friendship
Cuban Prime Minister Manuel Marrero Cruz met representatives from the Vietnam-Cuba Friendship Association in Hanoi on September 30, as part of his visit to Vietnam from September 28 to October 2.