Vietnam Seeks Opportunities at 67th India International Garment Fair
Vietnamese firms are participating in the biggest garment fair in India.
At a stall run by Vietnamese participants. Photo: VNA
16 Vietnamese firms are participating in the 67th India International Garment Fair (IIGF), the biggest of its kind in the South Asian country, VNA reported.
Attending the biannual event, they aim to study the market and new consumption demand, and connect with potential partners.
1,189 international buyers from 59 countries have registered to participate in the 67th IIGF. The buyers are visiting from the USA, Brazil, Japan, UK, Spain, Australia, Poland, Colombia, Greece, Italy, Egypt, Chile, Argentina, UAE, Thailand, France, Germany, Canada, Iran, among others.
Beginning in Uttar Pradesh state on June 20, the event, organized by International Garment Fair Association (IGFA), is hosting about 350 exhibitors to introduce the latest collections that are popular around the world.
India is one of the largest ready-made garment exporters to the world. IIGF is always on the must-visit list of global buyers in the field.
Due to the impact of the Covid-19 pandemic, its last two editions were held online. Both the events were appreciated by the participants and were aimed at helping exporters from India to showcase their latest designs in the apparel & accessories domain.
Vietnam reported a year-on-year surge of 23.5% in exports of textile and garment to earn USD 18.7 billion in the first five months of this year.
Since 2014, Vietnam and India have been taking garment as one of the strategic commodities the two sides can intensify their cooperation in.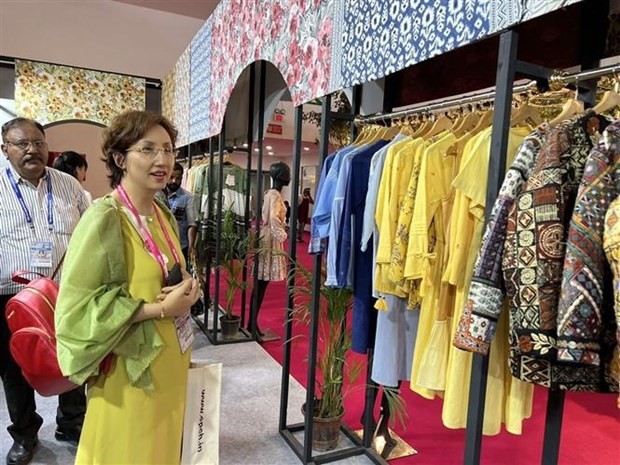 IIGF is a specialized business fair and in its series and shall showcase updated fashion trends of the Indian apparel industry. Photo: VNA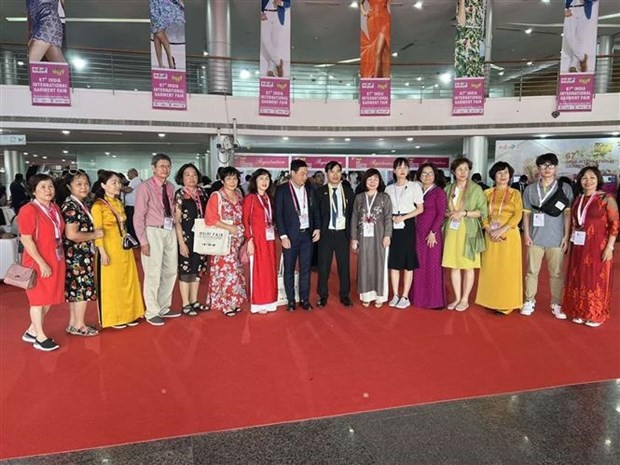 16 Vietnamese firms participate in the 67th India International Garment Fair (IIGF). Photo: VNA
According to the Indian Ministry of Commerce and Industry, trade turnover between the two nations reached USD 14.13 billion in the fiscal year 2021-2022 (April 2021-March 2022), creating a solid premise for achieving the USD 15 billion target set by leaders of the two countries.
The Trade Office at the Vietnamese Embassy in India and the Confederation of Indian Industry (CII) also have co-organised a virtual conference to promote trade and investment ties between Vietnamese localities and India's Andhra Pradesh state.
The conference was one of 50 trade and investment promotion events marking the 50th founding anniversary of diplomatic relations between Vietnam and India.
At the event, Neeraj Sarda, chairman of the CII's chapter in Andhra Pradesh, identified agro-fishery and pharmaceuticals as potential sectors for cooperation.
He said the state is home to the port of Visakhapatnam, which is among India's most important commercial and military ports.
Vietnam's labour force accounts for 60 percent of the population, with a minimum monthly wage lower than in neighboring countries and in the region. These advantages may attract foreign investors to the country.