Artistic Awakening: Galleries Resume During Hanoi's New Normal
Hanoi's art community celebrates a return to the capital city's beautiful galleries.
As we have been dying to find ways to explore life after the most drastic period of social distancing, VietnamTimes would has compiled a list of events, showcasing many artistic talents.
SCROLL - Art Exhibition
Scroll - the exhibition by David Evans, begins on November 11th and runs until December 12th. NGA Art Space is part of the TACH SPACES architecture area, which is located at 20 Hai Ba Trung, Hoan Kiem, Ha Noi.
Visitors interested in art can enter for free from Monday to Sunday, the gallery is open from 10 AM. until 8 PM.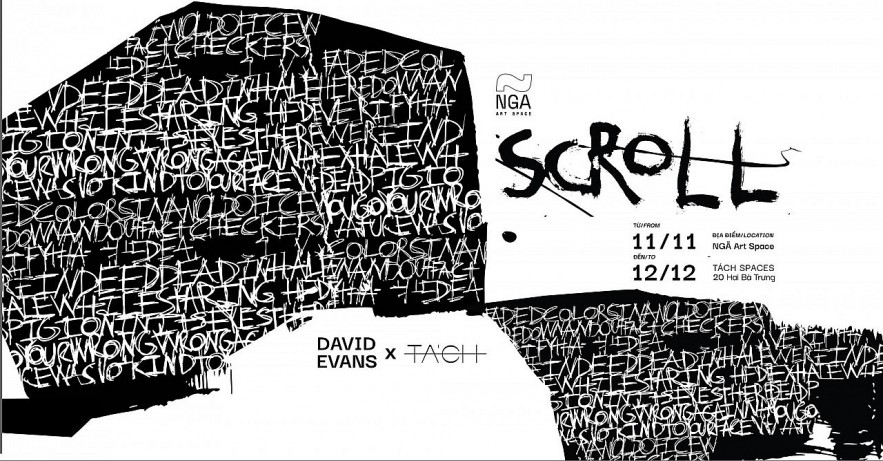 SCROLL, an exhibition by David Evans at Tach Spaces. Photo: Tach Spaces
Scroll is an opportunity for each person to see themselves through mythological stories as they were intended, not reserved in the glass of a museum but preserved in practice in relation to the current life we're ​​living, according to the exhibition description.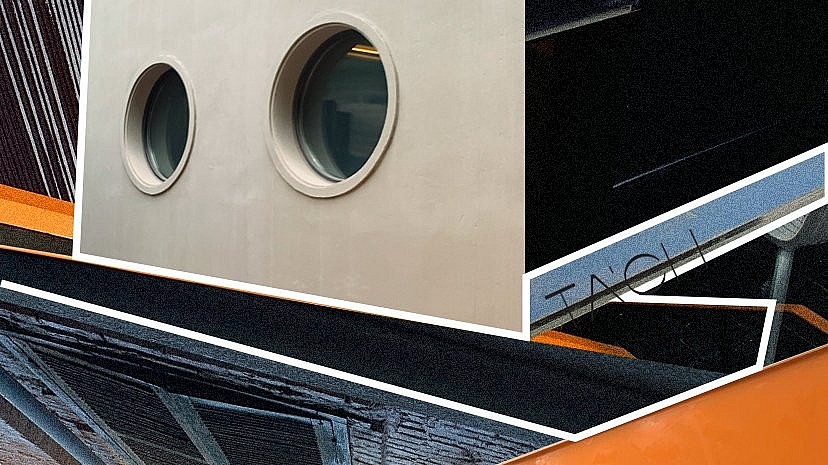 Tach Spaces, 20 Hai Ba Trung. Photo: Tach Spaces
David Evans (born in 1990) is a US artist, currently living and working in Hanoi. He used to be a public school teacher teaching history in the South Bronx, New York. It was during this time that he began writing quotes, epigrams or bits of conversation he would hear at the school on walls. David created webs and maps of thought that connected the absurd statements of other teachers to the ideas of origin, which was often from one of the history books he was teaching eventually being inspired to put these notes of irony onto canvas. His current work is a patchwork of mythologies and beliefs that highlight the absurdity of all we hold dear and expresses that absurdity in the form of visual epics, which is creating threads that link seen reality to the unseen reality of story and myth with each work acting as a sort of Greek comedy that shows the meaning and futility of our collective and personal stories.
LIFE AROUND US - Art Exhibition
Life around us, an exhibition by Nguyen Minh Son is currently being displayed from 9 November till 14 November at Vietnam Fine Arts Museum, 66 Nguyen Thai Hoc, Dien Bien, Ba Dinh, Hanoi.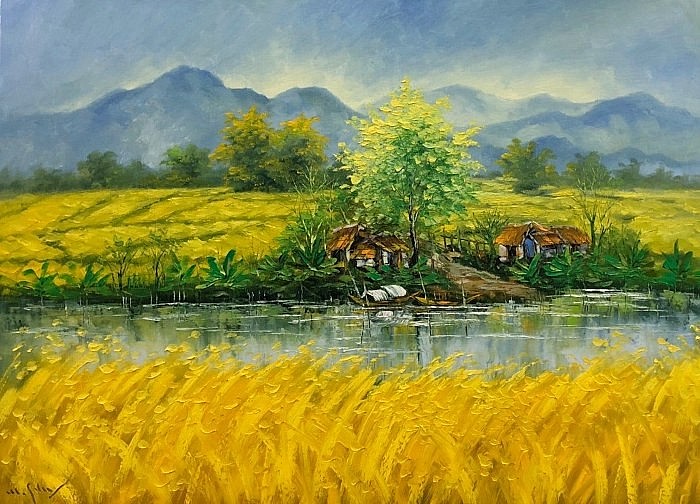 Nguyen Minh Son's artworks are displayed at Vietnam Fine Arts Museum. Photo: Vietnam Fine Arts Museum
The exhibition features 50 paintings that provide positive life messages to visitors. Each piece showcases a deep vibration of affection from the author's heart about the love of life at various levels. The author used simple and close imagery such as lamps, lime pots, teapots, flowerpots, and five fruits of folk toys to create mountainous landscapes, pastures, and rural rivers in the corners of Hanoi's Old Quarter. Love of life, love of people, love of nature, love of homeland and country are all expressed in this painting.
Nguyen Minh Son's artworks are displayed at Vietnam Fine Arts Museum. Photo: Vietnam Fine Arts Museum
Nguyen Minh Son's artworks are displayed at Vietnam Fine Arts Museum. Photo: Vietnam Fine Arts Museum
Nguyen Minh Son was born in 1971 in Bac Ninh province, graduated from Hanoi University of Fine Arts (now Vietnam University of Fine Arts) in 2000. During his studies from 1996 to 2000, the painter participated in many exhibitions in Hanoi.
In the next 3 years, he continued to participate in many other exhibitions such as the painting exhibition at Hanoi Contemporary Art Center in 2001-2002, an exhibition at Hanoi University of Fine Arts in 2002, an exhibition at London. In 2004, painter Nguyen Minh Son held his first solo exhibition at the Hilton Hanoi. This exhibition has received many positive signals, giving him more confidence to participate in many international exhibitions as well as holding solo exhibitions at home and abroad since then.
TRANSFORMING - Stone Sculpture Exhibition
TRANSFORMING, a stone sculpture exhibition co-organized by VCCA and Luong Art Space with 35 works conveying many meaningful messages will take place from October 10 to January 2, 2022.
The series of art activities Transforming originates from Ninh Van, Hoa Lu, Ninh Binh - where there is a long-standing traditional stone craft village. Artists have used pure stone material to transform pieces, colors, shapes, create works according to different artistic styles and personalities, and at the same time break the trend of choosing familiar materials, creating a playground to diversify ideas and express contemporary on materials of all times.
The exhibition is an event to summarize the series of activities of staying, composing and displaying stone sculptures, introducing to the public 35 works of 9 famous sculptors: Dao Chau Hai, Le Thi Hien, Khong Do Tuyen, Le Lang Luong, Luong Van Viet, Tran An, Thai Nhat Minh, Luong Trinh, and Dao Tan.
The exhibition is free to visit at Vincom Center for Contemporary Art (VCCA), B1–R3, Vincom Mega Mall Royal City, 72A Nguyen Trai, Thanh Xuan, Hanoi.
Due to the Covid-19 pandemic, visitors are required to wash their hands, keep their distance from others when entering the art space and wear masks throughout the time of viewing the exhibition.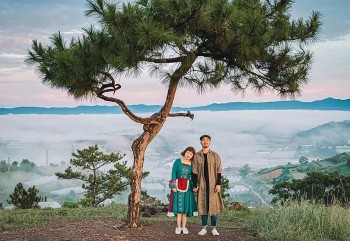 Travel
Three local cities are set to be presented with the ASEAN Clean Tourist Awards 2022.