Vietnamese Painter's Works Reache the Milestones
Vietnamese paintings, particularly those created by Le Pho, have piqued the interest of international art collectors.
Le Pho's painting - Family Life was sold for over US$1.1 million by Sotheby's Hong Kong, which shows an indication of the improvement in the Vietnamese Art market. He was the first Vietnamese artist to breach the million-dollar mark.
Pho (1907-2001) was a prominent painter who carved out a successful career in France. In his long career, he created thousands of works.
The prices of local paintings at international auctions staged by Christie's, Sotheby's Hong Kong, and Drouot surpassed expectations. The majority of the paintings sold at record-breaking prices were by the late great painters of the Indochinese fine arts period.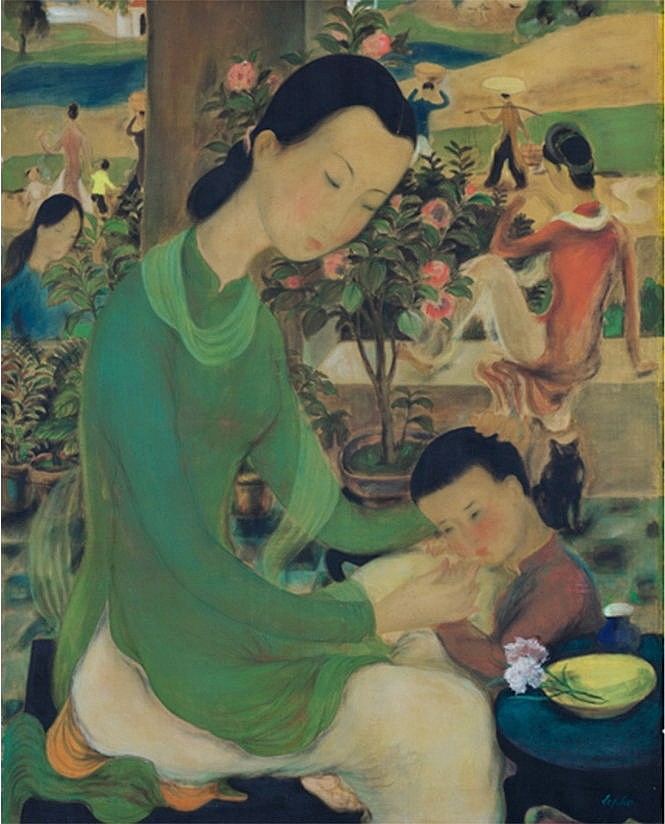 Family Life by Le Pho.
The auction at Sotheby's Hong Kong on April 2, 2017, when Le Pho's painting "Family Life" sold for US$1,172,080, was one of the occurrences that startled the local art world. The sale was a watershed moment for the Vietnamese art scene, as it was the first time a Vietnamese artist had made it big on the world stage.
The present lot, Family Life, epitomizes Le Pho's technical skill and his vivid sense of imagination. However, what truly sets this masterpiece apart is its magnificent detailing; the minutia is executed to a level of intricacy seldom found in his oeuvre.
Le Pho created Family Life in 1937-1939, using ink and pigment mixed with glue on burlap and measuring 82 x 66 cm. The picture is a delicate and unique silk painting, and it represents the pinnacle of Le Pho's famous career. This multi-layered composition is an indulgence to the eye, tracing varying natural elements and figures across a picture plane that recedes deeply into the distance. The painstakingly executed backdrop frames the work's hallowed focal point: the mother and child, a quintessential subject of the artist, forming a harmonious oval configuration that signifies the reciprocal nature of the maternal bond.
Family Life is a visually appealing work, depicting an intimate moment during a leisurely day. While an ingenious toddler rests his head on his mother's lap, clutching on to her knee, she compliantly rests her palms on his hands and head. She tilts her head downward, a nurturing gesture as she embraces her cherished son In most of his paintings on ladies, Le Pho uses this approach.
Le Pho also had a painting that was auctioned for a record-high amount. His work Khoa Than (Nudity) was sold for $1.4 million at Christie's Hong Kong's 20th Century & Contemporary Art sale on May 26, 2019.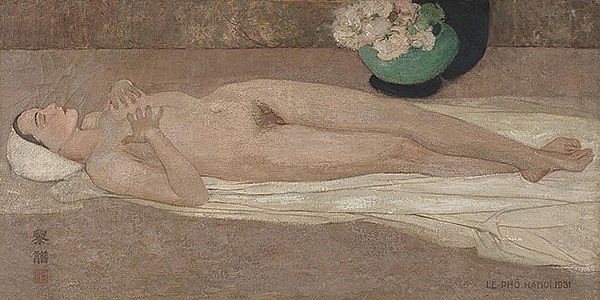 Nudity by Le Pho.
Sotheby's France sold Le Pho's Autoportrait dans la forêt (Self-portrait in the woodland) for €883,700 ($1.05 million).
The picture was projected to sell for roughly €200,000 ($238,200), but the auction house said it sold for an "extraordinary amount."
Autoportrait dans la forêt - a 37x75.7 cm oil painting, is attributed to 1929.
Sotheby's claimed it was shown in Hanoi that year.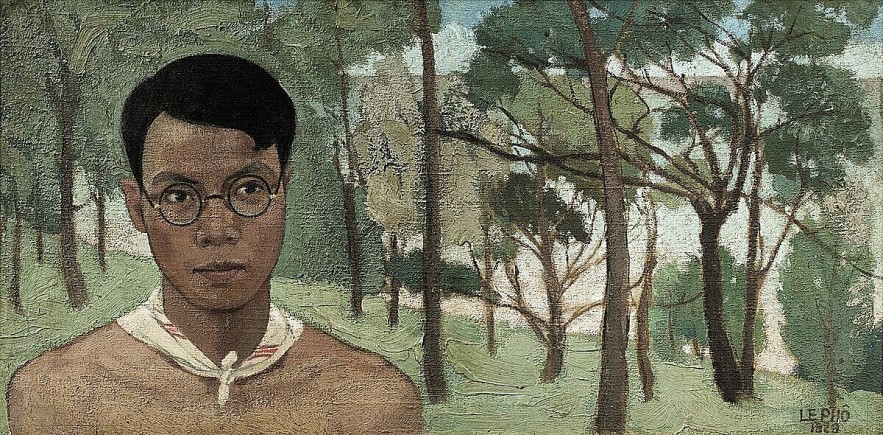 Autoportrait dans la forêt (Self-portrait in the forest) by Le Pho. Photo:Sotheby
Young Lady Tying Her Scarf by Le Pho fetched the highest bids of four local masterpieces auctioned at Christie's Hong Kong in May 2021.
Jeune femme attachant son foulard (Young Lady Tying Her Scarf) by Pho (1907-2001) fetched HKD8.65 million (over $1.1 million), the highest bid of the four local artworks at the "20th and 21st Century Art Evening Sale".
The masterpiece, created in 1938, is a 59.5 x 48.5-centimeter ink and gouache work on silk with Pho's signature in the upper right corner.
The painting's subject has been a driving force in Le Pho's life and calls it a "gift of an endless source of inspiration" in his oeuvre.
"The fine features of the lady's diaphanous face, her headdress, her black ao dai (a rare color for such a garment), the white veil, the abundant vegetation, all set in a mountainous landscape of Tonkin, are expressed here with real originality."
Pho's Le Bol Bleu (The Blue Bowl), a 75 x 44.5-centimeter ink and gouache on silk painting created in 1930, was sold for HKD2.75 million.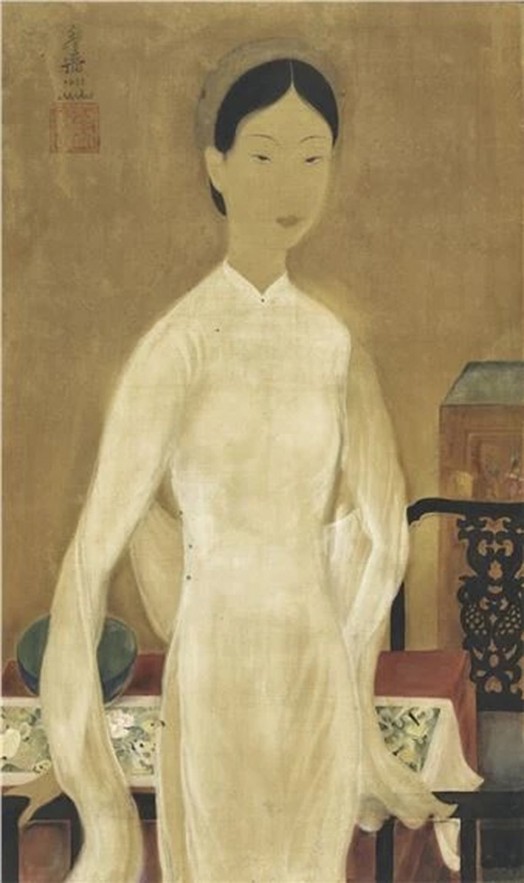 Le Bol Bleu by Le Pho
Besides Le Pho's amazing artworks, a rare silk painting by To Ngoc Van titled Tan Mong (Disillusioned) was auctioned for more than $1 million as the third painting. The painting was auctioned alongside Le Pho's Nudity. In 2002, the painting was shown at the Royal Museum of Mariemont (Belgium) in the exhibition Art du Vietnam: La fleur du pecher et l'oiseau d'azur.
Le Pho was born in 1907 to the Viceroy of Tonkin during the reign of Emperor Ham Nghi. Growing up in a family of notable Mandarins, the fledgling artist was privileged to receive highbrow tutelage under the prominent Victor Tardieu, a French painter who founded the École des Beaux-Arts de l'Indochine in Hanoi in 1925. Tardieu was responsible for initiating the formation of a new creative identity emerging from Vietnam, encouraging young artists to break away from the more decorative confines of export ware, which was ubiquitously produced at the time.
Le Pho quickly found himself entrenched in this new canon of modern art, which developed into an alluring synthesis of Vietnamese and French artistic styles, stands as one of the most highly sought-after Southeast Asian artists today. In 1932, he was granted a scholarship to study at the École des Beaux-Arts in Paris and then later returned to Hanoi to teach at the École des Beaux-Arts de l'Indochine. However, Le Pho's romanticized renderings of Vietnamese life were not concomitant to the Communist archetypes prevailing in Vietnam at the time. Much like artists Mai Trung Thu, Vu Cao Dam, and Le Thi Luu, Le Pho decided to make a career for himself in Paris, where he would live until the end of his life.
As evident in the present lot, Le Pho was inspired by idealized themes with pleasant connotations. Similar to French Impressionist paintings, his opus conjured sentimentalized vignettes of private interactions set in domestic interiors and lush gardens.
Le Pho places a great amount of effort to infuse a sense of perspective to the painting, including layers of physical dimensions occupied with figures. Deep into the distance, across the stream, stands a white architectural structure with a majestic entrance, suggesting the existence of even deeper spaces. This remarkably detailed background sets a stage for the mother and child, ensconcing them with a lively ambiance. The soft palette employed permeates the work with an aura of serenity and tenderness.
The maestro began working with ink on silk early on, along with his fellow contemporaries Nguyen Phan Chanh and Mai Trung Thu. Upon observing Family Life, it is patent that Le Pho brought this innovative technique to a level of consummate mastery. Depicting the unperturbed, circadian life of the elite, the artist shows the community convivially coexisting with their native flora and fauna. The sanctified image of a mother and child stands as a universally understood emblem of beauty, highlighting familial bliss that rejoices the foundations of human life. In Family Life, Le Pho conveys an unadulterated picture of Vietnam, opening a window into the halcyon days over a decade before the Vietnam War, ultimately offering the viewer a nostalgic glimpse into an idyllic existence.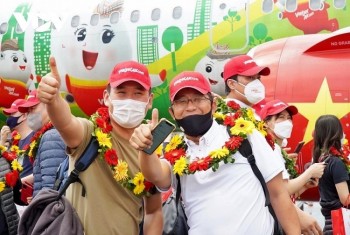 National
Vietnam News Today (Jan. 26): Vietnam reports 15,699 more domestic Covid-19 cases; Vietnam told to reopen to international tourism ahead of SEA Games 31; Germany donates four million more vaccine doses to Vietnam; Vietnam has opportunity to become global leader in renewable energy.