ASEAN-Australia High-level Dialogue on Climate Change, Energy Transition Takes Place in Hanoi
Vietnamese Deputy Foreign Minister Do Hung Viet attended the ASEAN-Australia High-Level Dialogue on Climate Change and Energy Transition in Hanoi, which was co-organized by Vietnam, Australia, and Laos on September 29.
The event co-organized by Vietnam, Australia, and Laos is within the framework of the implementation of the ASEAN-Australia Comprehensive Strategic Partnership, towards the 50th anniversary of ASEAN-Australia relations (2074-2023).
Delivering a speech at the dialogue, Deputy Foreign Minister Do Viet Hung affirmed that Vietnam is committed to climate change response and calls for international partners' support in this process.
Vietnam is well aware of the effects of climate change on sustainable development and people's livelihoods, which is why, at the 26th United Nations Climate Change Conference (COP26) in 2021, the country committed to achieving net zero emissions by 2050, he added.
Vietnam and the International Partners Group have also adopted the Political Declaration on establishing the Just Energy Transition Partnership (JETP).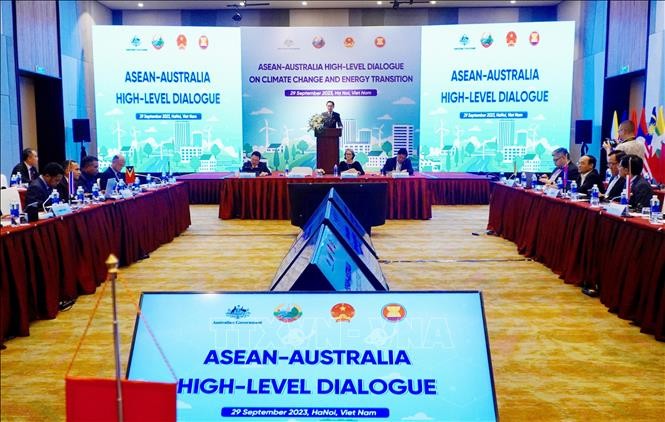 Deputy Foreign Minister Do Viet Hung speaks at the event. (Photo: VNA)
The Deputy Foreign Minister stated that ASEAN member nations have been working closely together on various strategies and action plans to respond to climate change and accelerate energy transition. He added that ASEAN, including Vietnam, sees Australia as one of the key partners in this process.
"We have been coordinating to realize the commitments to peace and sustainability in the region, and ASEAN recognizes Australia's support to the bloc," said Viet.
Deputy Secretary-General of ASEAN for ASEAN Socio-Cultural Community Ekkaphab Phanthavong also emphasized the need for joint efforts in climate change adaptation. The cooperation and support with partners such as Australia, especially in energy transition, is crucial to ASEAN.
Australia's Ambassador for Climate Change Kristin Tilley said that Australia wishes to cooperate with ASEAN in all aspects, especially climate change and energy transition. Australia hopes to support ASEAN for its green and prosperous growth, she added.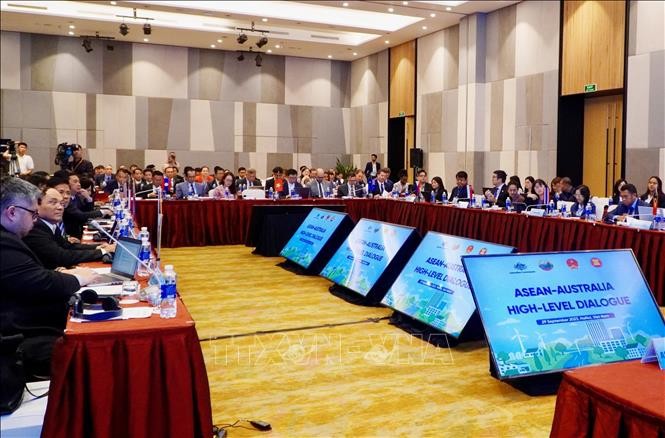 A view of the dialogue (Photo: VNA)
Besides, participants in the dialogue shared their experiences and proposed recommendations and solutions to remove obstacles, overcome challenges in responding to climate change, accelerate the energy transition process, and effectively capitalize on opportunities and potential for cooperation in clean energy development in the region.
They also appreciated ASEAN's previous efforts and suggested that ASEAN and Australia, as comprehensive strategic partners, help each other and strengthen self-reliance in order to effectively respond to emerging common issues such as climate change.