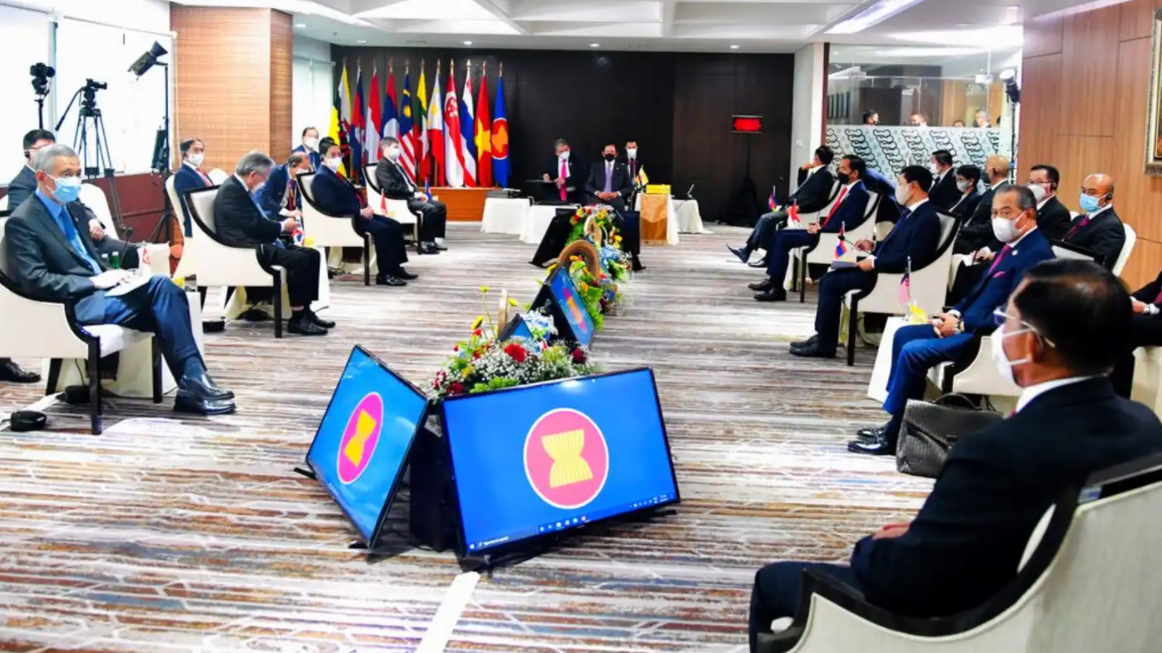 Southeast Asian leaders meet at the ASEAN Secretariat in Jakarta on April 24. Myanmar junta chief Min Aung Hlaing is seated in the foreground at right. (Photo: AP)
Joining the meeting are leaders of Indonesia Brunei, Cambodia, Laos, Malaysia, the Philippines, Singapore, Thailand, and Vietnam, and the leader of the Myanmar military Senior General Min Aung Hlaing. The Vietnamese delegation is led by Prime Minister Pham Minh Chinh, according to VOV.
They are scheduled to discuss opine on the building of the ASEAN Community, the efforts against the COVID-19 pandemic and on economic recovery, ASEAN's foreign relations, and regional issues, including the Myanmar crisis.The meeting was the first in-person gathering of the bloc's leaders since the beginning of the coronavirus pandemic
A chairman's statement released hours after the summit lists five agreed-upon points: there shall be an "immediate cessation of violence" and restraint by all parties; all parties shall commence "constructive dialogue" toward "a peaceful solution in the interests of the people"; a special envoy of the ASEAN chair shall mediate the dialogue; ASEAN shall provide humanitarian assistance, and the special envoy and delegation shall visit Myanmar to meet with all parties, according to Nikkei Asia.
Security has been beefed up at 51 places in Jakarta for the success of the meeting, Nhan Dan said.
After the ASEAN meeting, a statement posted on a Vietnamese government portal said the prime minister asked ASEAN countries to work closely with Vietnam at United Nations forums toward "finding suitable solutions for Myanmar." Hanoi is serving as a non-permanent member of the United Nations Security Council.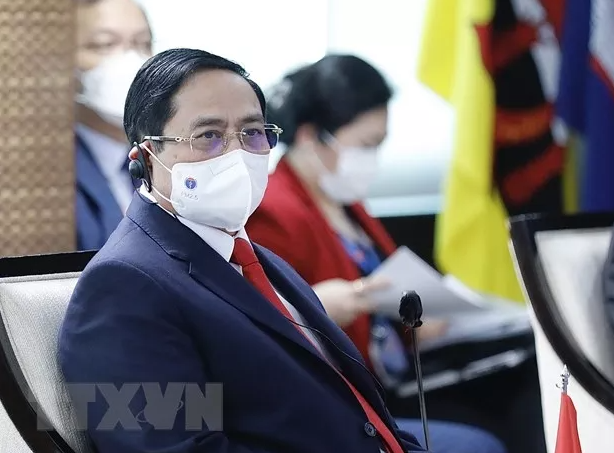 Prime Minister Pham Minh Chinh at the ASEAN Leaders' Meeting on April 24, 2020. (Photo: VNA)
On the sidelines of the meeting on Saturday, Vietnam's Foreign Minister Bui Thanh Son reportedly met with Christine Schraner Burgener, the special envoy for the United Nations secretary-general. And they too shared concerns about Myanmar and resolved to continue international efforts to ease the crisis.
The summit capped a flurry of diplomacy over the past few months and weeks. On Friday, the President of Indonesia Joko Widodo held bilateral talks with Vietnamese Prime Minister Pham Minh Chinh. During their talks in Indonesia's Bogor city, Widodo congratulated Chinh on his election as Prime Minister of Vietnam and expressed his admiration for achievements Vietnam has recorded in the COVID-19 combat as well as economic recovery and development. Indonesia attaches great importance to and wishes to continuously advance the traditional friendship and strategic partnership with Vietnam, he affirmed.
The two sides pledged to further their close and effective cooperation at regional and international forums, especially ASEAN and the UN, and work together with other ASEAN member countries to press ahead with the settlement of the Myanmar issue, towards stability, the reduction of violence, and casualties for people and the resumption of dialogues between parties to seek peaceful solutions, for peace and stability in the region and the world at large, Nhan Dan cited.
Valerie Mai