IMF: Vietnam to be fastest-growing ASEAN economy in 2022
According to a recent report of the International Monetary Fund (IMF), in 2022, Vietnam's economy is forecast to have the fastest growing speed among others in ASEAN.
Leading the fastest growing ASEAN economies in 2022
In its World Economic Outlook released earlier this week, IMF predicted Vietnam's 2022 economic growth at 7.2 percent, followed by the Philippines (6.5 percent), and Malaysia and Cambodia (both 6 percent).
The regional economies recording high GDP growth this year will be the Philippines (6.9 percent), Malaysia and Vietnam (both 6.5 percent), Singapore (5.2 percent), Laos (4.6 percent), Indonesia (4.3 percent), and Cambodia (4.2 percent).
In 2020, some ASEAN economies experienced strong contraction due to the impacts of the COVID-19 pandemic: the Philippines (9.5 percent), Thailand (6.1 percent), Malaysia (5.6 percent), Singapore (5.4 percent), and Cambodia (3.5 percent).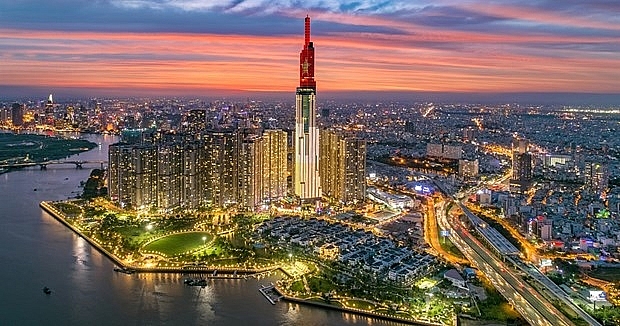 A view of Ho Chi Minh City, the southern economic hub of Vietnam (Photo: Vietnam Pictorial)
As reported by Vietnam Plus, only three economies expanded, namely Myanmar (3.2 percent), Vietnam (2.9 percent), and Brunei (1.2 percent). Cambodia is forecast to become the fastest growing one in the region in 2026, with GDP expansion of 6.8 percent.
Vietnam's GDP growth among the world's highest
In 2020, Vietnam has achieved a gross domestic product (GDP) growth of 2.91 per cent, an impressive figure despite the impact of the COVID-19 pandemic, according to the General Statistics Office (GSO).
"This year's GDP growth rate was the lowest during the 2011-20 period due to the COVID-19 pandemic. However, Vietnam's growth remains among the world's highest," GSO director general Nguyen Thi Huong told the press on Sunday.
Vietnam's growth rate being among the highest in the world is testament to the determination of the Government as well as efforts by people and the business community to effectively realise the dual goals of pandemic prevention and economic recovery, Huong said.
Specifically, it expanded by 3.68 per cent in the first quarter, 0.39 per cent in the second quarter, 2.69 per cent in the third quarter and 4.48 per cent in the fourth quarter, as reported by Vietnam News.
She said many factors have created a driving force for domestic economic development in the last quarter, including strict control of COVID-19 and the EU-Vietnam Free Trade Agreement (EVFTA) effective from August 1, contributing to GDP growth in the fourth quarter.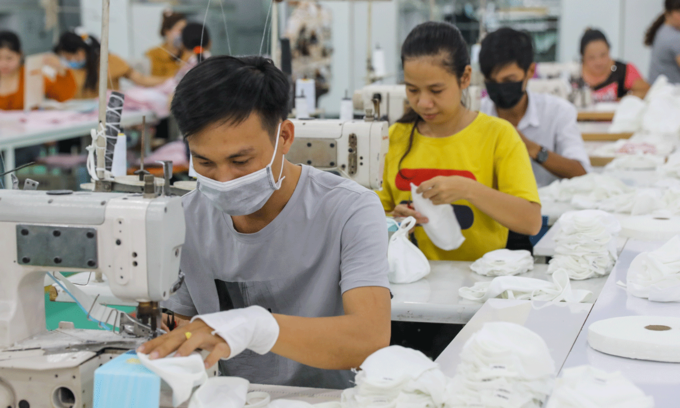 Workers produce masks at a garment factory in the southern province of Long An in February 2020. Photo by VnExpress/Quynh Tran.
According to CNBC, Vietnam is likely the top-performing Asian economy in 2020 — a feat that was achieved without a single quarter of economic contraction at a time when many economies globally were weighed down by the coronavirus pandemic.
Not every Asian economy has reported fourth-quarter and full-year economic numbers. But estimates compiled by CNBC from official sources — where available — and institutions such as the International Monetary Fund showed Vietnam outperforming all its regional peers last year.
The Vietnamese economy grew 2.9% last year from a year ago, according to government estimates released in late December. That's better than China's forecast-beating 2.3% growth during the same period.
"With this performance, Vietnam has delivered one of the highest growth (rates) in a year where the rest of the world were in deep recessions," economists from Bank of America Global Research said in a report this month.
Strong coronavirus response helps the economy weather pandemic
A strong response to the coronavirus pandemic, surging exports and healthy public spending have helped Vietnam buck a global recession in 2020 and fast-track its recovery, Vn Express reported.
There were grave fears for Vietnam's export-reliant economy as demand for clothing, footwear and smartphones slumped in some of its biggest markets including the European Union, Japan and South Korea.
"But it turned out that exports still helped promote growth this year," Nguyen Xuan Thanh, a public policy lecturer at Fulbright University Vietnam, told AFP. "That's because Vietnam has a very diversified export market -- it's not dependent on any single export destination."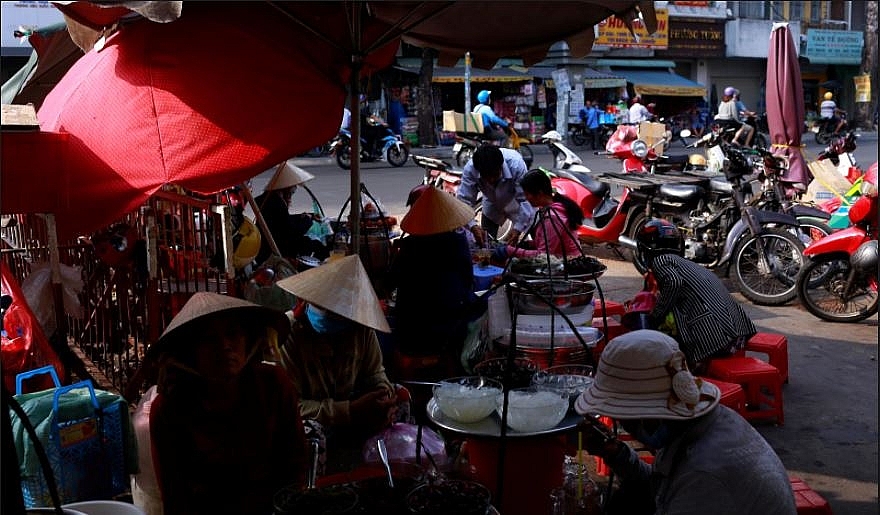 Vendors sell at a market after the government eased a nationwide lockdown during the coronavirus disease (COVID-19) outbreak in Ho Chi Minh, Vietnam, April 25, 2020. REUTERS/Yen Duong/File Photo
Shipments to China grew more than 15 percent on-year in the first nine months, according to the Vietnam General Customs Administration.
Demand for many of the items made in Vietnam -- such as home electronics, office furniture, computers and televisions -- soared during the pandemic as people were forced to stay home during lockdowns.
That has meant that while it will fall short of its target of 6.8 percent growth in 2020, the economy is expected to expand 2.4 percent, which the International Monetary Fund said would be among the best in the world. The Fund has forecast a global contraction of 4.4 percent.
Vietnam's relative triumph this year could lead to benefits in years to come, said Adam McCarty, chief economist at Hanoi-based Mekong Economics.
The way the coronavirus has been handled has "almost made Vietnam famous around the world," he said, adding it is signalling to big foreign companies overseas that they should have another look at Vietnam.
A propaganda poster on preventing the spread of the novel coronavirus is seen on a wall in Hanoi on April 29. 2020. Photo by AFP/Manan Vatsyayana.
Vietnam's handling of the virus outbreak was internationally hailed as a model for other developing nations to follow, and helped its economy to continue growing throughout 2020, CNBC reported.
That strong economic run will likely continue this year, said the Bank of America economists. The bank forecast the Vietnamese economy growing 9.3% in 2021 — a much higher growth rate than the 6.7% expansion projected by the World Bank.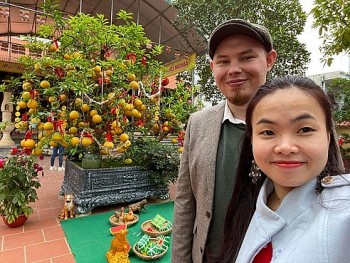 Expats in Vietnam
In anticipation for the Tet season, the Vietnam Times came up with some tips to help foreigners enjoy the holiday.