ASEAN's Information and Media Revolution is Powered by Digital Technologies
At the ASEAN Ministers Responsible for Information (AMRI 16) closing conference on September 23, Ministers adopted the "AMRI Vision Statement ASEAN 2035: Towards a Transformative, Adaptive, and Resilient Information and Communications Industry"".
The AMRI Vision Statement ASEAN 2035 emphasized the key role of media in promoting ASEAN's resilience and adaptation, Viet Times reported.
Vietnam's Deputy Minister of Information and Communications Nguyen Thanh Lam (left) at a press conference on September 23 (Photo: Tran Ngoc).
"Ministers strongly affirmed the role of information and communications in the new era as information transforms into knowledge and a life-time education while digital awareness improves among ASEAN citizens,", said Vietnam's Deputy Minister of Information and Communications Nguyen Thanh Lam at a press conference on September 23.
Ministers also called for regional cooperation with all relevant stakeholders including ASEAN Dialogue Partners, academic institutions, and private sectors to promote the social responsibility of cross border digital media platforms, Vietnam News wrote. The whole-of-ASEAN approach will be beneficial for capacity building for media professionals, digital literacy and lifelong learning, sharing and consumption of accurate information.
One of the highlights of AMRI 16 is the "Da Nang Declaration on 'Media: From Information to Knowledge for a Resilient and Responsive ASEAN'". The Declaration recognizes the pivotal role of media in contributing to the goal of a knowledge-empowered citizenry, promoting knowledge acquisition as the impetus to foster a resilient and responsive ASEAN Community. It also promotes an ASEAN Identity toward social cohesion and deepens a sense of regional belonging.
Also, ASEAN members and partners must work together to build a positive cyberspace environment through improving digital capacity, promoting the maximization of reliable information sources to build trust, shape public opinion, and enhance digital skills for ASEAN citizens.
The conference also adopted the Government Information Management Guidance on Countering Fake Information and Disinformation in the Media. Accordingly, ministers endorsed guidelines on the management of government information in combating fake news and disinformation in the media and seeks to provide a framework on how governments can respond to false or misleading information that is being disseminated in the media or on social media platforms.
Regarding the views on the progress of ASEAN cooperation with the Plus Three Countries (China, Japan and the Republic of Korea) in information and media, many important contents were agreed upon. The conference encouraged ASEAN and the Dialogue Partners to enhance capacity building for media professionals and the sharing of expertise and technical knowledge in utilizing digital technology in media production that could level up skills and expertise so as to better seize the opportunities arising from digital transformation.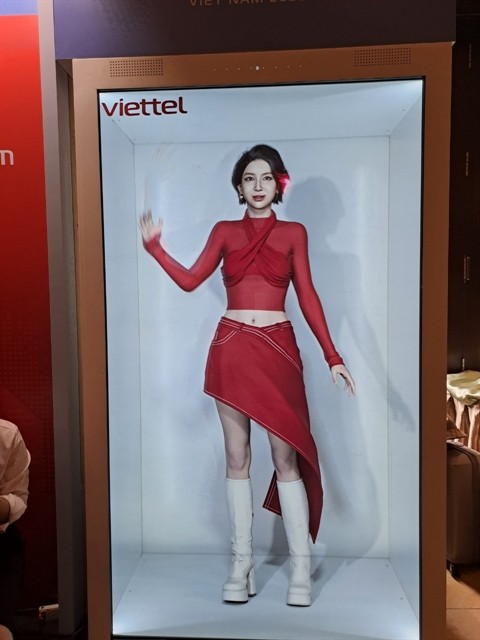 An AI television program is developed by Viettel - leading information technology company in Vietnam (Photo: Cong Thanh).
The ASEAN members expressed their appreciation for China's efforts to strengthen the ASEAN-China cooperation and new initiatives to further strengthen the cooperation between ASEAN and China. They also looked forward to Japan's support in the review of the ASEAN Strategic Plan for Media and Information (2016-25) and the development of the new Work Plan for ASEAN's media and information sector. The regional member states appreciated the initiatives by the Republic of Korea to further advance cooperation with ASEAN in the information and media sector, sharing experiences of disinformation response and AI technologies in the media sector.
These contents are in accordance with the extension of the work plan on enhancing ASEAN Plus Three co-operation through information and media to 2025.
Deputy Minister of Information and Communications Nguyen Thanh Lam affirmed that Vietnam and ASEAN members, along with the Dialogue Partners will actively conduct joint actions for unity and solidarity in building a powerful regional information and media industry.
"We will ask digital platforms to comply with laws and the Code of Conduct in each country in ASEAN related to sensitive information. Vietnamm also included the role of ethics for digital media in the joint-declaration as well as moral responsibility standards for digital platforms in business and advertising services," stated Lam.