UNGA 78: PM Pham Minh Chinh Proposes Strengthening Strategic Trust To Tackle Global Challenges
At the general debate of the 78th session of the UN General Assembly (UNGA 78) in New York on September 22, Vietnam's Prime Minister Pham Minh Chinh emphasized that "strategic trust" plays an important role to create comprehensive solutions for common challenges around the world.
The Prime Minister's priority "strategic trust" as a central solution to global problems not only helps highlight this year's meeting theme of "Rebuilding trust and promoting global solidarity", but also reflects the acumen background and maturity of Vietnamese modern diplomacy, Tuoi Tre Newspaper reported.
The world, according to Chinh, is going through serious crises in trust, multilateral cooperation, principles, and resources that need to be resolved to support the implementation of development goals. He stressed the need for countries, especially major powers, to show sincerity, strengthen strategic trust, and raise responsibility towards the world.
An important solution globally is to promote solidarity, international cooperation, and multilateralism, with the United Nations forming the core, and to support the implementation of the Sustainable Development Goals, said Chinh.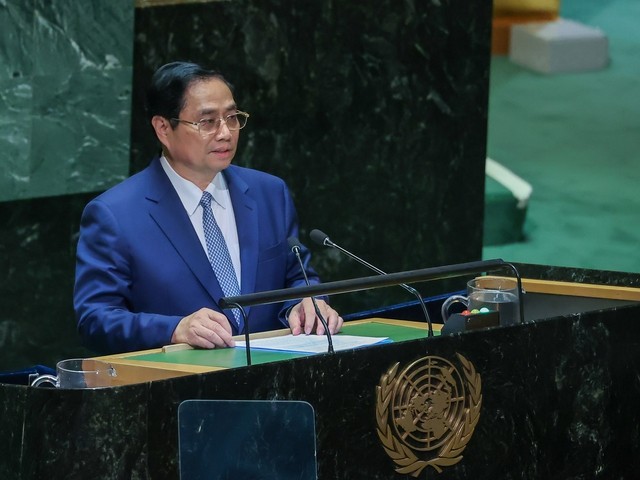 PM Pham Minh Chinh delivered his speech at the general debate of the 78th session of the UN General Assembly (UNGA 78) in New York on September 22 (Photo: Nhat Bac).
"Strategic trust" and "people-centered" policies should be promoted
He highlighted the position and role of people as the goals, subjects, driving forces and resources of sustainable development, suggesting that people-centered policies should be promoted in all policy-making processes and actions to ensure no one is left behind.
The Vietnamese leader underlined the importance of introducing comprehensive solutions economically, politically and socially to ensure stability, security, and safety.
In line with this, it's imperative to build and transform green economic models, digital economy, circular economy, sharing economy, knowledge economy, while promoting innovation and startups. This direction will help reduce trade and investment barriers, strengthenfree trade agreements, and reform international financial and monetary institutions.
Also, he suggested effectively mobilizing and using resources, enhancing self-reliance, innovation and startups, and promoting all potential and strengths.
Developing and underdeveloped countries, especially countries suffering the severe consequences of climate change, natural disasters and epidemics, should receive support in finance, technology, and human resource training and coordinated governance, said the Vietnamese PM.
Vietnam is an active and responsible member of the international community
He reiterated Vietnam's foreign policy of independence, self-reliance, diversification and multilateralization of foreign relations, while being a good friend, a reliable partner of all countries and an active and responsible member of the international community.
Vietnam will continue to contribute more strongly and responsibly to the United Nations' priorities, including peacekeeping engagement, net zero emissions commitments and food security, VOV reported.
"Vietnam is committed to working closely alongside other countries to maintain peace, stability, security, safety and freedom of navigation in the East Sea in line with international law, including the 1982 United Nations Convention on the Law of the Sea (UNCLOS), while avoiding unilateral actions and resolving disputes and differences by peaceful and cooperative means," claimed the PM
During his stay in the US until September 23, Vietnamese Prime Minister Pham Minh Chinh attended and addressed the high-level general debate of the UN General Assembly, the UN Summits and high-level meetings on global issues such as climate change and pandemic response. He also engaged in bilateral meetings with the UN Secretary General, President of the 78th session of the UN General Assembly, and leaders of other countries and international organizations, VNA reported.
Chinh left New York on early September 23 (local time), and set off for a four-day official visit to Brazil. He will be the first leader of the Vietnamese Party and Government to pay an official visit to Brazil since the trip by then Party General Secretary Nong Duc Manh in 2007.