Astrotourism activities kick off at observatory in Khanh Hoa
Travel firms are thinking of developing astrotourism activities to attract domestic and foreign travelers.
Travel firms are thinking of developing astrotourism activities to attract domestic and foreign travelers.
Vietnam's first astronomical observatory in the central province of Khanh Hoa. (Photo: Vietnam Space Center)
The Khanh Hoa Observatory in the central region has become part of tours designed by some travel firms. The observatory is one of the two observatories that were planned under the framework of the National Satellite Center, the largest science & technology project of Vietnam, capitalised at USD 600 million (VND 13 trillion).
The observatory, located in Hon Chong islet in Nha Trang city, is a 5-storey cylinder-shaped tower with semi-spherical dome. An optical astronomical telescope with the diameter of 0.5 meters, designed and manufactured by a famous Italian company, is located on the top floor of the observatory.
The observatory has a 60-seat projection house designed like a theater, providing visitors with information about astronomy and celestial changes in the sky through image effects, and a 200 sq meter space showroom.
The dome can accommodate up to 60 people who can observe space or watch movies about planets, stars and history of the earth. (Photo: Vietnam Space Center)
Analysts believe that astrotourism has great potential because the demand for learning about science in Vietnam has been increasing, especially from youth.
The tourism products which can satisfy travelers' demand for both entertainment and information have great development opportunities.
Astrotourism has been exploited well in other countries. In developed countries, more and more people are going to deserted mountainous areas to admire the Milky Way and natural phenomena.
International media have reported that areas in northern Europe recently attracted a high number of tourists to see the Northern Light phenomenon.
Another observatory, larger than the one in Nha Trang, is being built at the Space Museum in Hoa Lac Hi-tech Park in Hanoi. It is expected to become operational in mid-2018, when the museum will also be inaugurated.
The national Space Museum is a component project of the Vietnam Space Center which has total indoor area of 1,675 square meters and outdoor area of USD 3,500 square meters.
Capitalised at VND 150-200 billion (USD 6.6 - 8.8 million), the museum will display space and satellite models, discoveries in space science, and asteroid pieces.
Also in Hanoi, in mid-2017, Nam Cuong Group announced a plan to build an outdoor astronomy park on a 12 hectare land plot. It will retrace the forming the universe, solar system and constellations.
Vietnam welcomed more than 13 million foreign visitors in 2017 and served 73.2 million domestic tourists to earn USD 23 billion. This is considered a great success of the sector as the number of foreign arrivals rose 3 million against last year.
The country vows to attract 15 million foreign travellers this year and obtain total revenue of VND 620 trillion (USD 27.28 billion)./.
VNF/Vietnamnet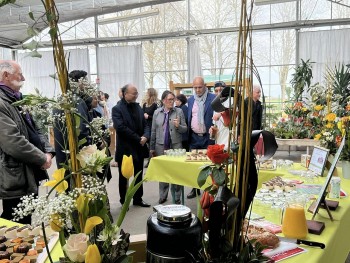 Overseas Vietnamese
Vietnamese Ambassador to France Dinh Toan Thang recently paid a working visit to Saintes, a city in southwestern France, to promote cooperation between the city and Vietnamese localities and attended the Vietnamese Culture Day, VNA reported.