Australia Helps Transport Vietnamese Peacekeepers to South Sudan for 5th Time
The image of Vietnamese peacekeepers deploying on an Australian C-17A has become an enduring symbol of two countries' deepening defence relationship.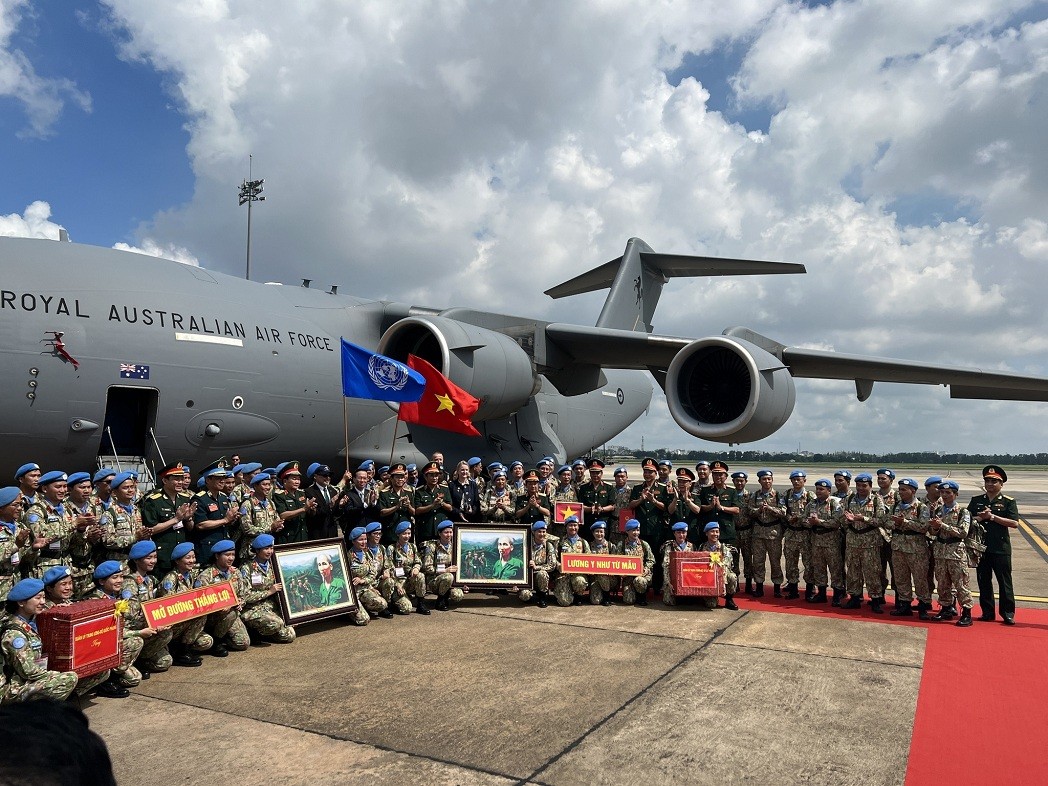 An Australian C-17 Globemaster departed Tan Son Nhat Airport in Ho Chi Minh City with equipment and supplies for over 60 Vietnamese Peacekeepers supporting the UN Mission in South Sudan (UNMISS). Source: Australian embassy in Hanoi
The Australian Defence Force (ADF) has transported personnel and equipment for Vietnam's Level 2 Field Hospital in the United Nations Mission in South Sudan (UNMISS) for a fifth time since 2018, VOV reported.
Sixty-three peacekeepers from the Vietnam People's Army (VPA) will depart Tan Son Nhat airport in Ho Chi Minh City on June 30 on an ADF C-17A Globemaster bound for South Sudan, according the Australian Embassy in Hanoi.
This same aircraft will return to Hanoi, Vietnam, on July 3 with VPA peacekeepers who have been operating the Level 2 Field Hospital providing medical support to the UN Mission in South Sudan for over a year.
This is the fifth time that Australia has provided the transportation for Vietnamese peacekeepers staffing a Level 2 Field Hospital in Bentiu in South Sudan.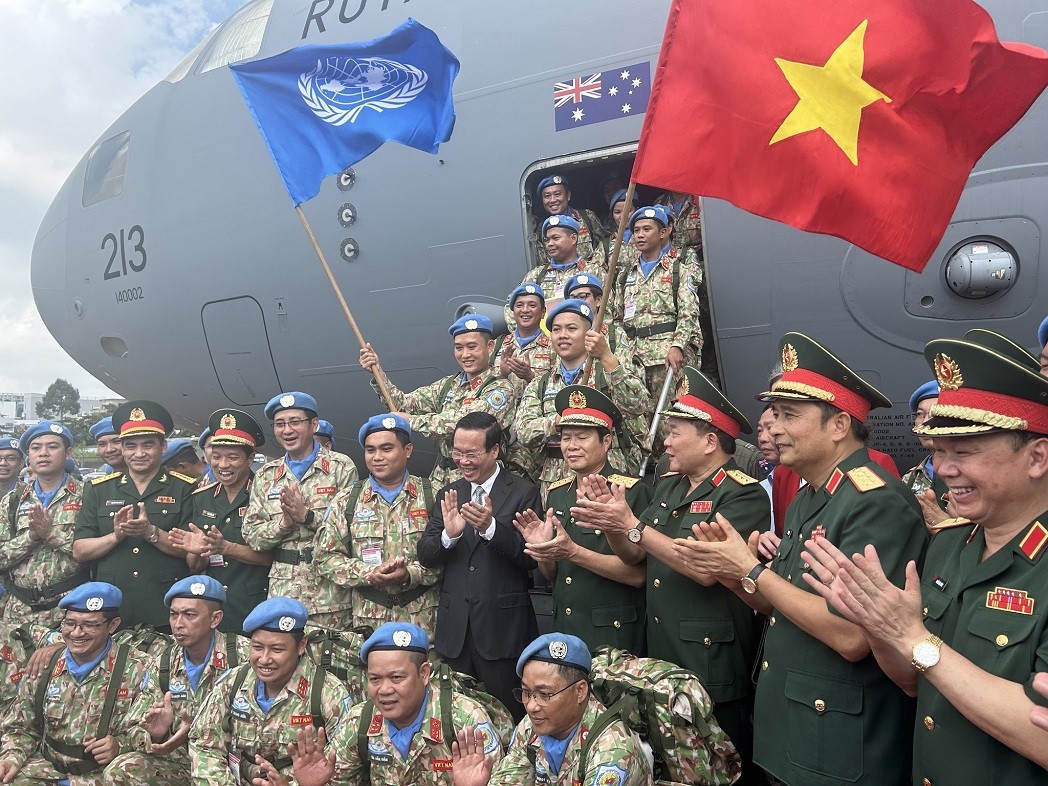 State President Vo Van Thuong farewelled the Peacekeepers in a moving ceremony before they headed off to begin their one year missions supporting global peace and security. Source: Australian embassy in Hanoi
In addition to the peacekeepers, the ADF will also transport over 20 tonnes of stores, medical equipment and pharmaceuticals to South Sudan to support the operation of the hospital.
A farewell ceremony for peacekeepers from the fifth rotation of the Level Two Field Hospital and the second rotation of the Engineering Company was held at Tan Son Nhat airport on 29 June.
The ceremony was hosted by President Vo Van Thuong who praised Vietnamese peacekeepers for making practical contributions to US missions, helping to raise Vietnam's profile globally.
"The Party and State are proud of what you have done at UN peacekeeping missions," he said.
The President expressed his belief that the new teams will continue to promote their bravery, intelligence, and capacity in carrying out the noble tasks assigned by the Party, State, army and people, and meeting the requirements of the UN.
"With the companionship of the United Nations and friends, and the support of international partners, you will make effective and practical contributions to regional and international peace and security, helping to elevate the status of Vietnam as a responsible member of the international community….." said President Thuong.
Australia and Vietnam share a growing and deepening defence relationship, working together through peacekeeping to make an active contribution to international security.
Chief of Joint Operations for the Defence Australia, Lieutenant General Greg Bilton said that Australia and Vietnam worked closely to enable this joint operation. "Vietnam is an important partner for Defence. We share converging strategic interests in maintaining in a peaceful and stable Indo-Pacific".
During a visit to Vietnam Department of Peacekeeping Operations earlier this year, the Governor General of Australia, and Commander-in-Chief of the Australian Defence Force, General David Hurley, said that Australia is very proud to be able to work hand-in-hand with Vietnam, helping you to deploy your equipment, your people, and to bring you back safely.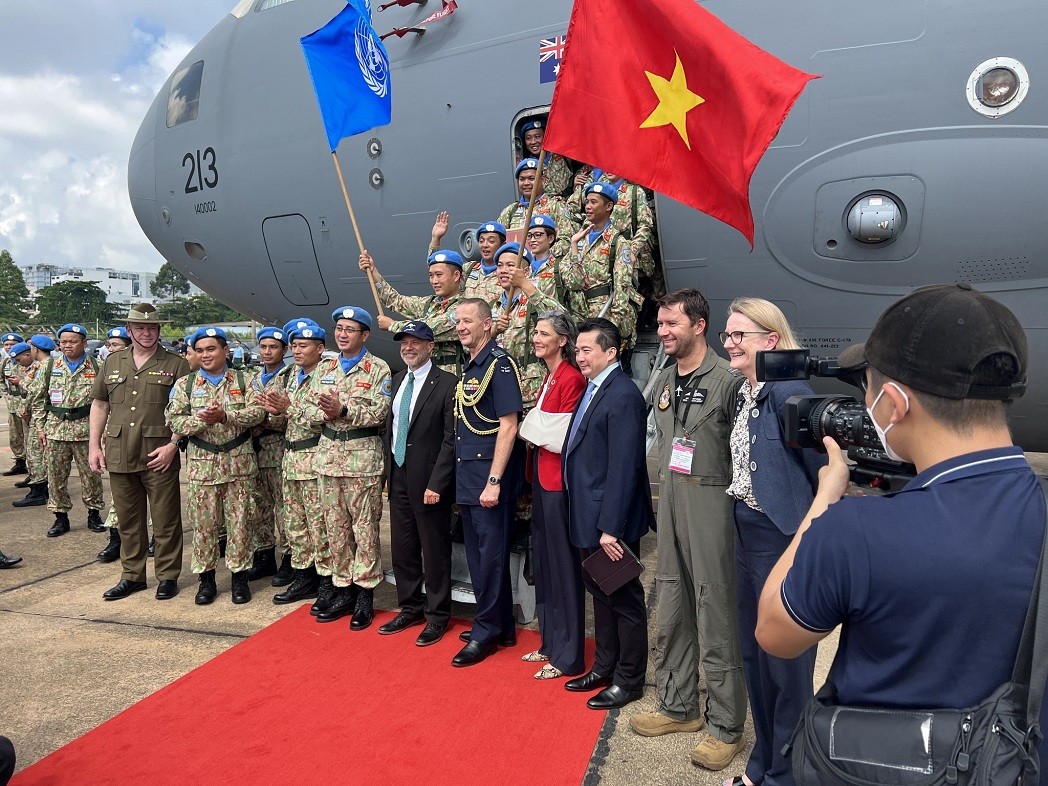 Ambassador to Vietnam, Andrew Goledzinowski (wearing cap), Australian Defence Attaché to Vietnam GPCAPT Mick Jansen and Australian Consul General Sarah Hooper farewell Vietnamese Peacekeepers. Source: Australian embassy in Hanoi
The Governor General's words were played to the Vietnamese peacekeepers at the farewell ceremony in Tan Son Nhat, "Thank you, Vietnam, for the quality of the men and the women that your armed forces produce to support peacekeeping efforts around the globe. It is truly commendable that in a very short time, the quality of your service, the quality of your results, and the dedication that you have exhibited has been able to be shown to the world."
In addition to providing strategic lift for the contingent, Australia delivers English language training for Vietnamese peacekeepers to enable them to operate their hospital effectively in the multinational UN mission.
Australia also provides bespoke training for Vietnamese peacekeepers in fields such as aeromedical evacuation, logistics and sustainment. The bilateral defence relationship also includes senior visits and dialogues, professional military and post-graduate education, military medicine cooperation and military skills exchanges.
The Level 2 Field Hospital Rotation 5 comprising 63 members will embark on a new mission in South Sudan to replace the Level 2 Field Hospital Rotation 4 that has already accomplished their assignment. Meanwhile, the Military Engineering Unit Rotation 2 comprising 184 members will undertake the mission in the Abyei Area between South Sudan and Sudan, to replace the Military Engineering Unit Rotation 1.
Up to now, Vietnam has sent 533 professional military officers and soldiers to UN peacekeeping activities, and they have well performed their tasks.