Australian Ambassador to ASEAN praises Vietnam's chairing 37th ASEAN Summit and related Summits
Vietnam's chairing the 37th ASEAN Summit and related Summits over the past week was a "remarkable achievement" in the context of the complicated COVID-19 pandemic, according to Australian Ambassador to ASEAN Will Nankervis.
Responding to an interview by Vietnam New Agency's reporters in Jakarta, Mr. Will Nankervis stated that the 37th ASEAN Summit and related Summits are the "pinnacles of a year of substantial cooperation between ASEAN and Australia". This year marked a number of important anniversaries including the 15th anniversary of the East Asia Summit (EAS).
Ambassador Will Nankervis also said that at the ASEAN- Australia Summit, Australian Prime Minister Scott Morrison totally concurred with the idea of lifting this summit to an annual one, marking a "new chapter" in the strategic partnership between the two sides.
Prime Minister Morrison unveiled a series of landmark investments to support vaccine access, health security, and recovery in Southeast Asia, which builds on Australia's existing development assistance programs with the region, worth about 1 billion AUD (US$ 730 million) in the period 2020-21.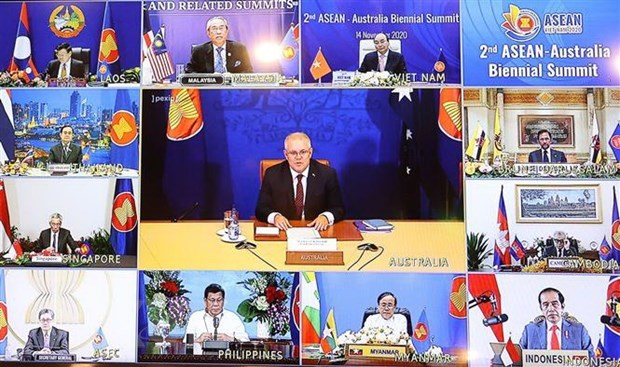 Australian Prime Minister Scott Morrison and Vietnamese Prime Minister Nguyen Xuan Phuc attend the virtual ASEAN-Australia Summit. Photo: VNA
At EAS, Prime Minister Morrison stressed that Australia pledged to cooperate with partners in the region to quickly recover from the COVID-19 pandemic while advocating to build a sovereign, stable, open, and dynamic region based on principles of ASEAN Outlook on the Indo-Pacific (AOIP).
Assessing Vietnam's 2020 ASEAN Chairmanship, Mr. Will Nankervis affirmed Australia's pleasure to witness that Vietnam could maintain the AOIP's momentum, which places ASEAN at the center of the Indo-Pacific as well as stresses the importance of maritime cooperation, connectivity, sustainable development, and economic issues.
"We welcomed Vietnamese Chair's statement at the ASEAN Summit in late June, which highlighted strong voice on the Bien Dong Sea (South China Sea) matter; it laid emphasis on the importance of international law, particularly the United Nations Convention on the Law of the Sea," the ambassador said.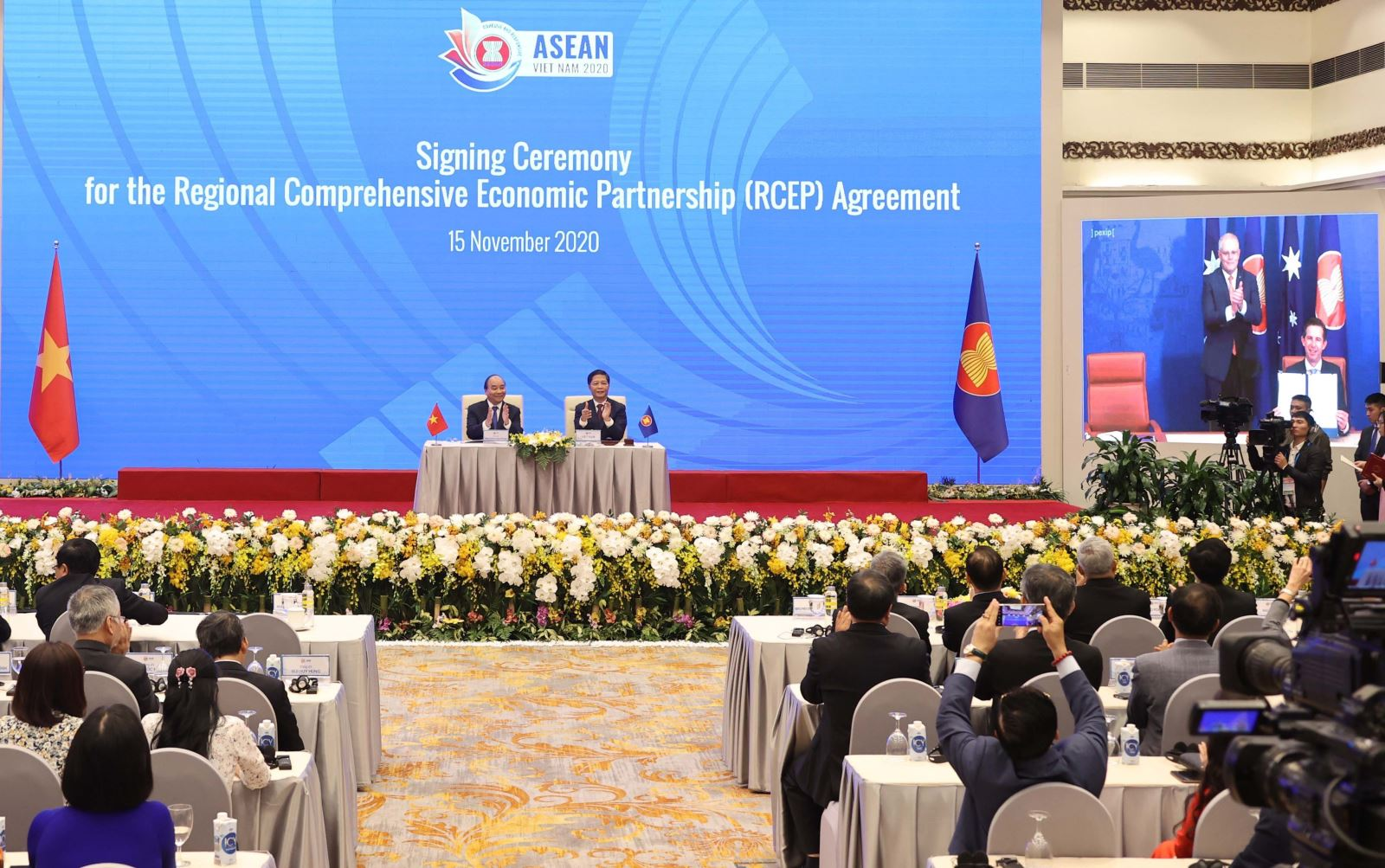 At the Signing Ceremony for Regional Comprehensive Economic Partnership (RCEP) Agreement. Photo: VNA
Vietnam has actively engaged all dialogue partners to ensure that ASEAN remains at the center of regional dynamics. And as Prime Minister Morrison said, under the chairmanship of Vietnam, Australia has worked more closely than ever with ASEAN.
In terms of the signing of the Regional Comprehensive Economic Partnership (RCEP), Will Nankervis said that RCEP is an important agreement because of its large scale, collective economic weight, and strategic significance of placing ASEAN at the center of regional economic agreements.
RCEP countries account for nearly one-third of the world's population and GDP, 58 percent of Australia's trade, and 67 percent of the country's exports, according to Nankervis.
There is currently no other trade agreement that brings together parties with the collective economic weight of the ASEAN member nations and the major economies in the region.
RCEP conveys a clear message that country members commit to open trade and investment. RCEP is not only a testament to ASEAN's leadership but also a positive development for the entire Indo-Pacific region.
Finally, Ambassador Will Nankervis said RCEP will boost confidence across the region in the context that economic resilience has been given priority. Besides, RCEP will create great opportunities for enterprises by liberalizing trade, services, and investment, as well as will establish principles helping to improve the business environment.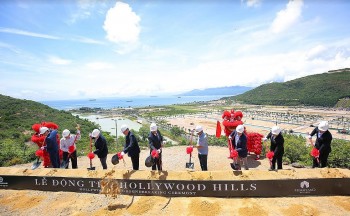 Economy
On October 2, at Hai Giang peninsula (Quy Nhon city, Binh Dinh), Hung Thinh Corporation held the groundbreaking ceremony of Hollywood Hills by YOO Inspired by Starck – a subdivision at MerryLand Quy Nhon. The event marks the first time that the world's No.1 ranked design and branded residence company YOO Inspired by Starck is officially present in Vietnam, with a collection of villas designed by creative director, Philippe Starck.