Australia's Article Hails Vietnamese "Beef in A Leaf" as One of World's Best Dishes
Traveller of The Sydney Morning Herald recently published an article praising Vietnamese grilled beef with la lot (piper sarmentosum).
Australian travel publication Traveller of The Sydney Morning Herald recently published an article calling the classic "thịt bò nướng lá lốt", or simply call "beef in a leaf", as one of the best dishes on the planet.
According to Ben Groundwater, the author of the article, the mix of sweetness, savouriness, smokiness, sourness, and crunch makes the dish one of the best globally.
There are many variations of this dish out there. It all depends on how you want to marinade the beef. But the leaves are what makes this dish so special.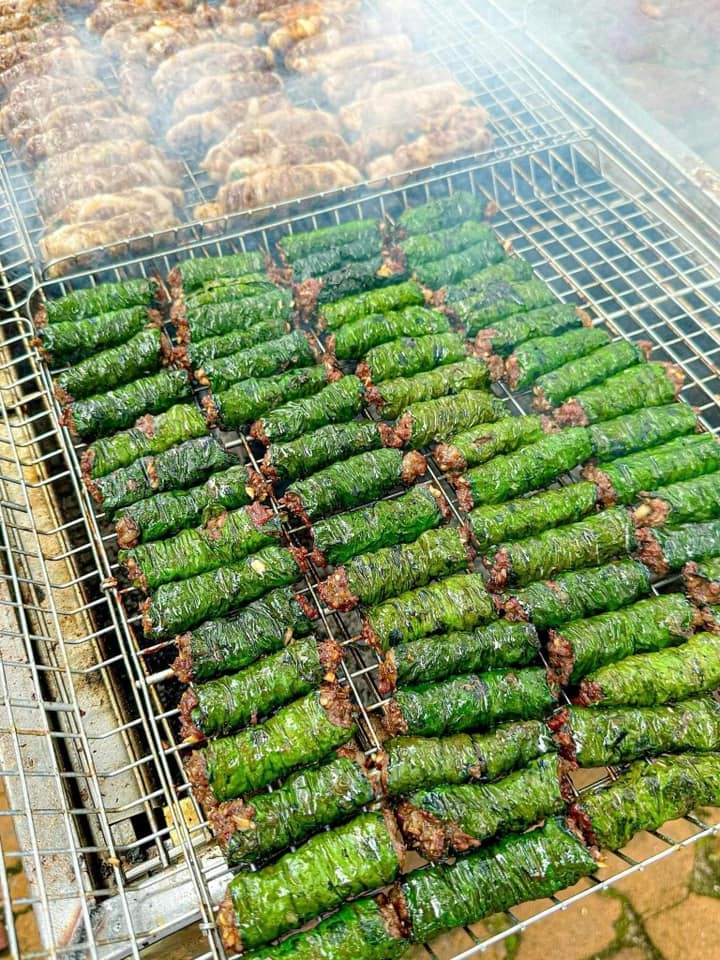 The wild betel leaves give the dish an interesting earthy, medicinal flavor.
To make it, minced beef is mixed with all sorts of goodness – shallots, garlic, black pepper, sugar, fish sauce, oyster sauce, MSG – before being rolled in a lolot leaf and grilled, ideally over charcoal.
These little fingers of deliciousness are then topped with crushed peanuts and fresh herbs, and dipped in a pungent, fermented anchovy sauce called mam nem. The mix of sweetness, savouriness, smokiness, sourness and crunch is one of the best things on the planet.
Add chopped peanuts and green onion cooked in oil, wrap in lettuce, herbs, and vermicelli noodles. Then dip into a bowl of chili sour dipping sauce.
In his article, Ben wrote more about who was the first national to serve this dish. Before Vietnam, it came from India and the Middle East.
For a long time, cooks in the Middle East have had a custom of rolling spiced meat, rice, and other vegetables in vine leaves, for a snack known as dolma.
When Middle Eastern traders began arriving in the Bengal region of India around the ninth century, that custom was passed on to local cooks, who in turn began trading in Southeast Asia, and once again the technique was passed along. Grape vines don't grow so well in Vietnam, so locals there replaced those leaves with la lot (piper sarmentosum – sometimes called wild betel.)
Though "Bò lá lốt" is often translated on Australian menus as "beef wrapped in betel leaves", these are not actually betel leaves. Betel leaves are scientifically "piper betle".
The dish is usually served with a bun (vermicelli noodles), wrapped with lettuce rolls in rice paper as a spring roll, or served on its own as an appetizer.
"Bò lá lốt" comes from the south of Vietnam. In Ho Chi Minh City guests are recommended to make their way to Bò Lá Lốt Phương Cô Giang, a classic eatery in District 4, the Australian newspaper shared.
The Sydney Morning Herald also recommended that Sydneysiders enjoy an excellent "Bò lá lốt" at Gia Dinh in Marrickville. In Melbourne, this delicacy should be sampled at Viet Kitchen in Footscray. In Brisbane, foodies can find "Bò lá lốt" on the specials board at Mister Bui Banh Mi.
Partly because of being a grilled food, this dish is often served outside or especially on the street. Cool days or even rainy days, the time when grilled beef wrapped in wild betel leaf is the most popular.