Beautiful embroidered shoes of Xa Phang village in Vietnam
Visiting northern province of Dien Bien, tourists and visitors are deeply amazed by the colourful and sophitiscated traditional outfits of Xa Phang ethnic minority, especially their beautiful and unique embroidered shoes.
The Xa Phang now have even more reason to be proud of their footwear, as their traditional craft of embroidered shoes was recently recognised as a national intangible cultural heritage by the Ministry of Culture, Sports and Tourism.
The Xa Phang primarily reside in remote, disadvantaged areas.
In Dien Bien Province, they live in 10 villages in six communes within Muong Cha, Nam Po, Muong Nhe, and Tua Chua districts, and have a population of more than 2,000, according to Vietnamnet.
In Ta Sin Thang in Tua Chua District, the whole area is now filled with blooming orchids and visitors can readily catch sight of Xa Phang women sewing costumes and making shoes out the front of their homes.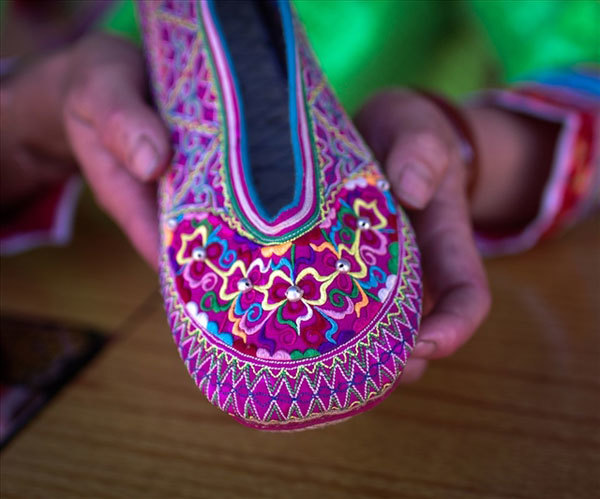 The artisanal shoes of the Xa Phang people may look simple, but a closer look reveals just how sophisticated the details of their patterns and embroidery lines are. Their colourful shoes are a key part of their outfits and are meticulously made. According to elderly artisans making and sewing the soles are the most time-consuming stages and will determine the durability of the shoes. (Photo: Laodong.vn)
A unique feature is the materials used as stuffing in the sole: chopped bamboo leaves that have been boiled, pounded, and dried.
The lower side of the sole is made from white linen that has been carefully stitched and pulled tight, while the upper is made from durable, sturdy fabric and covered with a paste made from a herb, which explains why the traditional embroidered shoes of the Xa Phang are quite robust.
"When wearing a new pair for the first time, one may find them a bit stiff due to their tight soles, but will gradually become used to it," said local man Ngai Leng Pan, adding that everyone in his household has three or four pairs. "They feel comfortable and are easy to walk in because they are completely made from natural materials."
The unique beauty of the handmade shoes lies in their patterns and colours.
There are many different types in terms of shape, size, style, and colour, and a range of choice for men, women, and the elderly. All have one thing in common, however: unique flowery decorative patterns associated with Xa Phang ethnic cultural life.
The threads used to embroider the shoes are natural and come in a variety of colours, used depending on the taste and aesthetics of the maker but mainly red, pink, blue, or yellow. In particular, shoes for young women are always decorated with bright colours.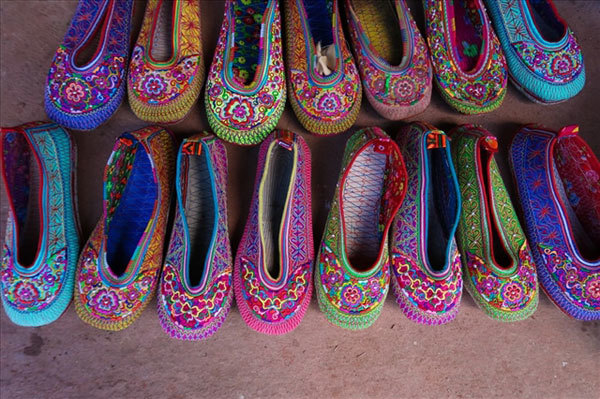 The threads used to embroider the shoes are natural and come in a variety of colours, used depending on the taste and aesthetics of the maker but mainly red, pink, blue, or yellow. In particular, shoes for young women are always decorated with bright colours. (Photo: Laodong.vn)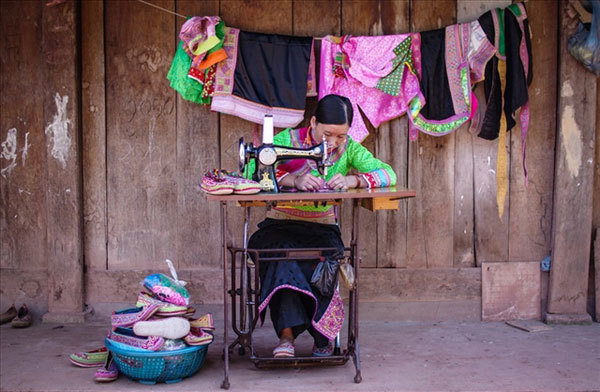 Shoes are mostly made for family members. The Xa Phang people wear their embroidered shoes and traditional outfits on special occasions like festivals and weddings. (Photo: Laodong.vn)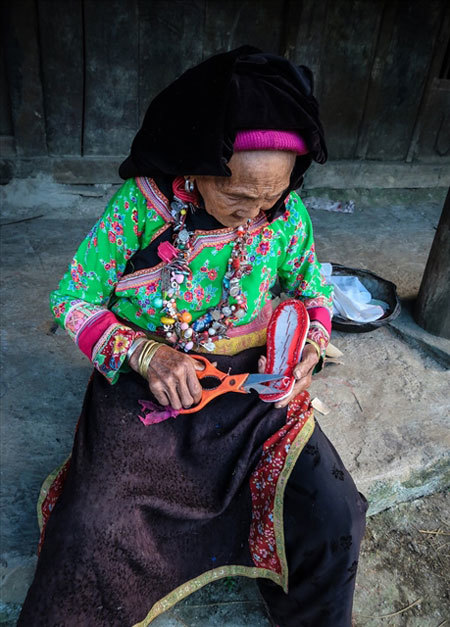 LOCAL LIVELIHOOD: An elderly Xa Phang woman making embroidered shoes outside her home. Photo laodong.vn
Vietnam stepped up efforts to preserve ethnic culture
Supporting ethnic people's livelihoods is a large part of the effort to preserve their ethnic culture, according to Trinh Thi Thuy, Deputy Minister of Culture, Sports, and Tourism.
"Agencies have become more focused on preserving and promoting Vietnam's ethnic culture by raising the awareness of and educating ethnic communities, especially the youth, about Vietnam's cultural heritages. Two good examples of this effort are Bac Ninh province and the Central Highlands, where the local people are keenly aware of the importance of protecting their unique Quan Ho folk songs and gong culture," said Ms. Thuy.
Cultural experts agree on the decisive role of communities in preserving cultural heritages, and the fact that village heads, village elders, artisans, and shamans are behind the important cultural decisions of the community.
"Preserving and promoting heritages should be carried out collaboratively. Heritages are precious assets of the community and best preserved within the community. Only when this is recognized will heritages be safely protected and contribute to national development," Dr. Nguyen Thi Thanh Van of Hanoi's University of Culture told VOV.
Protecting ethnic languages, writings, musical instruments, costumes, and festivals, which are on the verge of disappearing, is of prime importance to preserving ethnic cultures, according to Master of Arts Ban Thi Quynh Giao of Literature Institute.
Tran Huu Son, Vice Chairman of the Vietnam Folklore Literature and Arts Association, has called for more efforts to preserve ethnic cultures in Vietnam's northwest region, which is home to most of the ethnic groups in Vietnam.
"We need a long-term strategy to preserve the region's diverse ethnic cultures. This mission requires a concerted effort by both local authorities and communities," said Mr. Son.
Dr. Luu Tran Tieu, Chairman of the Vietnam Cultural Heritage Association, has called for more training for culture officers who must have a good understanding of the ethnic groups' customs and traditions. These officers should have the necessary knowledge and skills to adapt to the 4th Industrial Revolution.
"It's important to digitalize all data and archives related to ethnic culture. This data should be made available to the public for research and promotional activities," said Mr. Tieu.