Beautiful Seasonal Changes in Hue's Mangrove Forest
In late September, the Ru Cha mangrove forest takes its costume change as the tree leaves turn yellow, enchanting people.
Ru Cha is a primeval mangrove forest in Tam Giang lagoon, Thuan Hoa village, Huong Phong commune, Huong Tra town, Thua Thien Hue province. According to the local people, Ru means forest, and Ru Cha means the forest of Cha (excoecaria agallocha) trees.
Recently, the photo series of Ru Cha in autumn was captured by young photographer Le Dinh Hoang (born in 1993 in Hue), attracting the internet community. The photos were taken in the middle of September, at the beginning of autumn, when the Cha trees took the costume change.
The mangrove forest, spanning 5 hectares, provides habitat for thousands of ancient Cha trees which reduce salinity, and protect the aquatic resources, and the land. In autumn, the mangrove forest becomes a tourist attraction where people all around come to see its beauty and take pictures.
Taking a look at the photos, people can find a dreamy, tranquil, wild, mysterious, and magical forest. As a native of Hue, Hoang always aspires to promote the beauty of nature and people of his motherland to the world.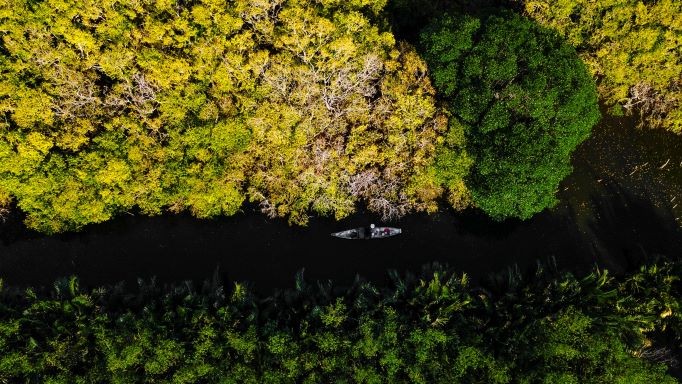 The tranquil mangrove forest in autumn with the mix of green and yellow. Photo: Le Dinh Hoang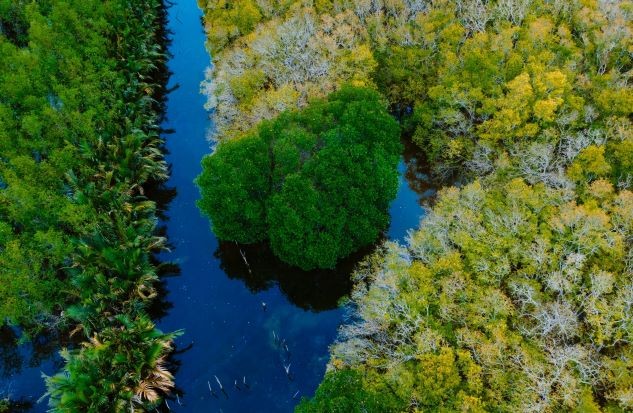 The tranquil mangrove forest in Tam Giang lagoon makes people feel touched. Photo: Le Dinh Hoang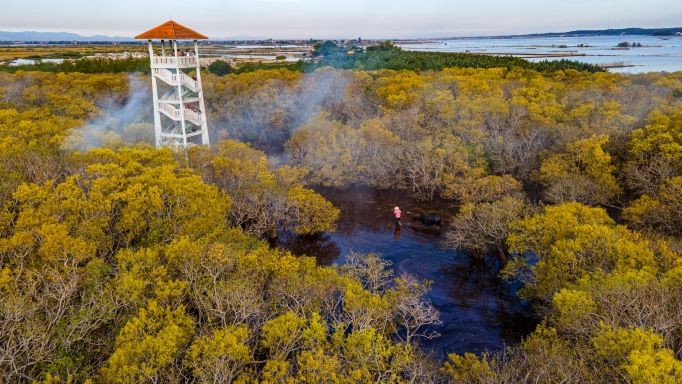 Observation tower, where visitors can view the surroundings from a long distance. Photo: Le Dinh Hoang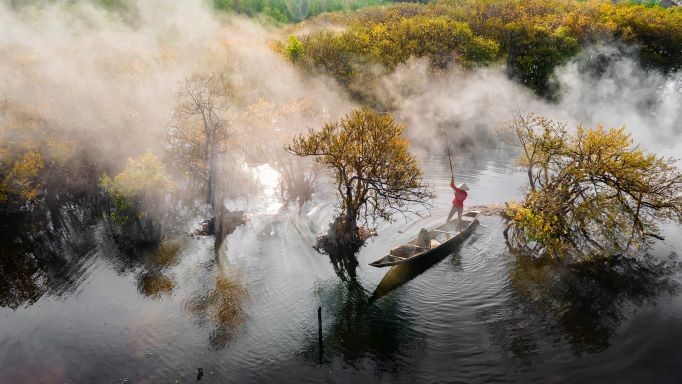 The local catches fish in the traditional way in the mangrove forest. Photo: Le Dinh Hoang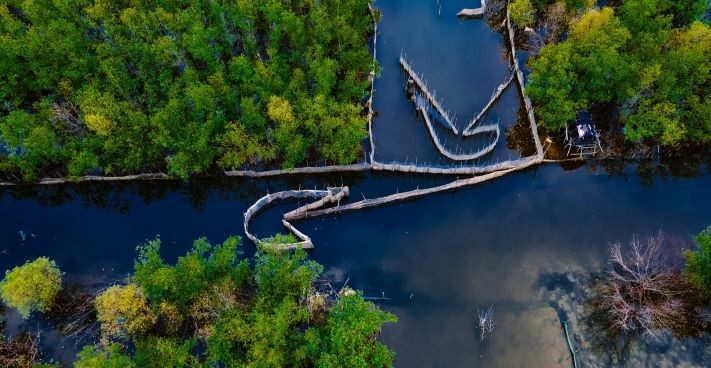 A rare image of the family living in the forest. Photo: Le Dinh Hoang
There is a well-known story of an U80 couple, Mr. Nguyen Ngoc Dap and Mrs. Tran Thi Hong, who have lived in the mangrove forest for 38 years. They choose to isolate themselves from the outside world, spending their whole lives to protect the only primeval mangrove forest on Tam Giang lagoon.
To capture these valuable photos, Le Dinh Hoang spent almost a week discovering Ru Cha. Despite facing many obstacles, he put efforts to get these beautiful pictures in time, as the forest looks gorgeous in autumn.
Photo: Le Dinh Hoang
The photo series received many positive comments from online community:
"The photos help to comfort people who are homesick like me. Looking at the photos, I feel touched, moved, and miss the place where I grew up", a native of Hue said.
"The photos are beautiful. I will definitely come to Hue after the pandemic to discover this wonderful place," a tourist said.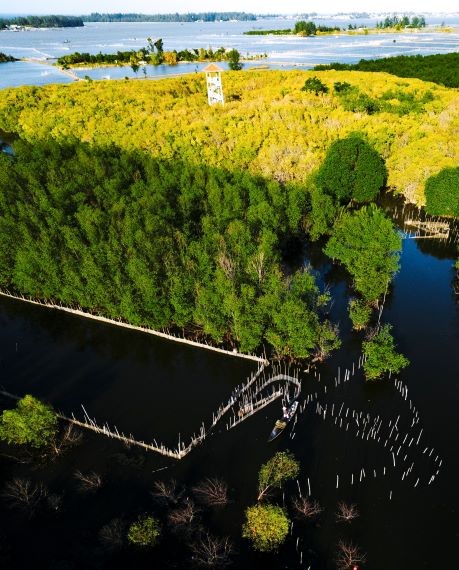 The forest is a place where people make money from fishing. Photo: Le Dinh Hoang
Le Dinh Hoang also took photo series of famous places, people and villages in Hue.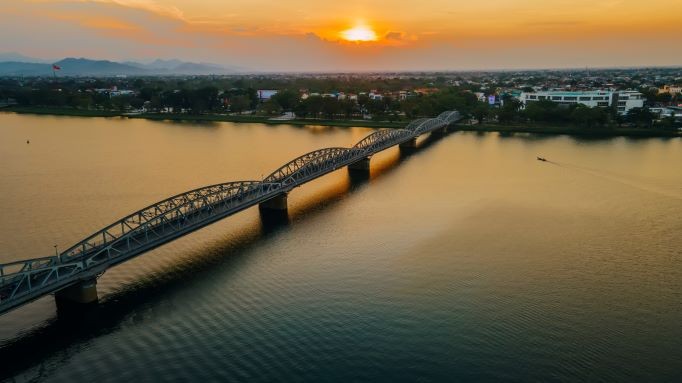 Truong Tien ridge crosses Huong River. Photo: Le Dinh Hoang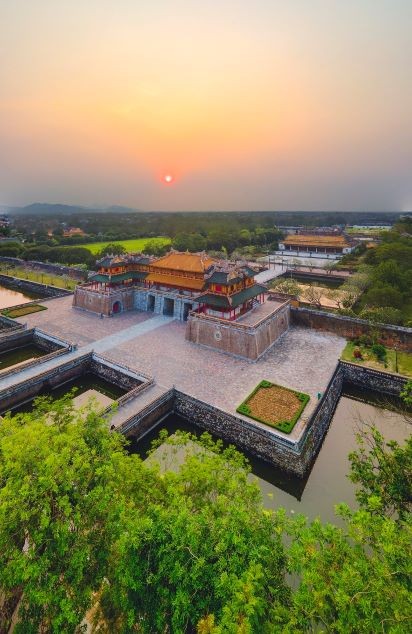 Hue Citadel- A cultural and historical symbol of Hue. Photo: Le Dinh Hoang
Restful Streets of Hanoi in Autumn

As Hanoi enters autumn, the atmosphere turns cool and relaxing. Hanoi's streets become more poetic with the clear blue sky and golden sun rays leaking ...
Vietnamnet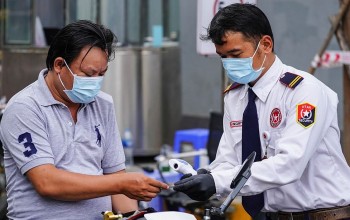 National
More than 1.12 million vaccine doses were administered in Vietnam on October 24. The country has now inoculated more than 74 million doses of vaccine to date, with over 21.46 million people fully vaccinated.