Must-try Dishes in the Ancient Capital of Vietnam Through Photos of Local Photographer
12 yummy must-try dishes in Hue city.
Food is a must when you visit the ancient capital of Vietnam. The ancient town in central Vietnam is well-known for both its imperial cuisine and the contemporary creativity of its street foods. Today, we would love to introduce to you a series of exotic cuisines that have become the symbol of Hue city through photos by local photographer Nguyen Phong.
Bun bo Hue
If you are not a fan of spicy food, be prepared before tasting bun bo Hue (Hue beef noodles). Unlike bun bo Hue served in Ho Chi Minh City and Hanoi, the original version in Hue packs a punch.
This popular Vietnamese soup contains rice vermicelli and sliced cooked beef and is greatly admired for its unique balance of spices and flavours. The soup is prepared by boiling the beef bones and shank, lemongrass, fermented shrimp sauce and chili oil. It is served with thin slices of marinated and boiled beef shank, chunks of oxtail, pig knuckles and pork rolls.
Banh canh
Bánh canh is thick Vietnamese noodle that looks quite like Japanese udon which has the thickness of a chopstick, more or less. The Vietnamese word bánh refers to items such as noodles or cakes that are made from flour, and canh means "soup". In some countries you can buy dried or precooked banh canh noodle at the Asian store.
If you can't find it, you can use Japanese Udon as a substitute. Banh canh is apparently the most versatile dish among all Vietnamese noodle soup dishes. The soup base (broth) can be cooked from pork, crab, fish, and the toppings can be with fish cake, mushroom, Vietnamese ham, shimp balls, among others.
Banh khoai
With its translation meaning "happy cake", a bite of Banh Khoai truly makes all food lovers' heart melt. This delicious bright yellow Vietnamese crepe is made of rice flour fried until crispy, with pork meat, egg, and shrimp to eat together with fresh lettuce leaves, herbs and special hoisin dipping sauce. Who would have thought a simple cake such as Banh Khoai is so tasty and will leave you wanting more!
Com hen
Unique and true to the Hue region, com meaning rice and hen meaning boiled mussel, this is a must-try dish. Com hen requires a lot of ingredients. It needs basket clams, rice, pork cracklings, lettuces, chilli, basil, giant elephant ears, scallions, roasted peanuts, cashews oil, garlic, Hue shrimp paste, sour carambola, onions, spices, roasted sesame seeds, fish sauce, chilli powder, sugar, gingers and oil.
First, place the fresh star fruit, fish sauce, cabbage, onion, pepper, grilled peanut and chilli into your bowl, and follow it with the boiled mussel and broth into the bowl, over the ingredients. Everything is well mixed before serving. It is tempting to enjoy this bowl of savory that is Hue clam rice.
Bun mam nem
Among many Vietnamese fish sauces, mắm nêm is the smelliest one. A bowl of bún mắm nêm includes rice vermicelli, raw veggies (salads, mints, pickled green pea sprouts, banana flowers, etc.), sliced meat and mắm nêm. There is a range of sliced meat for your choice such as chả (boiled ground pork), nem (fermented ground pork), fatty pork, etc. You can decide to have one or two of them or all for your bún mắm nêm.
To make it more delicious, don't forget to squeeze some lime juice in. Some pieces of chopped lime, placed neatly on a small dish on each table, are so juicy and fresh. An extra bowl of mắm nêm is available in case you want to add some more into your food.
Bun tron
There are various noodle dishes in Hue, but mixed vermicelli is pretty special since it is a combination of around 10 ingredients and spices such as white vermicelli, yellow vermicelli, fresh herbs, peziza (cat-ear fungi), carrot, tofu, peanut, rice paper, tender jackfruit.
Vermicelli is half boiled so that it still keeps its toughness. In addition, tender banana flower or tender jackfruit is boiled, cut into thin slices and squeezed dry. Shallot and chili are fried in hot oil to create colors for the dish. The ingredients are mixed in a steady way so that they absorb spices well, and more importantly, vermicelli must not stick together.
Other important ingredients are peziza, carrot, and fried tofu which are all sliced into long thin threads, then stir-fried in a frying pan with spices added to one's taste.
When all the ingredients are ready, put a bit of each in a bowl, add fresh herbs, broken roasted peanut, broken baked rice paper, soy sauce or sweetened fish sauce and some indispensable chili paste to make it hot. A bowl of mixed vermicelli is ready to eat.
When eating, the diner has to mix the ingredients well. She/he would feel at the same time the fatty taste of peanut, the crispness of rice paper, the spicy taste of the fried stuff, the softness and toughness of vermicelli. Fresh herbs help lessen the oily taste.
For Hue people, mixed vermicelli is one of the dishes for 'bữa lỡ' (afternoon snack). It is delicious and suitable for hot summer days as well as cool autumn days. It is these simple, easy-to-made dishes with very special ways of cooking of Hue people that make Hue cuisine unique.
Long heo xao nghe
Stir-fried pork heart with turmeric is a popular afternoon snack in Hue. The dish is an example of using often discarded parts of animals in Vietnam. Pork intestine can be boiled and eaten with dipping sauce and herb.
Although this dish does not have many ingredients, it must be selected carefully and it takes time to prepare. The seller said that the pork heart must be selected fresh, cleaned to remove the odor, then cut into pieces and marinated carefully. Turmeric must choose tubers of moderate age, grinded to have a dark orange color. To satisfy diners, the stir-fried pot includes many things including liver, young intestine, old intestine and boiled pork blood.
All are marinated with fish sauce, salt, pepper, onion and turmeric to absorb and then stir-fried separately. In the other pan, they stir-fried vermicelli with spices and turmeric water, giving it a golden color. Fresh turmeric is crushed, add a little stir-fried seasoning and then put in a separate bowl.
When a customer orders a bowl of turmeric vermicelli, the owner picks up a vermicelli, scoops up the fried heart, scoops a spoon of turmeric and adds a pinch of laksa leaves. Guests leisurely mix the bowl of vermicelli and then eat and inhale. A beautiful little bowl full of the fat and chewy pork belly, the strong taste of turmeric, the aroma of laksa leaves, the softness of vermicelli and the spicy taste of chili and pepper.
Banh bot loc
Bánh bột lọc is a transparent chewy dumpling made from tapioca flour and filled with minced pork and shrimp. Tourists in Hue can easily spot ladies selling unwrapped bot loc on sidewalks throughout the ancient town in central Vietnam. Common fillings include shrimp and mung bean. The dish is served with a sweet and sour fish sauce, crispy fried shallots, coriander, pork rinds, and chili oil.
Of course, you can enjoy this snack without the cumbersome process of wrapping each dumpling in banana leaf. This ain't-nobody-got-time-for-that version is called Banh Lot Loc Tran. The differences between the two types are the consistency in the batter and method of cooking. For an added fee, you can order pork sausage (cha) with your bot loc.
The batter for Banh Bot Loc Goi La Chuoi is thinner so that you can smear it on the banana leaf. The filling is then added, everything is wrapped up in a neat bundle and then steamed. The batter in Banh Lot Loc Tran is thicker so it becomes more like dough for easier handling. The dough is flattened, filling is added and the dough is folded over like any other dumpling. The dumplings are then boiled instead of steamed.
Banh mi nhan bot loc và cha
Banh Mi is the iconic food of Vietnam. Many famous chefs and food critics in the world consider Banh Mi as the best sandwich. That is why Banh Mi in Hue is the most popular street food, from students to officers, they all enjoy Banh Mi in Hue. When strolling in any Hue's street, you will always see lots of Banh Mi vendors.
Hue people are very creative, they are not satisfied with the basic traditional Banh Mi in Hue, so they created many other fillings such as banh mi filled with transparent dumplings and pork/beef sausage (cha). It combines the Vietnamese baguette with one of the staples of Hue cuisine - banh bot loc.
This transparent dumpling has a balance of chewy and sticky. Texturally, this cake's pleasures are feeling the crust of shrimp shell playing against the softness of pork belly so it's an interesting choice to go with banh mi.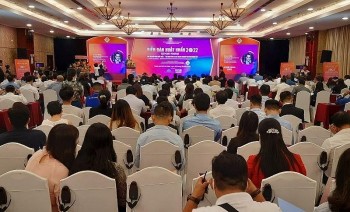 Focus
Vietnam News Today (Dec. 9): Vietnam - Singapore innovation centre helps firms transform production; HCM City among most searched destinations by travelers; Vietnamese digital technology industry's revenue estimated at 148 billion USD in 2022; Two Vietnamese films up for consideration at Oscars.